HER-MINE Review July 2021
HER-MINE is a curation of beautiful and thoughtfully composed lifestyle products delivered monthly. They are cultivating and nurturing a sisterhood that cares about supporting women-owned businesses. Each limited-edition box features carefully selected items that deliver value and pursue a common purpose: to foster the growth of women-owned businesses through partnership while empowering people to shop female.
*They kindly sent us this box for review.*
HER-MINE is celebrating their first anniversary this month, congratulations! They started shipping in July of last year, and this is their anniversary box. I love that HER-MINE is all about girl power and supporting women, and women-owned businesses.
Subscription Details
HER-MINE has 2 box sizes to choose from:
Mini (3-5 Full and Deluxe Sample Size Products)
Deluxe (5-8 Full and Deluxe Sample Size Products)
You will discover new brands, new products, and recent launches. The items are thoughtfully curated and there's always a monthly theme.
Here's a closer look at the July 2021 HER-MINE box….
July Theme: 1st Anniversary
The July HER-MINE Deluxe Box is filled with items their namesake Hermine would have loved.
"LET'S CELEBRATE SISTERHOOD
"Hermine Ricketts Carroll is HER-MINE's namesake and to whom we pay loving homage. She was an incredible wife, daughter, sister, aunt, great aunt, doula, writer, architect, painter, sculptor, scientist, and gardener.
She believed in blazing trails for women, being a strong woman herself, and advocating for other women. She exuded feminine energy and embraced all that meant. She also loved us unconditionally and taught us how to be kind and loving to ourselves.
The empowerment of women is central to our mission at HER-MINE. We strive to nurture a sisterhood of women who are spreading love and support to other women. Each box we send is intended to remind you to practice self-love and self-care.
Let's celebrate sisterhood.
Trudy and Pam"
I love this theme so much – Hermine seems like she was such an incredible woman. What better way to celebrate her than to dedicate a box in her honour! It is an important reminder to spread love and support to other women.
BUTTERFLY WAX MELTS – Ives and Bees
"Hermine loved butterflies, so Ivy and Vanessa custom-made these beautiful wax melts. They infused them with hints of lavender, honeysuckle, jasmine, rosemary, and sage. You can melt them or add them to your drawers."
Oh my goodness, these wax melts are beautiful and they smell incredible.
MAY YOU KNOW JOY CARDS – May You Know Joy Inc.
"This deck is designed to inspire our most intentional living. With this card pull, people receive a simple nudge reminding them of simple ways to connect to the joy within them and around them each day. They believe it's the simple, inspired action they take each day that creates a well-lived life."
These May You Know Joy cards are incredible! I have been using them to recenter myself daily. Truly, they are bringing me joy.
PLANTABLE CARD – Foot-print.org
"About Plantable Seed Paper Greeting Cards – Your greetings are filled with meaning and love. Now let that never fade away. You can send a message that will grow forever. How? The card has seeds embedded in them. Once read and cherished, you can plant the entire card in your backyard and see a plant representing your affection. This card will sprout daisies – imagine their surprise and delight on seeing the first leaves! Hermine loved plants and gardening so much that she fought her city in court for the right to plant fruit and vegetables on her property. There is now a Florida law as a result of her efforts. She would have loved this card."
This beautiful card is plantable! I cannot wait to gift it to a friend and see how it grows in her garden. We both love plants and flowers so much.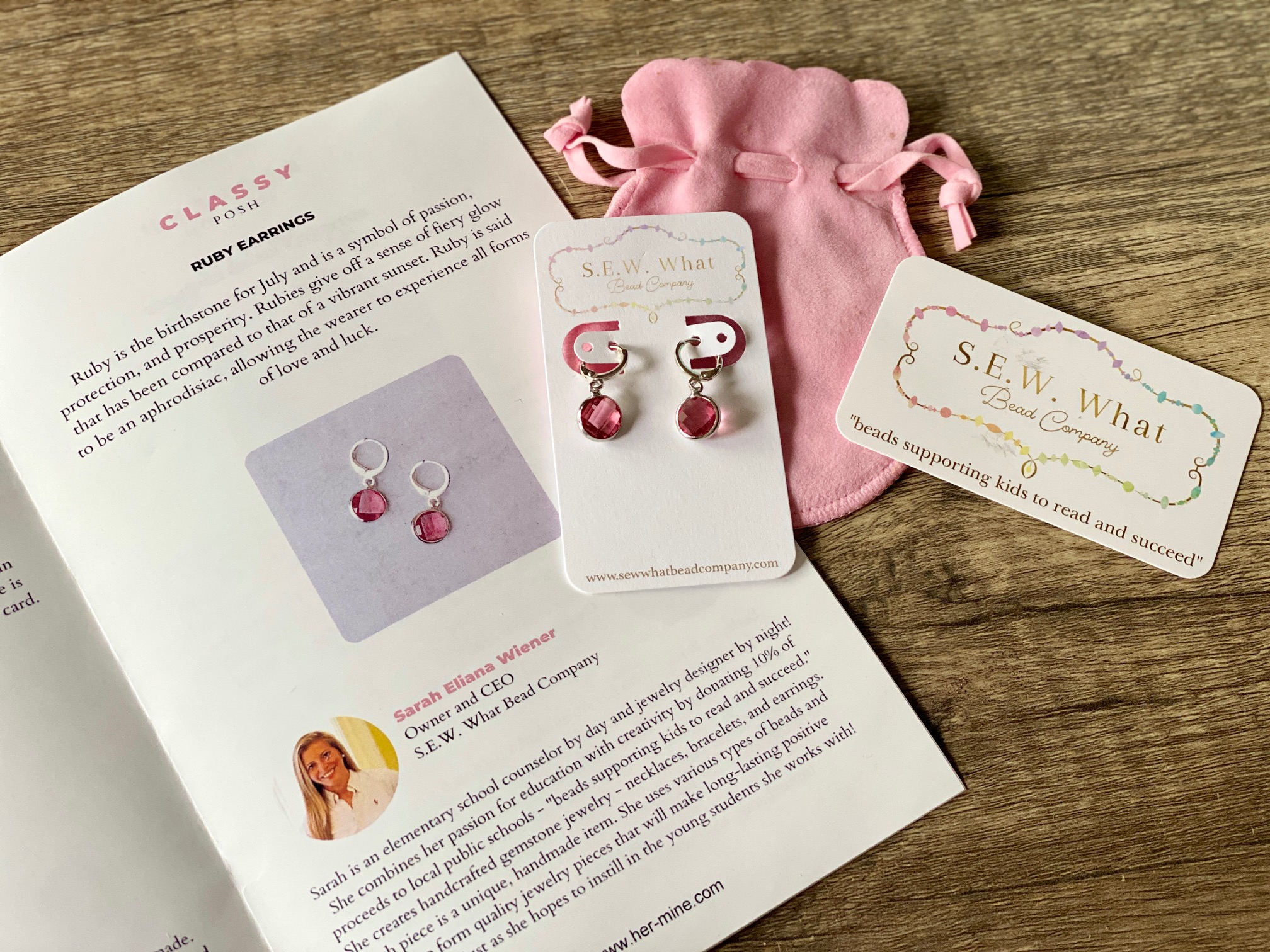 RUBY EARRINGS – S.E.W. What Bead Company
"Ruby is the birthstone for July and is a symbol of passion, protection, and prosperity. Rubies give off a sense of fiery glow that has been compared to that of a vibrant sunset. Ruby is said to be an aphrodisiac, allowing the wearer to experience all forms of love and luck."
These ruby earrings are so incredibly stunning! I love what the ruby birthstone represents and will proudly wear them.
BUTTERFLY KISSES LIP GLOSS – A Farmers Touch
"Butterfly Kisses lip gloss is a cosmetic product that you apply to your lips to give it a glowy, lush, and make your lips feel smooth."
This lip gloss is so amazing. It is nothing like I have ever tried before. I will definitely be looking further into "A Farmers Touch" products!
BUTTERFLY LAVENDER SOAK – A Farmers Touch
"Fill your bath with the calming scents of lavender. This lavender soak will leave your body relaxed and ready for a restful slumber. Expertly blended to not only relax your mind and body but to hydrate and nourish your skin as well."
This lavender soak smells amazing and was so relaxing to use. It really helped me calm down and relax after a long day.
BEAUTY WATER – Gypsy Soul Organics
"A balancing facial to help combat breakouts and blemishes. Helps regulate oily skin while leaving it feeling ultra-nourished. BEAUTY WATER is a 100% natural solution to slough away dead skin to reveal a fresh, smooth complexion. Gently remove impurities for softer, brighter, more even-toned skin."
This Beauty Water is luxurious. It has been gentle on my sensitive skin leaving it smooth, clear and soft.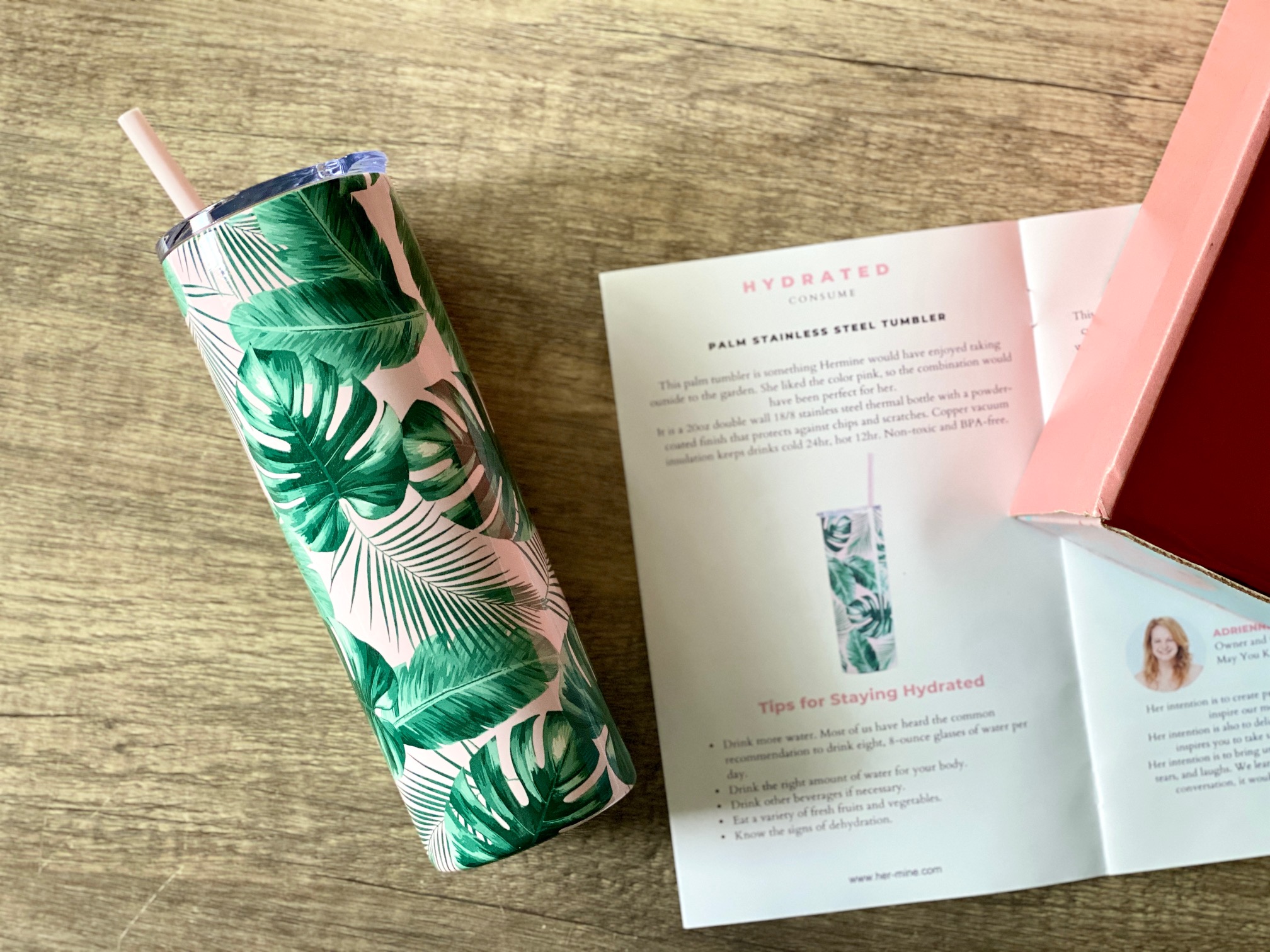 PALM STAINLESS STEEL TUMBLER
"This palm tumbler is something Hermine would have enjoyed taking outside to the garden. She liked the colour pink, so the combination would have been perfect for her."
This tumbler is high-quality, colourful and fun. I really love the plant details on it. It gives me extreme summer vibes and I have received so many compliments on it!
HER-MINE Review July 2021 – Final Thoughts
HER-MINE did a fantastic job with their 1st Anniversary box! I love every item that came in their 'Hermine's favourites' themed box. All of these items will be so useful for practicing self-love and self-care this summer! I really love the Palm Stainless Steel Tumbler and the May You Know Joy Cards, but I love all the items! I see some new favourites of my own, and cannot wait to dive further into self-care. This is the perfect subscription for any woman who appreciates quality items and supporting other women.
Hayley Savanna – https://www.instagram.com/hayleysavanna/