HER-MINE Review June 2022
HER-MINE is a curation of beautiful and thoughtfully composed lifestyle products delivered monthly. They are cultivating and nurturing a sisterhood that cares about supporting women-owned businesses. Each limited-edition box features carefully selected items that deliver value and pursue a common purpose: to foster the growth of women-owned businesses through partnership while empowering people to shop female.
*They kindly sent us this box for review*
HER-MINE is all about girl power and supporting women, and women-owned businesses. I have discovered some of my absolute favourite small, women-owned brands thanks to this amazing subscription box!
Subscription Details
HER-MINE Box is a monthly self-care lifestyle subscription focused on pampering and empowering women. Each deluxe box incorporates 5-8 wellness products sourced primarily from female vendor partners that produce natural, organic, or feel-good products ranging from aromatherapy, clean beauty/skincare, and unique lifestyle goodies. Themes and items change each month so it's always a delightful surprise!
Each month HER-MINE carefully packs their items in their branded box.
Here's a closer look at the June 2022 HER-MINE box…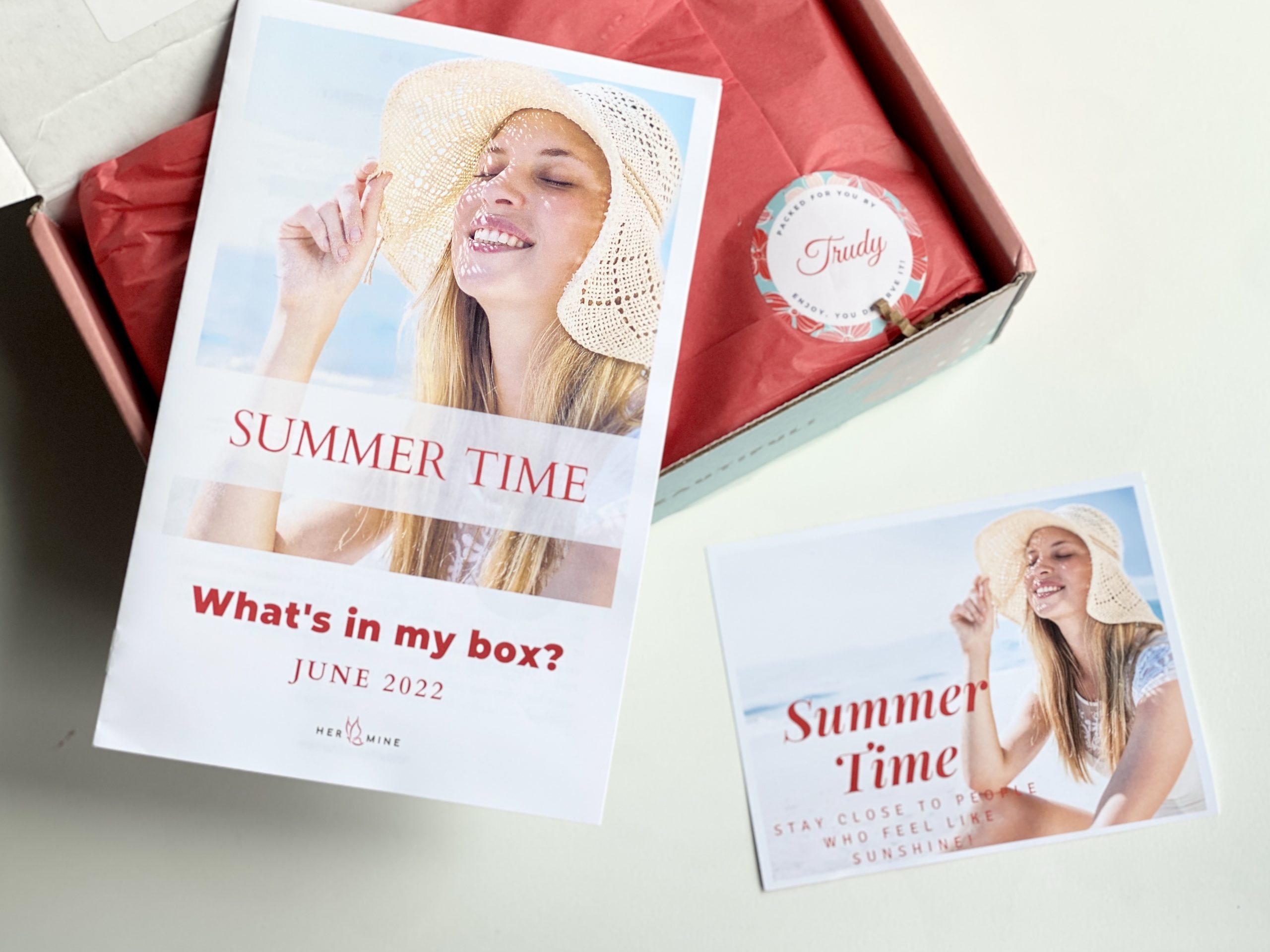 June 2022 Theme: Summer Time
"June's self-care-themed HER-MINE box is filled with all things summer. Headed to the beach, pool, or even a staycation? These items will make your trip more enjoyable!"
I love sunshine and long summer days… I can't wait to see what summery items HER-MINE has included for their Summer Time box this month!
Pineapple Shower Steamer – HER-MINE
"Treat yourself with our HER-MINE Shower Steamer! We know you may not always have the time or the desire for a bath. A shower steamer is a bath bomb for your shower. It can promote relaxation, relieve anxiety and stress, and even clear the sinus. Ours fizzes and releases the juicy scent of pineapples. We love pineapples, maybe because they remind us of summer. The shower steamer is super easy to use. Simply lay it on the included bamboo tray (yes, we thought of that too) on the bathroom floor away from the direct stream of water but just in the right position for the droplets to fizz and activate the aroma. Shower steamers last about 10-15 mins."
This shower steamer smelled incredible – just like walking through the pineapple plantation in Hawaii! Having used this steamer for the past few showers, it definitely added to my shower experience and overall mood and left me feeling upbeat, refreshed and motivated to tackle my day. I am obsessed with pineapples, always have been, and I adore the sparkles in this steamer… I almost did not want to use it because it is sooo pretty!
Shower Steamer Tray – Zefiro
"This tray is made of 100% bamboo and is waterproof! Set your shower steamer on this tray so you can easily pick it up and move it anywhere in your shower."
This beautiful shower steamer tray is stunning and such a good idea for use with the above shower steamer. It is small enough to fit perfectly on the edge of my bathtub, or on a shelf within my shower. It also might be useful to place my shampoo bar on so it dries between uses.
Pina Colada Minis – Wine-A-Rita
"Frozen drinks are the perfect indulgence during warm weather. This PINA COLADA MINI is a tropical blend of sweet pineapple and coconut. Proudly made with real sugar, natural flavors & coloring."
I used to be a beer gal, but recently have been gravitating towards mixed drinks and cocktails. I love that we are given different drink recipes to try including an alcoholic-free drink with this Pina Colada Wine-A-Rita drink mix. I am having a small celebration at the end of the month so plan to bust this out then. I have read only amazing reviews of it so far!
Pineapple Kiwi Ginger Pear Sheet Face Mask – ESW Beauty
"Rejuvenate dull, tired skin and brighten your complexion with this pineapple-infused sheet mask. Kiwi, ginger, and pear extracts work together to provide nutrition to your skin and leave it smooth and supple."
This mask is formulated with only clean ingredients, is vegan, cruelty-free and sustainably made. It did wonders for my skin and smelled so good: tropical and delicious! My skin was left brighter, soft and hydrated after use.
Jamaican Pineapple Room Spray – HER-MINE
"Our Jamaican Pineapple Room Spray is a great way to create a tropical ambience in your home. It is a bright, refreshing balance of sweet, citrusy pineapple, and smooth coconut water. The inviting and relaxing scent of the tropics will bring a beautiful balance of fragrance to any space."
This Jamaican Pineapple Room Spray is my new favourite scented product for use at home! It smells ambrosial and I am here for it! Before I had company this past weekend I used a few spritz to freshen up the space and received compliments on it. Again, I love pineapples so I was very excited to see this in this month's 'Summer Time' themed box.
Sunglasses Case
"Finding your sunglasses in your purse can sometimes turn into an Easter egg hunt, and often when you find them, they're not in the shape you want them to be in. We love these cool pastel clamshell cases because they are specifically designed with your glasses in mind, and with their bright colors they won't be hard to find in the depths of our purses. The interior is lined with a soft fabric that keeps your lenses from getting scratched, and the lid design makes it easy to access your glasses."
Unfortunately I am the queen of wrecking my sunglasses because I often sit on them or throw my purse down by accident. This stunning, high-quality and bright sunglasses case will add to the longevity and state of my sunglasses. I love the colour combination of it too! Just what I needed in my life. How did HER-MINE know?!
Sunglasses
"Sunglasses are a must have during the summer season. They are actually essential all year round. If you're participating in outdoor summer sports or simply running afternoon errands, having a great and stylish pair of sunglasses on hand can make all the difference."
Summer, sunshine and sunglasses are the perfect mix! These sunglasses are both stylish and versatile, they will go with many looks whether sporty, classy or relaxed.
HER-MINE Review June 2022 – Final Thoughts
HER-MINE did a fantastic job with their June 2022 "Summer Time" box! We received six summer-themed, high-quality and practical items that I will use or already have used. I love the HER-MINE shower steamer and Jamaican Pineapple Room Spray and the Zefiro Shower Steamer Tray most, but all of the items are wonderful! This is the perfect subscription for any person who appreciates quality items and shows support for other women and women-owned businesses. Cheers to some summer time self-care!
Hayley Savanna – https://www.instagram.com/hayleysavanna/