HungerFree Quarterly Review VOL. 1 2017
HungerFree Quarterly is a World Vision initiative in partnership with UN's World Food Programme. Each box is themed with recipes, stories, and handmade artisan products that equip you to host an experience centered around food and community. The best part? A portion of your subscription box helps support an innovative economic empowerment project in Kilifi County, Kenya. They kindly sent us this box for review.
Oh my goodness, it's a very exciting day. I get to review a brand stinkin' new Canadian Subscription Box, and it looks pretty darn amazing. HungerFree Quarterly is a new box and this is their very first shipment.
New boxes are always exciting, but when they are Canadian, and they support a good cause, the excitement level skyrockets!
Here's a few more details from the website that I thought were worth mentioning:
Each HungerFree Quarterly box is created with partners who are serious about celebrating food and empowering others to rise above poverty.
795 million people are hungry in our world. That means 1 in 9 people don't have enough food to eat. Most of these are children. In a world of smartphones, self driving cars, and instant food delivery services, we think hunger is just plain unacceptable.
Each product is handmade by artisans that are paid fairly, work in healthy and comfortable conditions, and are provided with opportunities for a better future for them and their families.
Each box is improving lives by supporting World Vision's innovative work to end hunger. After we paid those amazing partner companies for products, the profit goes directly to HungerFree programs in Kenya.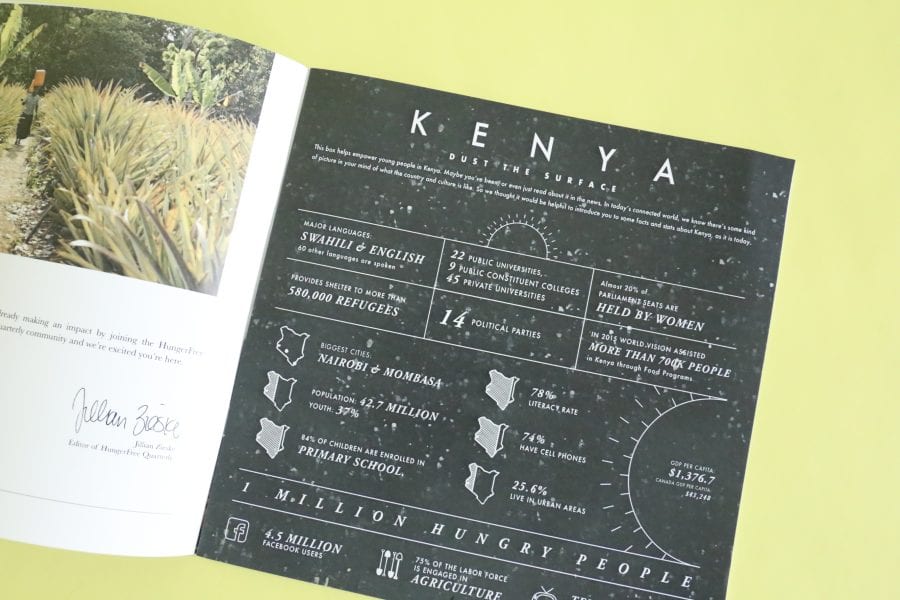 Vol.1 Theme – Create
The theme for the very first HungerFree Quarterly Box is Create. Volume 1 is dedicated to the process: the passion and joy of creating with people you love. The information booklet shares with us the stories of how people in Kenya create with rich traditions and beautiful communities. They hope that the stories inspires us to create in our own way; with our traditions and in our communities.
Here's a look at the gorgeous items we received in the first box. Every item was handmade by different artisans throughout Kenya.
Ubuntu Made – Recipe Pouch
The olive green pouch is handmade for you by artisans in the Maai Mahiu community of Kenya. Ubuntu Made provides fair jobs while also driving sustainable revenue to Ubuntu's Foundation and on-the-go programs, which specializes in philanthropic health and education programs in the developing community. 
A recipe pouch is such a great idea. I have a few recipes cards that seem to get lost in the shuffle. This little pouch will solve that problem. They also suggest using it as a passport holder.
Banana Box – Small Spoons & Pinch Bowls
The two small responsibly made bone spoons and hand painted pinch bowls are from Banana Box Company of Nairobi, Kenya. Banana Box has been working with Kenyan artists, craftsmen and women for almost 20 years with a focus on using sustainably produced, raw and recycled materials.
I absolutely LOVE handmade kitchen items. I fall for them every time. There's just something about a hand-painted bowl that makes me happy. Use the pinch dish for spice or as a jewelry holder.
The spoons can obviously be used for a number of different things, but the product booklet suggest using them for your morning coffee……sold!
Mango Patch – Tea Towel
Now you can accessorize your kitchen with an exclusive HFQ print tea towel. It is handmade from Kenyan cotton by artisans of Mango Patch. Mango Patch was founded to help break the poverty Cycle for Women in Kenya, employing and teaching them sewing skills as a trade which makes them employable in the future. 
This tea towel is absolutely gorgeous! I want 3 more of them! The product card suggests using it as a table centrepiece. Add a vase of your favourite flowers. This is what I will be doing.
Dennis The Prescott – Recipes
Enjoy five recipes developed by Dennis Prescott, Canadian chef, writer and food photographer. Dennis writes a weekly column for Food & Wine Magazine. This summer, The Globe & Mail added Prescott to their prestigious Food 53 roundup, a list of the top food influences in Canada. His debut cookbook, Eat Delicious, will be released worldwide next spring. 
I love, love, love recipes! I could spend hours on recipes websites or paging through recipe books. Literally hours. I will probably end up adding these cards to my recipe book, but they also suggest binding them together and gifting them to a friend.
HungerFree Quarterly Review VOL. 1 2017
It's official……I am in LOVE with HungerFree Quarterly. I had a feeling I was going to like this box, and I certainly do. For their very first shipment, I am extremely impressed. They have everything covered – packaging, branding, quality items, product card, information booklet, and price. The box comes in at $53.99 per quarter, plus $10 shipping. I think that is extremely reasonable for the gorgeous handmade items you receive, and the fact that you are supporting a great cause. I'm so proud that this box is based in Canada. We may have been slow to jump on the subscription box train, but we (Canadians) are making up for lost time. I expect to see great things from HungerFree Quarterly, and am already excited for their next box. I would LOVE to see them up their shipping schedule from Quartlery to Bimonthly, but that's just me being selfish. That obviously won't happen since the word "quarterly" is in the box title…..but a girl can wish.
Question: What do you think of HungerFree Quarterly? Are you as excited about it as I am?
XOXO
Explore.
Save.
Enjoy!
Sign up for a free account on A Year of Boxes to receive exclusive offers, be added to our monthly mailing list, and much more! We are always adding features to improve the experience for our users, from their valuable feedback!
Join Today!