I Live Eco Review Summer 2020
Curated with products to help you start (or continue) living a more eco-friendly life, delivered right to you each season, I Live Eco subscription box is the easiest way to start living with less waste and less toxins. They kindly sent us this box for review.
I'm doing something a little different with today's review…..it's being reviewed by popular demand which is something we've never done before. We had a number of you ask about this box and were more than happy to accommodate the request because it's actually a box I've had my eye on as well.
To be totally honest….I was VERY excited to get my hands on the Summer I Live Eco as I have a feeling it's going to be one of my favorite boxes of the season!
Subscription Details
Each season, I Live Eco Box contains eight full sized products as well as samples and coupons from their partners. Curated with products to help you start (or continue) living a more eco-friendly life, delivered to you each season.
Here's a closer look at the items I received in the Summer 2020 I Live Eco box….
Earthsuds Shampoo Tablets
Packed full of argan, avocado, and apricot oil, this shampoo is rich in monounsaturated fats and oleic acid which makes it one of the few oils that can actually evenly moisturize and smooth every last strand, making your hair frizz-free while helping to prevent breakage in the long-term. With the added power of marshmallow root, it helps to detangle and soften hair without the harm of added silicones, while its plant proteins help to promote healthy hair growth.
Expose one tablet to water while in the shower and begin to crush and rub product to dissolve the tablet into a liquid. Apply to hair and lather normally. Use a second tablet only if needed. Rinse.
Oh my goodness! I am very excited to try these shampoo tablets. What a genius idea! I had no clue something like this existed. And can we talk about how good they smell!? Fresh and clean but not overpowering in the least.
The only thing that would have made this product better is if we had received the conditioner tablets to go with the shampoo. Actually….I spied a trio box on the Earthsuds website which includes shampoo, conditioner and body wash….I may need to purchase one.
Colibri Reusable Food Bag
Measuring 7.5×7.5 inches, this size is great for sandwiches, bagels, muffins and fits two sliced apples. Get creative and use them to organize phone chargers, medications etc while travelling. Machine wash cold / low dry or hand wash and hang to dry.
Yes, yes, yes!! I have been meaning to get one of these, or two, or three. I received some a couple years ago and made the foolish mistake of gifting them to one of my really good friends. Well, maybe it wasn't foolish because she absolutely loves them. I'm just sad that I didn't keep at least one for myself……but now I have one.
This is another product I may need to purchase more of. I've already had a peek on the Colibri website and found a few mores styles that I would love to have…..and the same goes for the next item….
Colibri Reusable Face Mask
I squealed with delight when I saw this reusable face mask in the box. I NEEDED one of these in the worst way but just haven't had the time to source a cute one out. This pattern/color combo is absolutely perfect for me. This is now the 3rd item on my list of "need to purchase more".
All Good Products' SPF50+ Mineral Sunscreen Butter
Smooth, creamy, organic. No, we're not talking about guacamole – we're referencing our SPF 50 Tinted Mineral Sunscreen Butter. Made with zinc-oxide, this reef safe butter physically blocks UVA/UVB rays and is tinted with iron oxides to blend with most skin tones. Leaves a "barely-there" matte finish.
I am extremely picky with my sunscreen and will often opt to stay out of the sun rather than brave the weather and have to deal with sticky, filmy, chemical-filled sunscreen. This is an item I am extremely happy to have received.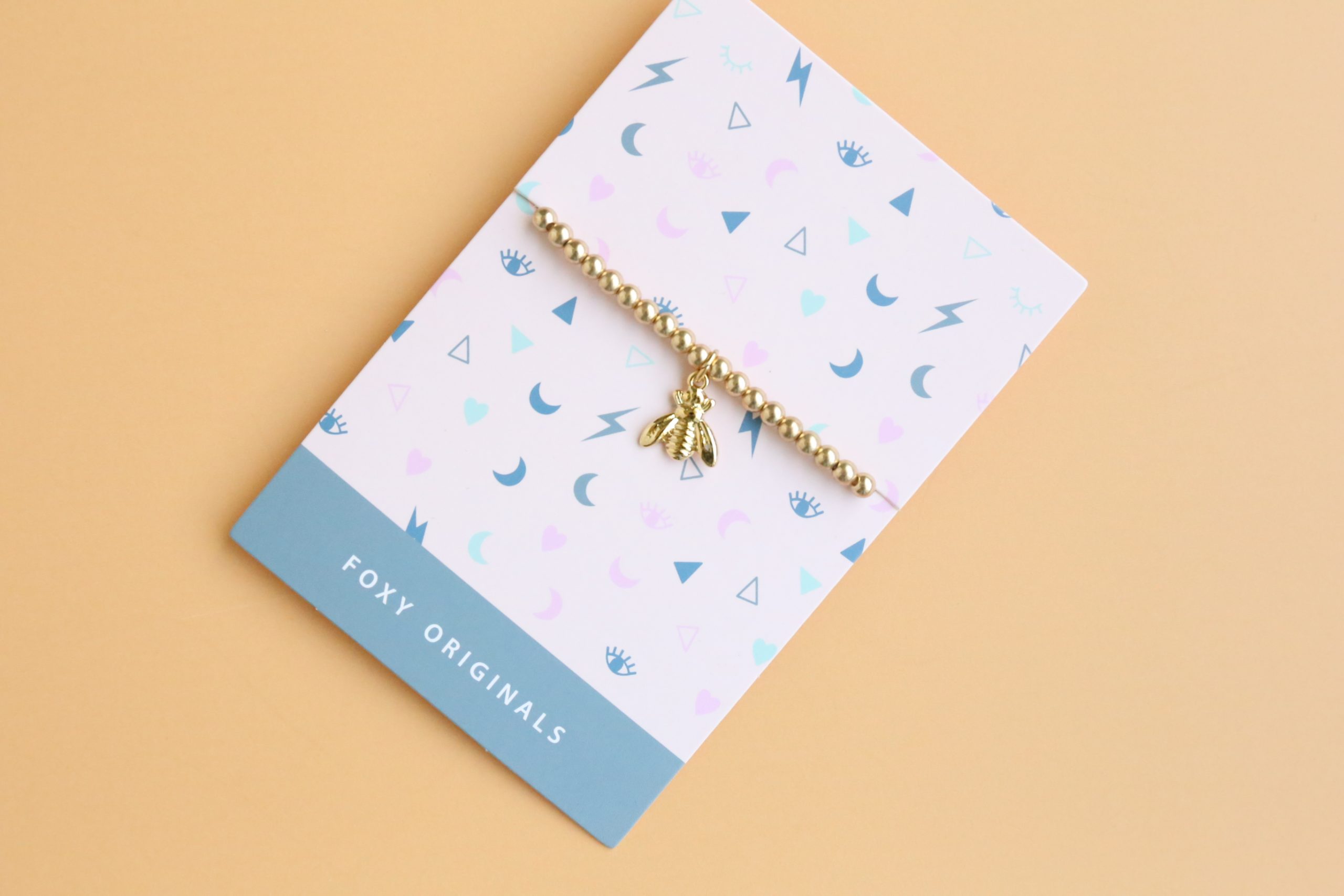 Foxy Originals' Exclusive Bee Bracelet
This is an item that was available in two different styles. I believe the other style subscribers could have received was a pair of circular drop earrings. I am loving the bracelet (which might actually end up being an anklet for me) because the bee is just too darn cute. I also happen to LOVE Foxy Originals and am very excited to see it featured in a subscription box. Can more sub boxes please include this brand?!
Dalcini Stainless' Bistro Lunchbox
Absolutely in LOVE with this lunchbox and have officially added a 4th item to my list of "need to purchase more". Dalcini has a few different stainless styles to choose from and since I got rid of most of our plastic containers a few months back I am very happy to have an environmentally friendly version to add to our kitchen drawer.
Bamboo Sunglasses
These were a bonus gift for new subscribers and what a great little bonus gift to receive! Sunglasses are an item I LOVE to see in my subscription boxes, especially this time of year. And….I don't have anything even remotely similar to this so they are a welcome addition to the sunglass collection. I love the laid-back, casual vibe they give off. Perfect for my Mom uniform which consists of leggings, graphic tees and hoodies.
I Live Eco Review Summer 2020 – Final Thoughts
Oh my goodness…..can we say LOVE?! The Summer I Live Eco box has stolen my heart! If this is what we can expect to receive each season then watch out seasonal sub boxes…..because I have a new favorite! I love everything about the Summer I Live Eco box. The curation is absolutely perfect and the mixture of items is on point! I am absolutely thrilled to see a reusable mask in the box and I'm kind of surprised we haven't seen this item in more sub boxes as of late. They get bonus points for that and bonus points for introducing me to four different products all of which I want to purchase more of. I Live Eco gets a big ol' A+ from this girl! I am dying to see what they come up with for Fall…..it's going to be a long couple of months waiting for that one to be released.
-AYOB Sarah