Inspired Go Review September 2022
Inspired Go is a Canadian meal delivery company on a mission to inspire every individual to thrive, by removing the barriers to healthy eating. Choose from a variety of fresh and delicious ready-made salads, sheet pan meals, breakfasts, healthy snacks and more that are delivered weekly right to your door.
Inspired Go…..where have you been all my life!?
Today I get to share Inspired Go with you for the first time and let me tell you……THIS is my new obsession. When I first came across this Canadian meal delivery box a couple months ago I had a feeling I was going to like it, but I had no clue I would become obsessed with it after only one delivery. This box fits my lifestyle perfectly and the salads are SO good! You must try this subscription!
Subscription Details
Choose from ready-to-eat salads, sheet pan meals that are ready in minutes, overnight oats, energy bites, protein add-ons, juices delivered to your door!
How It Works:
Select your favourite chef-crafted and fresh meals from the online menu, with no subscription required.
Delivered on the day of your choice. Say "yes" to eating healthy when they taste so good, look so fresh, and are ready to eat! Get free delivery on orders $65 or more.
Enjoy a healthy week with no cooking required and meals stay fresh for up to 7 days.
Here's a closer look at the items I ordered in my first Inspired Go box….
Rainbow Bowl: This vibrant bowl is packed with all of the colours in the rainbow to boost your body and keep you full for hours! A few simple ingredients lead to big, colourful flavour in this healthy bowl!
Ingredients: quinoa • broccoli slaw • carrots • beets • pickled onion • edamame • yellow pepper • everything bagel spice • homemade lemon tahini dressing
First up the Rainbow Bowl. This is going on my list of salads to get in every delivery because it is THAT good! The tahini dressing is to die for, not to mention the spice blend and the pickled onion. Oh my……this is a must try!
Crunchy Cashew Salad: This Crunchy Cashew Salad is loaded with a delicious fresh broccoli slaw, crunchy vegetables, roasted cashews, and a sweet and savoury citrus and hoisin vinaigrette dressing. This salad is checking all of the boxes for us. Add it to your order today!
Ingredients: juicy pineapple • red pepper • carrot • green onion • fresh cilantro • inspired greens • broccoli slaw with broccoli stalks, kale, and purple cabbage • cashews • homemade citrus hoisin vinaigrette
The Crunchy Cashew Salad is just as good as the Rainbow Bowl and perfect if you are looking for a lighter meal. Once again the dressing is amazing and I love the crunch from the cashews and the sweetness from the pineapple. Love, love, love.
Pumpkin Spice Chia Pudding: This is genuinely the BEST start to the day. We combined pumpkin puree with vanilla oat milk and chia seeds to make the base of the pudding. It features a dash of maple, cinnamon, and nutmeg to really liven up the flavour. This cup is topped with our homemade granola, which adds a satisfying crunch and some extra protein.
With the Fall season in full swing I HAD to get the Pumpkin Spice Chia Pudding and it was such a nice change from my typical avocado toast. And….can I just say how nice it is to have breakfast ready to go and waiting for you in the morning? It felt like a treat.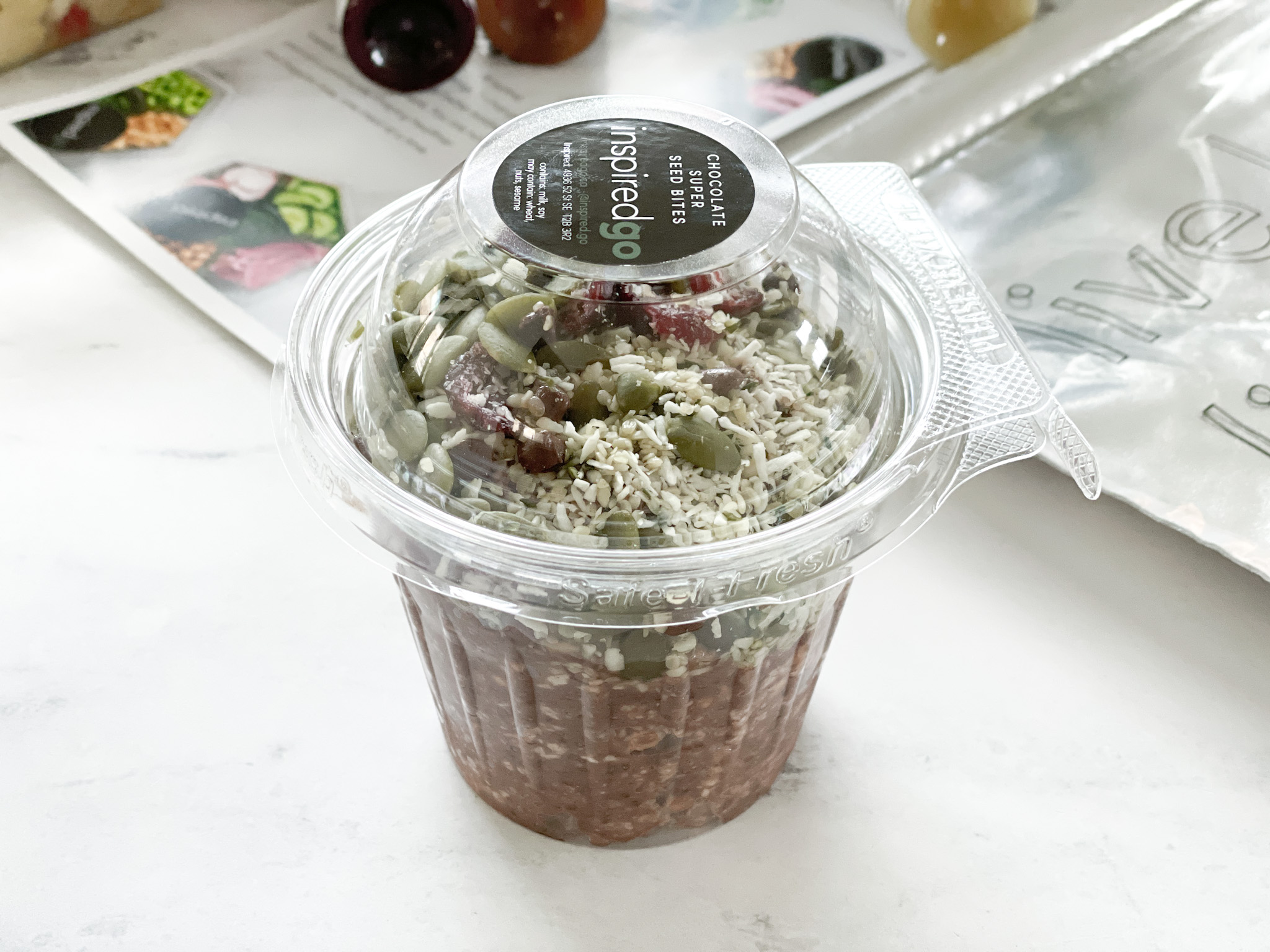 Chocolate Overnight Oats: We deliver this chocolatey ready-to-eat treat – all you have to do is grab it and go. We modelled this flavour after a delicious brownie treat so that you can reward yourself for eating healthy. Order and store in the fridge for up to five days so that healthy snacks are close at hand.
Here we have another ready-to-go breakfast and this one is definitely my fave of the two. It felt like I was eating dessert for breakfast, I couldn't stop…..lol. The portion is also quite big. I could almost get 2 servings out of this if I wanted. In fact, that's probably what I will do next time, split it in 2 and pair each serving with a side of fruit.
Well Elixir Immune Boosting Pack: The boosting pack includes Antiox Elixir, Lemon Elixir and Detox Elixir.
"Here's your compact superfood pick-me-ups that provides functional health benefits. We handcraft our shots to give your immune system a boost."
This Elixir Pack was just a fun little add-on I decided to include with my order because it's September, a fresh start for my meal plan, and let's be honest…..germs are everywhere right now so I want to infuse my body with as many superfoods as possible:)
Mediterranean Pasta Salad Kit: This easy pasta salad is great because it can be made ahead of time for a barbecue or picnic, or it can be made right at dinner time as a great complete meal.
One of the things I love about Inspired Go is that in addition to their truly amazing salads they have meal kits. I ordered this one just to give it a try….not really thinking much about it……and it exceeded my expectations. I added some tofu and it made for the perfect meal. I would definitely order this again.
Chocolate Super Seed Bites: This recipe is packed with all of the superfood seeds to nourish and fill your gut – chia seeds, hemp hearts, ground flax, and pumpkin seeds. Mixed with sweet dates and ground oats, these bites are equally nutritious as they are delicious. We doubled up on the chocolate in this recipe to give you your sweet fix for the day. Reward yourself for eating healthy!
And lastly…..a little treat to round out the box…..
Cost Breakdown
Here's a peek at my total for everything I order this past week. As a recap I got….
2 salads
2 breakfast cups
meal kit
wellness shots (3)
super seed bites
Inspired Go Review September 2022 – Final Thoughts
Inspired Go is a new must-have subscription in our house. I was pleasantly surprised with all of the menu items I ordered in my first box and ended up loving everything WAY more than I thought I would. The salads are so flavourful, very filling, and so convenient. You simply open, dump the ingredients, put the lid back on and shake. I am a full-time mom, and full-time business owner so I desperately need convenient meals and healthy meals. Inspired Go provides me with both of those things so I will definitely be placing an order every week:)
-AYOB Sarah