Jiyubox Review Summer 2020
Jiyubox is an all natural personal care and wellness subscription box, making natural beauty convenient for the busy human. They carefully curate your box with essentials for the season bringing you toxin-free products created by passionate small businesses. They kindly sent us this box for review.
Jiyubox is clean beauty delivered to your door 4 times per year….it's as simple as that. They have been shipping for about a year now and I believe they are referring to the Summer box as their Birthday Box. I've had my eye on Jiyubox since they started shipping and I am beyond excited to be reviewing it for the very first time. I already have a feeling that it will be a new favorite skincare box.
Subscription Details
Every Jiyubox features 4-6 full size products that are all natural, cruelty-free personal care and wellness items with a minimum retail value over $100.
They offer a seasonal subscription, an annual subscription or a one-time purchase.
Here's a closer look at the Summer Jiyubox….
Summer Box 2020
We're celebrating Summer and our 1 Year Birthday! This box is the ultimate in buffed, brightened skin and curated with summer time glow in mind. Each product was chosen for its ability to give you a dewy, hydrated, and refreshed look and say good bye to dry, flaky skin.
They had me at dewy, hydrated and refreshed. This is exactly what I hope for my skin to be. I just love a fresh, dewy face with subtle makeup. We are already off to a good start!
Hadaka Beauty 24KT Gold Eye Mask
With Hyaluronic Acid + Vitamin A + Collagen – Brighten, soften & hydrate the skin. Infused with hyaluronic acid and collagen that penetrates the skin to provide for a deep moisturizing effect. 24KT GOLD EYE MASKS can be used while you are doing eye makeup to hydrate the under eye area and reveal brighter skin, allowing your makeup to stand out. These eye masks are great during air travel to hydrate the skin and arrive refreshed and glowing to your destination.
Reusable up to 2-3 times, and as a daily or weekly treatment to give skin moisture and achieve that special glow!
I LOVE eye masks and it has been a while since I used one. My eyes are my problem area so I like to give them a little extra love every now and then. And can we talk about the fact that these masks are reusable?! I had no clue! Now I'm even more excited.
Hadaka Beauty 24KT Gold Lip Mask
With Hyaluronic Acid + Vitamin A + Collagen – A hydrating lip mask infused with 24KT nanogold technology that prevents and targets the appearance of fine lines and wrinkles. This mask will leave your lips feeling smoother, softer & more hydrated. This mask is great to prep before going on a date, to any event or as a weekly treatment.
Usage: Apply before makeup application to clean lips. Remove after 20 minutes for hydrated, plumped lips. Tingling and warmth is normal.
I've never used a lip mask before but I am more than willing to give it a try. I like that we received both the eye and lip masks. I will plan myself a little spa night and use them together.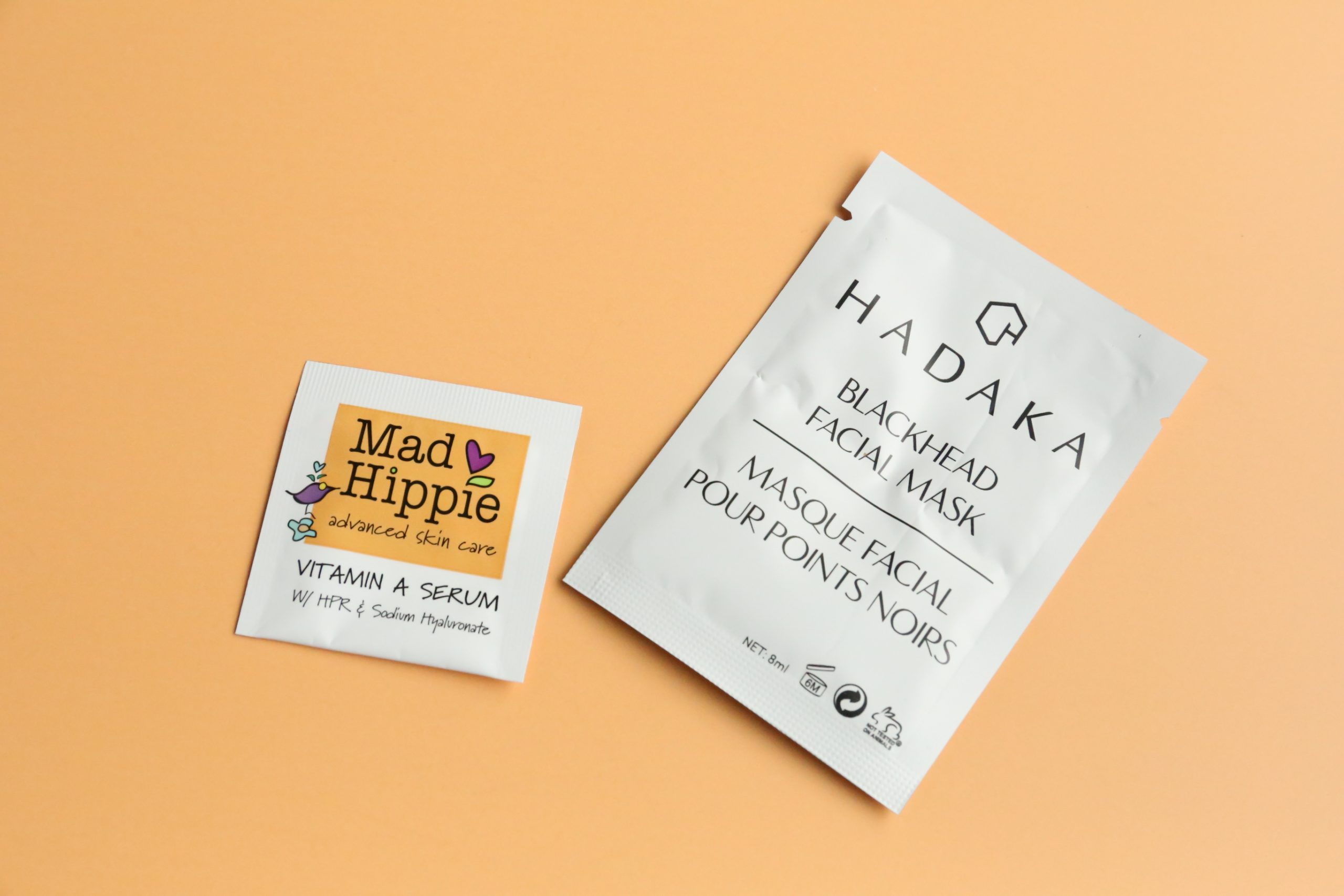 Hadaka Beauty Blackhead Facial Mask
Formulated with all-natural bioactive ingredients, this mask provides for a deeper level of clean as it removes impurities from underneath the skin's surface. It works to expel excess sebum that clogs your pores, preventing blackheads. The active charcoal removes dirt and build up and cleanses pores to reveal brighter, fresher and smoother looking skin. 
Usage: Apply an even layer to clean, dry skin avoiding eye area, eyebrows, hairline, and lips. We recommend using in the T-zone area where the skin tends to produce the most oil and blackheads are commonly found. Allow to dry for 20-25 minutes. Gently peel off mask starting from the bottom and pulling upwards. Cleanse face of any residue with warm water and follow up with moisturizer.
Now this is fun! I've used pore strips before but never the mask version. I am so intrigued by this product. Something else to add to my spa night perhaps?
PS – I didn't see the Mad Hippie serum on the product list so I am thinking it is a bonus item.
Hadaka Beauty Wonder Luxe Body Oil Mini
Anti-aging & cicatrizant blend of Marula & Camellia oils promote  the recovery of wounds and scrapes, and protect the skin from free radical damage that causes signs of aging. This oil is rich in Vitamin C & E and deeply moisturizes the skin due to its exceptionally high oleic acid (omega – 9) content. A small amount is required, as a little goes a long way. Pleasant and relaxing scent of Mint, Orange and Vanilla oils to uplift, while calming and relaxing.
Showers after gym class? Toss it in your purse, in your gym bag and make sure you are moisturized 24/7 everywhere you go. Lock moisture into your skin by applying WONDER Luxe Body Oil to damp skin right after you've hopped out of the shower, your skin will be nourished and radiant.
Usage: Apply on damp skin after a shower or bath. Can also be used as a massage oil.
We have one more product from Hadaka Beauty and one more product I am adding to my spa night. I am picturing a nice relaxing bath….eye mask, lip mask, the blackhead facial mask and a small amount of this body oil (which smells amazing by the way) applied after my bath. Maybe a little wine as well?
Orgaid Vitamin C Sheet Mask
Need a boost? This organic sheet mask uses Vitamin C, a powerful antioxidant that enhances the collagen synthesis in the skin. By minimizing discoloration and unevenness, you'll reveal a complexion that's as radiant and luminous as you. Specially formulated with Ecoderma fabric technology to allow the serum to absorb deeper into the skin.
Usage: Apply clean dry skin. Leave on for 15-20 minutes and gently remove. Finish with moisturizer.
Sheet masks are so nice to have on hand. I like to have a few in my bathroom cupboard as you just never know when your skin is going to need a little boost. I like that this one is made with Vitamin C as it is one of my all-time favorite skincare ingredients. It's SO good for your skin!
1'Lux Srsly Buffed Dry Brush
Say buh-bye to messy, slippery oil scrubs and use this plant-based dry brush instead to slough off rough, scaly skin from the neck down for maximum exfoliation and detoxification. This dry brush treats and prevents ingrown hairs, de-pollutes congested skin, restores glow and smoothness, improves the appearance of cellulite, and enhances the absorption of lotions and crèmes.
Every brush is made with hundreds of fibres from Agave sisalana and features a solid lotus wood handle wrapped in soft white cotton rope for a comfortable grip. Each brush comes with a custom-fit, drawstring carrying bag made of durable white canvas, perfect for brushing on the go, on gym days and vacays.
Usage: Use brush dry, and on clean, dry skin. Brush upward in long sweeps toward the heart, against the direction of hair growth. Apply moderate pressure until skin has a matte look (darker skin tones) or a slight rosy flush. Clean brush occasionally with soap and water; allow to thoroughly dry.
I've never used a dry brush before and I really must give it a try. I've heard such wonderful things about dry brushing. Part of me is a little intimidated by it and part of me thinks it sounds amazing. I do like the fact that it restores glow and smoothness. Perfect for the back of my arms and legs.
Earth Harbor Marina Biome Brightening Ampoule
Marina Biome Brightening Ampoule is named for the treasured ocean-blue botanicals she possesses, Spirulina + Blue Tansy. It harbors highly-concentrated adaptogenic oils that vigorously brighten and balance for an even, radiant complexion. An overachiever, it works at a deep level optimizing skin's delicate microbiome to quickly and noticeably improve the look of overall skin health — while letting your senses set sail with her sweet Jasmine aroma and soft, emollient consistency. She'll be your skin's first mate!
Usage: For a hyper-concentrated treatment: Apply two or more drops to your skin after cleansing and toning, as needed. If using another treatment and/or moisturizer, massage Marina until absorbed.
For a daily skincare cocktail: Add two or more drops of Marina to any serum, facial oil or moisturizer both morning and night.
I've never used an Ampoule before so I had to do a little research. I found out that An ampoule is a supercharged serum with higher concentrations of active ingredients that you're meant to use for a finite amount of time as a booster. I'm really looking forward to testing this one out and I'm so glad they included it in the box. I will go with the skincare cocktail suggestion and add a couple drops to my daily moisturizer.
Newt by Elle Marula Rosehip and Gold Facial Oil
This luxurious facial oil made from 100% natural ingredients, that will leave your skin feeling rejuvenated, refreshed, and radiant. Featuring Marula Oil + 24k Gold flakes, this oil is super lightweight, allowing it to easily and quickly absorb into all skin types leaving you with a smooth and hydrated finish.  With a hint of both earthy yet energizing notes, this oil is softly scented with sandalwood, grapefruit, juniper berry + anise.
Usage: Shake well, apply 3-4 drops and gently massage into skin. Apply after cleanser and moisturizer.
The last item in the box and definitely my favorite – facial oil. I rave about facial oil every chance I get. I stopped using cream moisturizers a few years ago and have never looked back. This one sounds absolutely lovely, it has a subtle scent and it will go perfectly with my new Ampoule. As for the fact that it is made with 24k Gold flakes…….how fun is that! Another skincare trend I am yet to try.
Jiyubox Review Summer 2020 – Final Thoughts
If you sign up for a seasonal subscription Jiyubox is only $59.99 per box. That and the fact that shipping is only $5 means that you are definitely getting your money's worth.
Jiyubox is everything I was hoping it would be. The packaging is simple yet beautiful, the presentation is on point, they have a ton of information about the products on their website and I LOVE the curation. The Summer box is giving me all the good vibes and provided me with some absolutely wonderful skincare products. This says a lot coming from someone who typically shies away from testing out new facial products. I am absolutely thrilled with my first Jiyubox and am already anticipating the Fall box…..I have a good feeling I will love that one as well:)
-AYOB Sarah