Karl Lagerfeld + ModelCo Limited Edition GLOSSYBOX Review 2018
GLOSSYBOX is a monthly beauty subscription box filled with beauty essentials for you to discover. Every month, receive 5 deluxe to full size beauty products that have been handpicked from around the globe in a beautiful keepsake box! They kindly sent us this box for review.
This is GLOSSYBOX's first limited edition box of 2018 and I really hope to see a few more before the year is up. There's something so fun about a limited edition box. I like the exclusivity and the fact that it's only available for a limited time. Once it's gone it's gone!
Subscription Details
When you sign up for a GLOSSYBOX subscription you can choose from the following options:
monthly subscription
3-month subscription
6-month subscription
12-month subscription
Every month you will receive a selection of five beauty treats that include niche, high-end, and emerging brands.
They source products from all over the world—to bring you the absolute best in beauty. With over 400 brands in their repertoire.
Inside each box, they provide you with a detailed description card with tips and tricks on how to use the products included.
To make sure your box fits your needs, fill in the beauty profile when you sign up. Update it when your personal style evolves, and they will customize the products sent to you accordingly.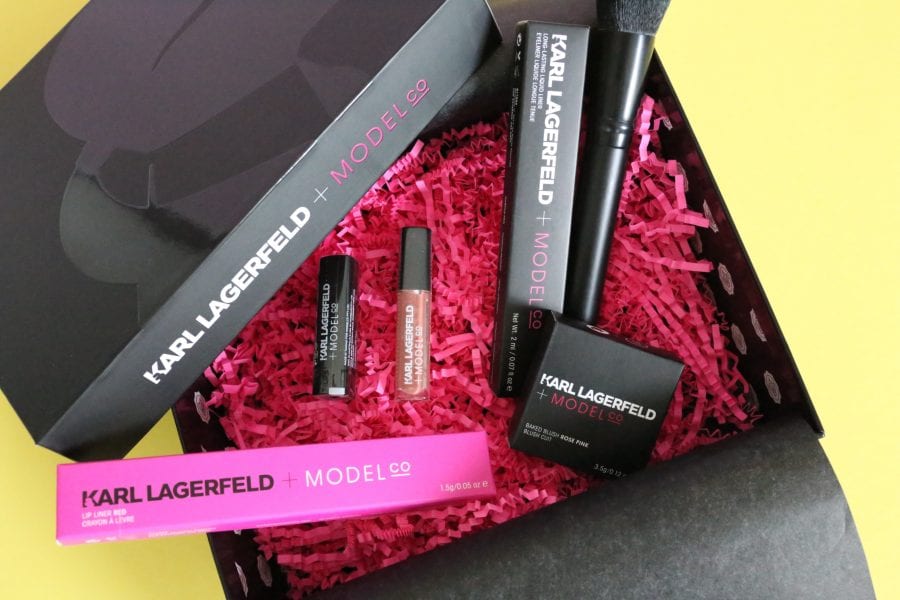 Limited Edition Box Details
We've teamed up with none other than KARL LAGERFELD + MODELCO for the launch of their new Limited Edition Collectible Beauty Range.
A GLOSSYBOX like no other, it's filled with 6 innovative beauty products (4 full-size and 2 deluxe mini size) with a combined worth of $164.
With a classic lip duo and luxurious makeup to highlight and illuminate, you don't need anything else for a couture catwalk inspired look. This box really is the best way to sample the new killer collection of innovative, smart and collectible beauty products
Karl Lagerfeld, a renowned designer who's directed Chanel, Fendi and Chloe, has teamed up with the iconic Australian beauty brand ModelCo that's developed award-winning self-tanning, cosmetic and natural skincare collections for 16 years.
Here's a closer look at the items we received in the limited edition box….
Blush Brush ($31 US)
Because how you apply it is just as important as what you apply, this no-fail beauty tool will help you make the most of blushes, bronzers and highlighters. 
I'm always happy to receive a new blush brush. It's the only makeup tool I use on a daily basis. Can't go without my blush! They also suggest using it for other powders.
Baked Blush in Rose Pink – Full Size ($44 US)
Add some glow to your life with this radiant baked blush, which brightens and highlights every complexion thanks to micronized color pigments and a sheer, buildable formula.
Did you know that baked makeup formulas begin as creams and then they are dried down to a solid? Your learn something new every day. They have a velvety finish and have less filler ingredients than other powders.
Lip Couture Lipstick Red – Deluxe Mini ($15 US)
Behold, the perfect red lipstick. This high-pigment, limited-edition color from Karl Lagerfeld and ModelCo is creamy and long-lasting. 
This creamy red lipstick goes on easily and leaves behind a matte finish. The red shade is absolutely gorgeous.
Lip Liner Red – Full Size ($29 US)
Looking to enhance that gorgeous pout of yours? This soft wax pencil allows you to create the perfect pout by giving the illusion of natural, fuller lips.
GLOSSYBOX suggests applying your lip pencil directly to the contour of the lips, starting from the middle and smoothing to the outer corners. This goes perfectly with the Deluxe Mini Lipstick!
Lip Gloss Ramatuelle – Deluxe Mini ($15 US)
Delivering a burst of creamy high-pigment color, this chic limited-edition gloss, which leaves behind a satin finish, is named after the designer's preferred summer getaway in the Mediterranean. 
GLOSSYBOX has provided us with some insider tips and tricks for this one. They say that despite your urge to rub your lips together after applying your gloss, experts say to avoid doing so. The motion pushes the lip gloss outward leaving your lips looking unfinished.
Long-Lasting Liquid Liner in Black – Full Size ($30 US)
A cat eye never goes out of style and this little beauty tool will help you achieve the perfect one!
This liner is super fine and water resistant. It goes on easily and is very precise.
Karl Lagerfeld + ModelCo Limited Edition GLOSSYBOX Review 2018
GLOSSYBOX's first limited edition box of 2018 is pretty amazing. Any beauty lover is going to appreciate this box full of makeup must-haves. It has a value of $164 which is crazy considering the LE box only costs $35 ($30 for current subscribers). It's still available for purchase but I have a feeling it is going to sell out soon. I like the idea of a box containing items all from the same brand, and I love that we received blush, a brush, liner and lippies. Can't wait for their next limited edition box. I wonder what it will be…….
XOXO