KETO4ALL! Review April 2020
KETO4ALL! is the Canadian box you need to support your keto, low-carb, sugar-free, gluten-free lifestyle. You get directly delivered to your doorstep keto approved products every month. It is the perfect subscription for a healthy lifestyle since it is filled with not only healthy ingredients and snacks, but also more information on the keto diet, a specific workout for the month and recipes.
Depending on your preference, you can choose between two different KETO4ALL! subscriptions.
First, there is the Pantry Box. This one is perfect for you if you follow the ketogenic diet and do not want to go shopping for your basic ingredients every month. You will get directly at home your essentials like almond flour, coconut flour, sweeteners and coconut oil. There are three boxes that go on a rotation. They are filled with pantry staples, but that is not all, you will also get:
2 or more featured snacks with discounts and coupons
VIP access to the Subscriber ONLY keto kart, monthly workouts, and exclusive recipes
Exclusive deals from the Monthly Featured Companies
You can subscribe for:
3 months for $74.95 per box
6 months for $71.50 per box
9 months for $67.50 per box
The other subscription is the Lifestyle Keto Box which contains (in the Premium box) 8 or more keto-friendly snacks, sauces, sweets, books, clothes, and fitness tools. Every month brings new items and this subscription has the same VIP access and deals as the Pantry subscription.
Here are subscription options:
month to month for $64.99 per box
3 months for $61.99 per box
6 months for $58.99 per box
Want to give KETO4ALL! a try without committing for a few months? Try the Mystery Mini Box for $49.99 (five mystery items) or pay for only one of the Pantry Box (A, B or C) for $74.95.
*Prices shown are in Canadian dollars.
KETO4ALL! kindly sent me this box for review. I received the Lifestyle Keto Box, which is filled with yummy snacks, a book, a recipe, a workout and more. The box looks like it had a rough time during transport, but everything in the box is in perfect condition.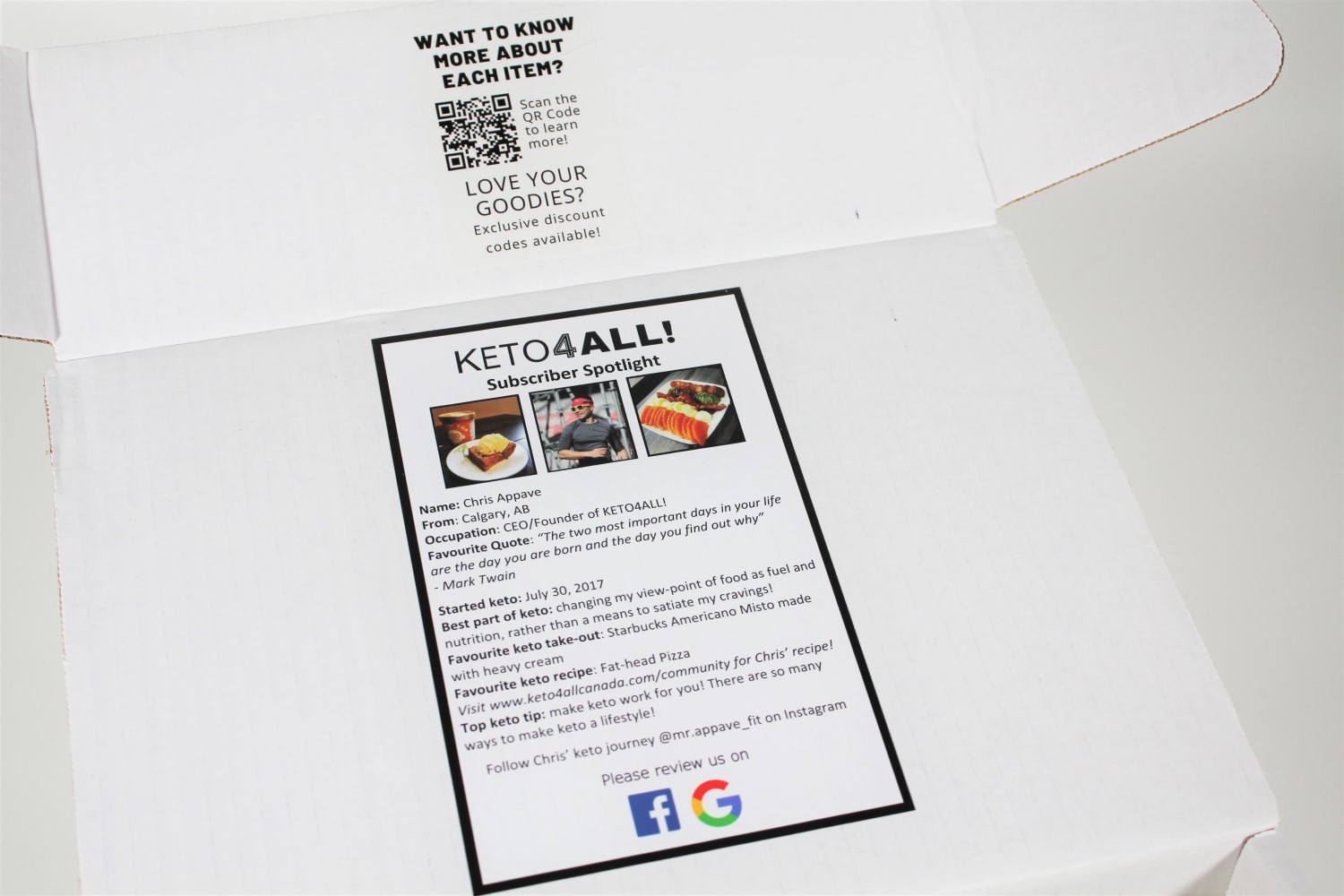 KETO4ALL! used the interior to post more info and I like this idea. This month, we get to know fun facts on the CEO/Founder of KETO4ALL! and on top of the subscriber spotlight, you can scan a QR Code to get to a web page giving more information on this month's products. Now, let's see what I received, starting with the two featured products of the month…
Keto Kitchen's Low Carb Granola
I have to admit, I am a granola addict. I eat granola everyday and have tried lots of low-carb brands  and love to try new ones. Keto Kitchen is a Canadian company based in British-Colombia and I received a sample of their product. From the ingredients, it looks delicious and very filling with lots of protein and good fats.
Lenny & Larry's Keto Cookie
So happy to get a Lenny & Larry's cookie. I saw them while shopping before and was tempted to try one. I received the peanut butter flavour and it looks yummy. One cookie contains 8 g of protein, 3g of net carbs and 5 g of fiber. It is also grain, gluten, soy, egg and dairy free. I love that it is a vegan product and it has a list of ingredients easy to read. It does not contain any sugar and looks like a real treat.
Love Goodfats Bars
These bars look like delicious snacks. Love Goodfats is a well known company and their products are made in Canada. Their bars are high in protein and low in sugar (1 or 2 g per bar) and only have 5 g of net carbs. It is keto friendly, but careful if you follow a strict keto diet since I found some cane sugar in the lemon mousse flavour (but that might not be enough to kick anyone out of ketosis). I will keep these hidden in my office desk so that little hands do not steal them (I am not the only one liking cookies and cream ha ha).
Buff Bake FUELBAR+MCT
Buff Bakes Fuel Bars are high in healthy fats (peanuts and tree nuts) and have moderate protein + low net carbs. With 12 grams of plant-based protein, these bars will give your body the fuel it needs to run at top potential. They have no added sugar and are naturally sweetened with monk fruit.
Here are two other bars I will surely enjoy. They have everything to make anyone happy and even more a ketoer. The added MCT oil powder is a good idea ("MCT" means medium chain triglycerides – they are fatty acids found in coconut and palm kernel oil) and I particularly like that it is sweetened with monk fruit since it is all natural and will not affect your blood sugar level.
Chocolate Mug Cake from Primal Noms
Mug Cakes are a must when you feel like eating cakes but do not want to go through the trouble of cleaning bowls and waiting 20 minutes for it to be ready. Here we have a solution that takes only one mug and one minute to cook. This decadent mug cake is sweetened with Allulose. This sugar substitute is new to me and I read that it is not metabolized by your body, so that does not count in your net carbs. It makes a cake for one with 420 calories, so that one should be eaten with moderation, but I will gladly give it a try.
Note: I found that Primal Noms is now named Sweet Logic in case you want to look at their products online.
Oh My Okra from Bert's Food
Oh My Okra – The newest superfood on the block. Rich in nutrients, low in sodium, high in fiber and an excellent source of potassium. Makes you question why you haven't been eating more okra!
Okra is something new to me and I am curious to try it. It is a vegan snack, gluten and GMO free and looks like a healthy snack with 6 grams of fibers, a good amount of potassium and vitamin C. There is only 3 grams of sugar per portion of 25 grams, which is half of this big bag (the sugar naturally comes from the okra). It looks like a good swap for potato chips.
Pork Crisps from CHAO + PAN
CHAO + PAN is a company in Vancouver, British Columbia. Their Pork Crisps contain 17g of protein, 1g of sugar and 0g of carbohydrates. They are gluten-free, keto and paleo friendly. They proudly produce snacks free of artificial flavours, fillers and preservatives and only made with Canadian ingredients.
Pork Crisps have been known for a long time where I live, and I have seen them served in classic sugar shack meals since I was young (with added maple syrup, but that is not keto at all). I personally am on the fence with these. It is such a classic keto snack, but I never felt tempted to try. I might give it a go now that I have this bag to try! I think they would make a good substitute for croutons for added crunch on a salad.
Nacho Cheese Puff and Parmesans Herb Croutons from Shrewd Food
Shrewd Food is a passionate company that focuses on healthy snacks, low in sugar and carbs, but high in proteins. I received two samples one being the nacho cheese puff that looks like the perfect snack: low calories, 14g of protein and only 2g of carbs. They have many other flavours of puffs like Brick Oven Pizza, Sour Cream and Onion and Cookie & Cream (might try that one too).
The Parmesans Herb Croutons looks promising to replace the usual bread croutons. The flavor and the crunchiness of the bread without all the carbs, calories and fat. I will give them a try on my next salad for sure.
Book: Keto Basics
Keto Basics teaches you everything you need to know about the keto diet in a quick, easy-to-understand way. Wondering what you can eat? You'll discover the wide variety of delicious foods included in the keto diet. Confused about what ketosis is and what effect it has on your body? You'll find a clear explanation along with easy-to-guidelines. Concerned that a low-carb, high-fat diet will just lead to weight gain? Not to worry! You'll learn why fat is your friend and how it can actually help you slim down.
This 224 page book rounds up the information you need to start your keto journey and includes over 50 healthy keto recipes. ⅔ of the book is information on the keto diet divided in five big chapters:
Getting Started on the Keto Diet
Understanding Ketosis
Fat Is Your Friend
Benefits, Risks, and Concerns of the Keto Diet
Ingredients for Healthy Keto Cooking
The last big chapter contains the recipes. It looks like a promising book with a lot of information. It answers a lot of questions a newcomer can have. I like the ingredients part which is not a simple list of ingredients, but more going into the guidelines of what you can eat and the must have ingredients.
I found three cards at the bottom of the box. One is giving more details about the two featured companies (Lenny and Larry's Keto Cookie and the granola from Keto Kitchen). It gives more info on the products and a promo code.
The second one is the recipe of the month. For April, I received the Keto Chocolate Cream Eggs recipe. I wish I had a mold to make this because it looks delicious. They use Krisda Sugar-Free Chocolate Chips (you can get them in one of the Pantry boxes) and 3 other ingredients sugar free and low carb. Looks like a must try for Easter.
The last card is the workout of the month. On one side are the instructions and on the other side, there is information on the trainer of the month and you can scan a QR code for a walkthrough for each exercise. I think this workout card is a great idea and a nice addition to a box that promotes a healthy lifestyle. I already have a workout program but this one is going to be a little extra.
KETO4ALL! April 2020 Review – Final Thoughts
I am impressed by my first box from KETO4ALL!. I love to try Canadian boxes and was happy when I discovered there is one promoting keto, low carb and low sugar lifestyles. The April box was filled with a lot of new products for me and interesting flavours. The Okras were the most surprising snack and the one I am the most curious to try. Also, I was pleased to find more than snacks in the box. The book was very interesting and the three cards with a workout, a recipe and more info on the featured products are great additions too. KETO4ALL! looks like the perfect box for keto enthusiasts as much as non-ketoers.
Jacynthe Létourneau – https://www.instagram.com/miss_minamie/