KiwiCo Review & GIVEAWAY May 2016
Today I get to do my second KiwiCo Review (last time I reviewed Doodle Crate) but I am also very excited to announce that I have teamed up with the Kid's Subscription Box to host an awesome giveaway. If you have been wanting to try KiwiCo, now's your chance! One lucky reader will win a 1-year subscription.
If you aren't familiar with KiwiCo it is a monthly subscription designed to help kids discover, explore, and create things in the world around them. KiwiCo has four different crates to choose from – Koala Crate, Kiwi Crate, Doodle Crate & Tinker Crate. You choose your crate depending on your child's age and also choose from monthly, 3, 6, 9 or 12 month subscription plans. This box was provided complimentary for review and may include affiliate links.
The Box: KiwiCo
Cost: $19.95
What You Get: Every crate includes all the materials and inspiration for projects related to a theme such as music, gardening, dinosaurs or colors. Projects may include arts and crafts, science activities, imaginative play and more.
Ships to: US & Canada
Shipping Cost: FREE to US & $6.95 to Canada
Directory: Find KiwiCo in the Box Directory – CLICK HERE
GIVEAWAY: Enter to win a 1-year subscription to KiwiCo – CLICK HERE
Today I am reviewing KiwiCo's "Magic" Box. Perfect for children ages 5-8, the kit includes all the items you need to learn amazing magic tricks which can be performed for family and friends!
The Spinning Matchstick – There are all the items needed to perform the Spinning Matchstick trick. Tell your audience that your magic wand can move a wooden matchstick.
The Handkerchief from Nowhere – These are all the items needed to perform the Handkerchief from Nowhere trick. Amaze your audience by making a handkerchief appear from the box.
The Bunny In A Box – Use these items to make a bunny appear out of a box.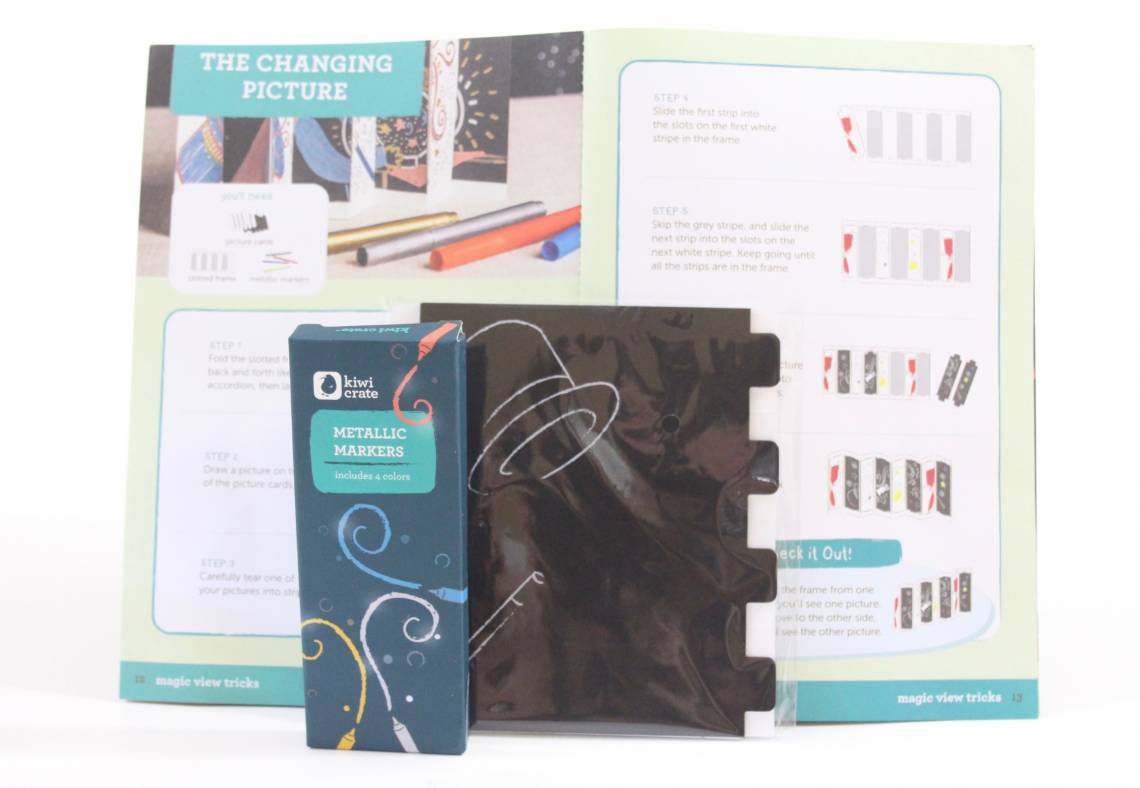 The Changing Picture – Use these items to make two pictures appear in the same frame.
Please Note: The photos above are only a few of the magic tricks found in the book, there were quite a few more.
Thoughts: Oh my gosh, I would have been SO excited to receive a box like this when I was a kid. I would have played with this for hours and hours.  I love that KiwiCo provides projects and crafts for your child, rather than just items. It gets them active and using their imagination. Want to try this subscription out for yourself? Make sure to enter our GIVEAWAY for your chance to win a 1-year subscription!
XOXO