Laid Back Snacks Review December 2021
Laid Back Snacks is a healthy snack box subscription service where you choose the snacks you want. Discover deliciousness from over 30 snacks online, including vegan, gluten-free and nut-free options. They kindly sent us this box for review.
For the second month in a row we are having a look at some of my must-have snacks from Laid Back Snacks. I've become very familiar with all of the snack mixes over the past year and I have definitely discovered some "favourites".
Subscription Details
Laid Back Snacks has 3 subscription options to choose from…
Choose from 5, 10 or 20 snack box sizes. Delivery is always free for 10 and 20 snacks, and free to some areas on 5 snacks.
Choose the snacks you want each month or let them surprise you!
Here's a closer look at the snacks I picked out to receive in my December Laid Back Snacks box….
Weekend Crunch
If you're looking for a tasty alternative to nutrient-free potato chips, then look no further. Weekend Crunch has been designed to give you the same crunch satisfaction, but with none of the nasties. This thirst inducing treat is high in protein, fibre, and contains nutrient levels to help you relax throughout the day. Perfect for when your favourite team is playing and there are bragging rights on the line. Go get 'em!
Ingredients: Roasted peas (green peas, canola oil, salt), Sugars (wasabi peas (green peas, corn starch, rice flour, cane sugar, palm oil, sea salt, wasabi seasoning (mustard powder, yeast extract, corn starch, cane sugar, sea salt, baking powder, white pepper powder)), Roasted corn nuts (corn, salt, corn oil)
This a favorite, along with a similar mix called Wasabi Me. I'm a huge dan of wasabi so the wasabi peas are what draw me to both mixes.
SNACK TIP: I use this one and Wasabi Me for my vegan charcuterie boards which I make for myself every couple of weeks.
Hearty Tamari
Hearty Tamari is one of our most popular savoury snacks. This is a fantastic healthy alternative to those no-good potato chips. Instead of empty calories, Hearty Tamari will leave you feeling happy and satiated. Sesame sticks and spicy pretzels mix with almonds and cashews, all lovingly slow-roasted in delicious tamari. This exotic taste from Japan confirms what we already knew – for good times, make them Tamari times.
Ingredients: Dry roasted almonds, Dry roasted cashews, Sugars (pretzel sticks (enriched wheat flour, salt, corn syrup, yeast)), Oat bran sesame sticks (enriched wheat flour, soybean oil, sesame seeds, oat bran, bulgur wheat, salt, beet powder, turmeric), Tamari sauce (soybeans, wheat, sea salt), Canola oil, Powders of garlic and onion, Spices
This is on my "faves" list because it's the perfect alternative when I am craving salty chips. The tamari flavour is wonderful and I LOVE the sesame sticks.
SNACK TIP: Craving something salty and savoury? Have this in place of chips or other "unhealthy alternatives".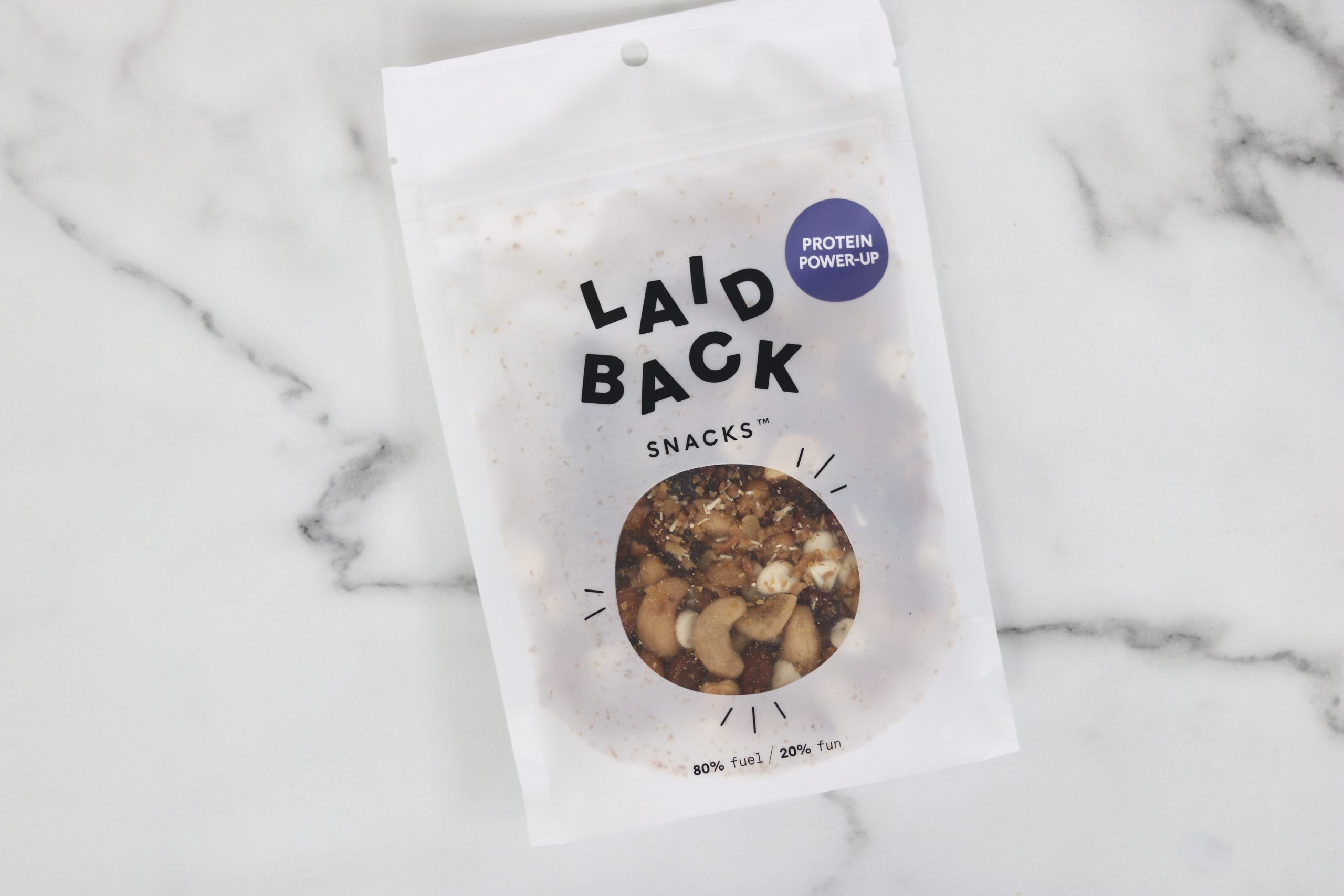 Protein Power-Up
Building a strong body starts with good protein, whether you're a veteran athlete or just hitting the beach weights for the summer. Get the fuel you need for growth through almonds loaded with potassium, protein-rich cashews, high fibre chickpeas, and cranberries with high nutrient and antioxidant content. Yoghurt chips give a smooth finish to your session, no blender required!
Ingredients: cranberries, yogurt chips, almonds, roasted cashews, sea salt chickpeas
This is one of my faves when I'm craving something sweet. It's the perfect afternoon pick-me-up and I often enjoy it with a cup of peppermint tea.
SNACK TIP: I have a fun little snack hack to share with you for this one….stay tuned!
Sunshine Mango
Mango is our happy food. It reminds us of a childhood spent eating juicy handfulls on long summer days. Sunshine Mango is 100% organic and sweetened by the sun – not an additive in sight. This fruit features an impressive list of health benefits too. Mango helps level out any acid build-up in the body and clears the skin of clogged pores. One cup of sliced mangoes supplies an incredible 25 percent of your needed daily value of vitamin A. Go mango!
Ingredients: 100% organic mango. No sweeteners or sulphates added
This is one of my faves for a different reason. I'm trying to find different snacks options for little Steven. He's almost 2 and he is CONSTANTLY in the pantry. He loves snacks and he loves going through his "snack drawer" and picking out his own. So….I'm hoping that the Sunshine Mango and Orchard Apples will be a good option for him.
SNACK TIP: coming soon…….I've got a fun one for this!
3PM Goji
Ladies and gentlemen, introducing the super-snack! This very-berry treat is jammed full of goodness to shake you out of your 3pm slump, and power you through your day. Goji berries give you slow-release energy for work, exercise, or whatever you need to get done. We're not just talking energy here, this snack also contains a super amount of antioxidants to cleanse your body and keep it running happy and healthy.
Ingredients: 70%+ dark chocolate coffee beans (sugar, chocolate liquor, cocoa butter, soy lecithin, vanilla, salt, coffee beans, confectioners glaze, arabic gum), Dried cranberries (cranberries, cane sugar, sunflower oil), Roasted cashews (cashews, canola oil), Toasted pecans, Goji berries
This last snack isn't necessarily on my favourites list but its definitely one of the more popular snacks on the Laid Back Snacks website. It's a great option for those "afternoon pick me ups" and therefore a great snack to have in the pantry.
Laid Back Snacks Review December 2021 – Final Thoughts
And there you have it……4 of my must-have snacks from Laid Back Snacks, plus one of the more popular snacks on their website. This also just happens to be one of my "must-have" subscriptions because I'm a snack addict, as is my little guy Steven. We are a family of snackers, you could say, so having them delivered to our door each month is something I love and appreciate.
-AYOB Sarah