Laid Back Snacks Review December 2022
Laid Back Snacks is a healthy snack subscription service with more than 30 different varieties to choose from including gluten-free, nut-free and vegan options. I have a subscription that sends a surprise mix of 6 snacks once a month. Here's a look at my December delivery and how it works.*
*They kindly sent us this box for review.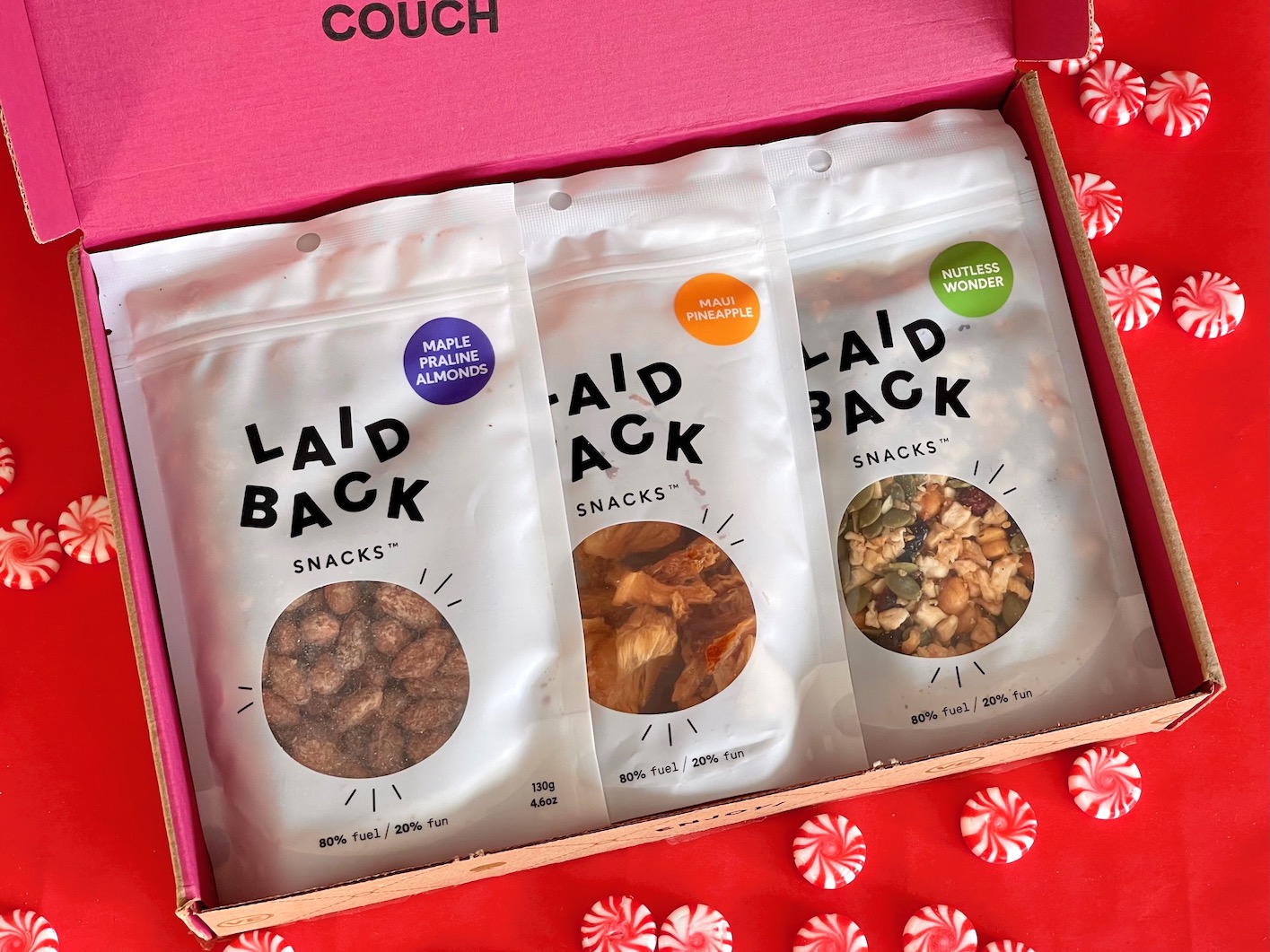 Laid Back Snacks offers three box sizes: 6, 10 and 20 snacks. Each is available by subscription for delivery every two weeks, every month, or every two months. Subscribers may select their snacks or opt for a surprise mix.
If you want to try a box or gift a box or a subscription, options are available there too.
Laid Back Snacks ships across North America. Shipping for the 10- and 20-snack subscriptions is always free and free in some areas for the 6-snack plans.
Here are four of my favourite snacks for December (shown clockwise):
Maui Pineapple · "One bite of our juicy pineapple will have you channeling white sandy beaches. In addition to awesome powers of teleportation, these tropical fruits are packed full of incredible antioxidants. Maui Pineapple is a wholesome super-snack for you and the lucky people you share them with. Each delicious bite provides a healthy boost of fibre and essential nutrients. Everything you need to help keep that bod in tip-top shape!"
Sunday Cashews · "Did someone order the mouth entertainment?! Sunday Cashews put the 'fun' into 'Sunday-funday'. Most of us could do with a little more play in our lives, so go ahead and enjoy these little beauties any day of the week. Our smooth and creamy cashews are roasted in a sweet and savory blend for maximum enjoyment. Taste revelations aside, cashews give you an extended boost of energy so you can happily fist pump your way through the rest of the day."
Nutless Wonder · "Not everyone loves nuts, and that's ok. For those who've decided to shy away, or been told that nuts aren't welcome in their favourite snacking location, we've got you covered. Nutless Wonder has all the satisfying crunch of a nut-filled snack thanks to our seasalt chickpeas. Apple pieces and cranberries bring the healthy sweetness, while pumpkin seeds add fibre and help support a relaxed nervous system. One taste and you'll never need a nut again!"
Maple Praline Almonds · "Maple Praline Almonds are our salute to the Great White North. Thanks for being awesome, Canada! We use the finest maple syrup from Quebec and mix in some praline deliciousness. The two go together like flannel and lumberjacks. These crunchy nuggets are artisanally crafted in small batches using superior grade California almonds. It's not all indulgence though, almonds also help to build and maintain strong bones. Strong bones for everyone!"
(Not pictured but still delicious!):
Wholesome Yogi · "Invite good karma into your day with Wholesome Yogi. This mix of heart healthy nuts is well balanced with nutritious pumpkin seeds, flavour-filled cranberries, and topped with Greek yogurt chips to help support healthy digestion. Remember to breathe and enjoy one of the most nutritionally beneficial snacks we offer. Wholesome Yogi will leave you feeling like you've just woken from a long, deep savasana. Namaste!"
Natyo Nacho Cashews · "Some say sharing is caring. Not when it comes to Natyo Nacho Cashews. After dipping into their cheesy-cashew goodness, you're likely to shun your friends and family and leave them hangering on the sidelines. We're sorry, not sorry. Some things are too good to share and these nacho cashews are it! Cashews are rich in unsaturated fats, a source of fiber, and are an excellent source of plant based protein."
So much delicious goodness! Maui Pineapple is a favourite when I'm craving something sweet — chewy, super flavourful and a little goes a long way. (Most bags contain four portions or about a palmful each.) For the nutty options this month I love the sweet n' savoury Sunday Cashews but they're all really great. A Laid Back Snacks subscription is an easy, healthy and delicious (!) way to stock your pantry so you always have fantastic and fresh snacking options on hand.
Try Small Things – https://trysmallthings.com