Laid Back Snacks Review February 2021
Laid Back Snacks is a healthy snack box subscription service where you choose the snacks you want. Discover deliciousness from over 30 snacks online, including vegan, gluten-free and nut-free options. They kindly sent us this box for review.
Just in case you missed my last Laid Back Snacks review, let me get you up to speed. Naked Snacks is now Laid Back Snacks! That's right! New name, new box, new branding  – same snacks.
This is my go-to subscription box for snack food and it's a must-have subscription box for my pantry. I love, love, love my Laid Back Snacks!
Subscription Details
Laid Back Snacks has 3 subscription options to choose from…
Choose from 5, 10 or 20 snack box sizes. Delivery is always free for 10 and 20 snacks, and free to some areas on 5 snacks.
Choose the snacks you want each month or let them surprise you!
Here's a closer look at the snacks we received in our February Laid Back Snacks box….
Ginger Staycation
Ginger Staycation is a laid back, relaxed kind of snack. Take a break from the day and do something that's all about you. Australian crystallized ginger mingles with our gourmet selection of nuts to offer a delightfully chilled taste profile. And let's not forget the chocolate. Dark chocolate is both delicious and really nutritious – it's linked to 40+ health benefits. Who knew that kicking back could be so good for you!
Ingredients: Sugars (70% dark chocolate buttons (sugar, soy lecithin, natural vanilla flavour), crystallized ginger (cane sugar, ginger, citric acid)), Almonds, Toasted walnuts
I love walnuts and chocolate together, and I also happen to love ginger so this is the perfect snack for me. If/when we get pregnant again I may need to keep a few of these on hand at all times during the first trimester…..ginger is great for nausea!
Oh Hazel
There aren't a lot of nuts in Canada. Something to do with the mild weather and a general celebration of agreeable behaviour. Hazelnuts thrive up north though! You can barely swing a moose without hitting a hazelnut tree. We've added 70% + dark chocolate to this snack to complement the buttery hazelnut taste. Mix in some cranberries and pumpkin seeds for fibre and you've got the smooth and nutty taste that your mouth sensors have been searching for.
Ingredients: Sugars (dried cranberries (cranberries, cane sugar, sunflower oil), 70% dark chocolate buttons (sugar, soy lecithin, natural vanilla flavour)), Hazelnuts, Pumpkin seeds
You can never go wrong with trail mix. As long as it includes chocolate and nuts that is. I like that this one features hazelnuts. A nice change from peanuts and almonds.
Nutless Wonder
Not everyone loves nuts, and that's ok. For those who've decided to shy away, or been told that nuts aren't welcome in their favourite snacking location, we've got you covered. Nutless Wonder has all the satisfying crunch of a nut-filled snack thanks to our seasalt chickpeas. Apple pieces and cranberries bring the healthy sweetness, while pumpkin seeds add fibre and help support a relaxed nervous system. One taste and you'll never need a nut again!
Ingredients: Sugars (dried cranberries (cranberries, cane sugar, sunflower oil), apple pieces), Salted chickpeas (chickpeas, sunflower oil, sea salt), Pumpkin seeds
I love that Laid Back Snacks has nutless snack mixes. As they say in the description, not everyone loves nuts so it's nice to see such a variety of options.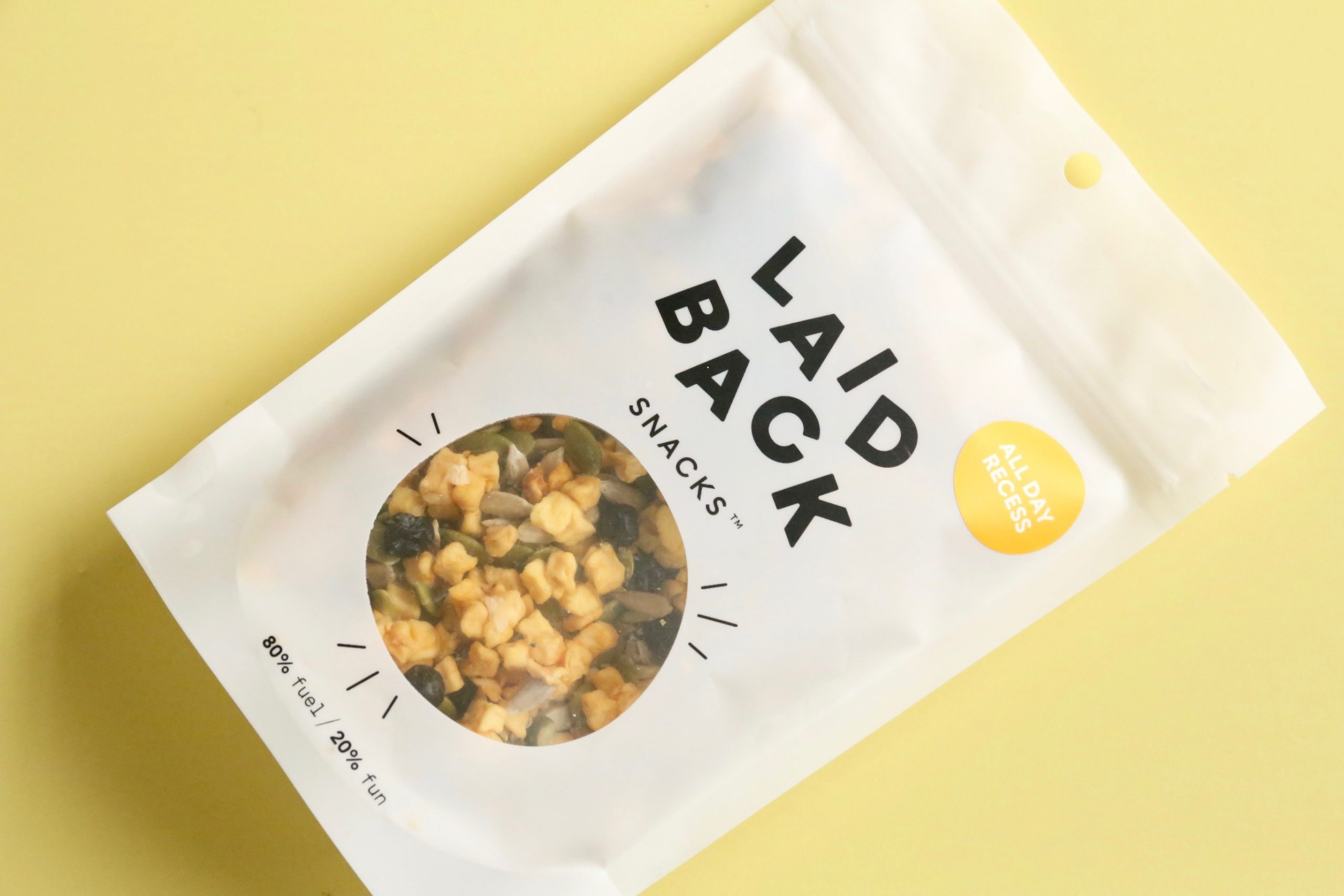 All Day Recess
All work and no play is never a good thing, so we've dialed up the fun to bring you the definitive take-a-break snack. All Day Recess does well in both school and office lunchboxes. Canadian-grown Blueberries have one of the highest antioxidants levels of all fruits and vegetables.  Apples make teachers happy, amongst other benefits. We've also tossed in some pumpkin and sunflower seeds for added fibre and nervous system support. Break time!
Ingredients: Sugars (apple pieces, dried blueberries (blueberries, cane sugar, sunflower oil)), Sunflower seeds, Pumpkin seeds
It has been a while since I had a snack mix with dried blueberries. Most mixes feature cranberries and/or raisins so I often forget that there are other dried fruit options.
First Date Bites
First dates can be really great, or slow and excruciating experiences. There's often not a lot of middle ground … we think you'll be crushing on our First Date Bites from the opening hello. In the pros column, each bite contains deliciously sweet fresh dates, bone fortifying almonds and high fibre quinoa crisps. In the cons column, you might get a little handsy once you get started. Remember to play it cool and leave something for the second date.
Ingredients: Sugars (dates, coconut), Almonds, Quinoa crisps
I've received these date bites a few times now and they are one of my faves. The perfect alternative to sugary treats.
Laid Back Snacks Review February 2021 – Final Thoughts
My February Laid Back Snacks features mostly sweet mixes, with two of them being nutless. This month's box is a great reminder that Laid Back Snacks has options for everyone. Gluten-free, nut-free, or vegan….they have you covered!
-AYOB Sarah