Laid Back Snacks Review January 2021
Laid Back Snacks is a healthy snack box subscription service where you choose the snacks you want. Discover deliciousness from over 30 snacks online, including vegan, gluten-free and nut-free options. They kindly sent us this box for review.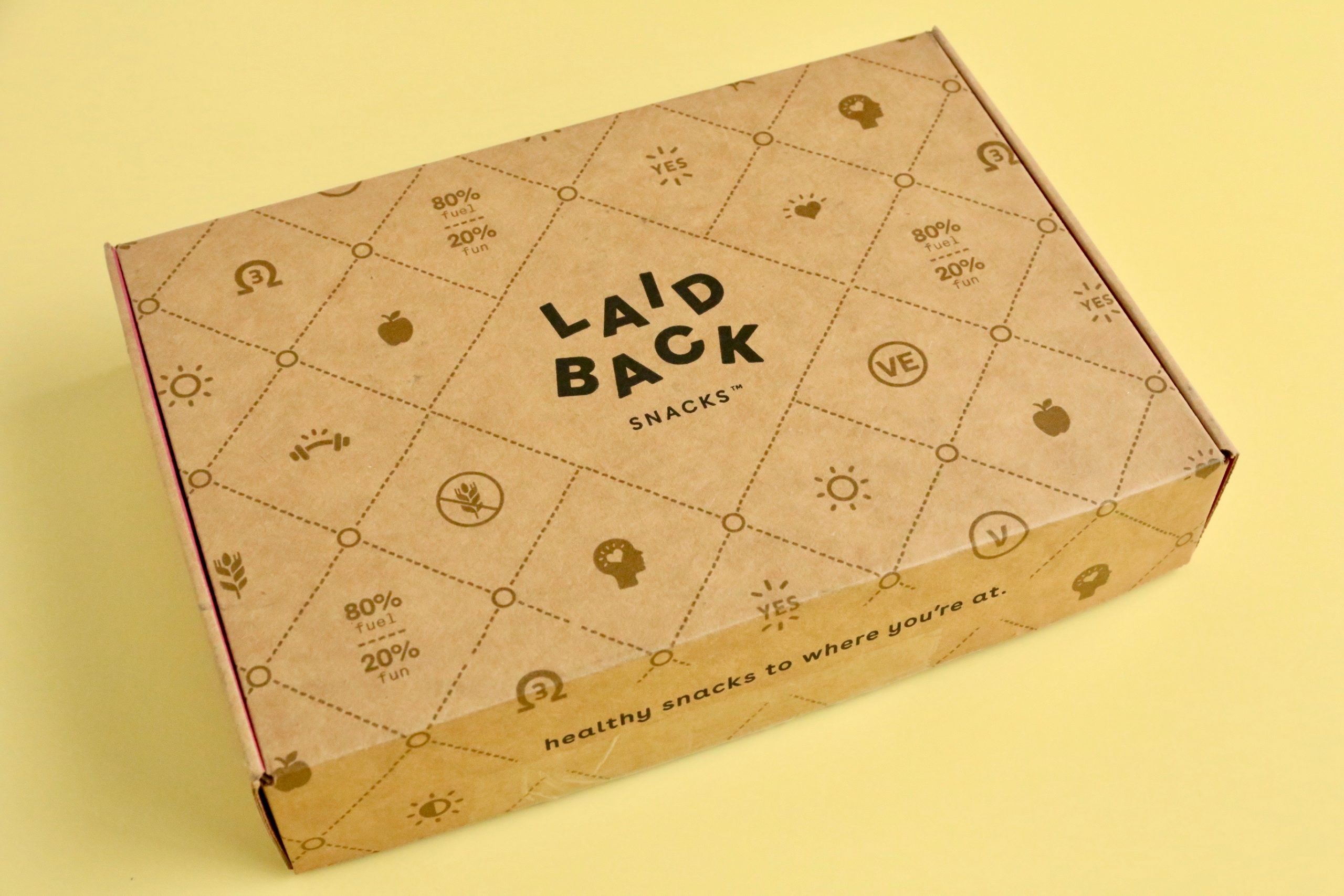 Laid Back Snacks (previously Naked Snacks) is a Canadian snack subscription box that we have been reviewing, on and off, over the last few years. They made an announcement a couple days ago that they were changing their name and here is what they had to say about it…
"We have evolved into a lifestyle brand with an emphasize on our community, quality, functionality and fun. With our growth and an accelerated consumer shift towards mindfulness we needed a fitting name without limitations."
Subscription Details
Laid Back Snacks has 3 subscription options to choose from…
Choose from 5, 10 or 20 snack box sizes. Delivery is always free for 10 and 20 snacks, and free to some areas on 5 snacks.
Choose the snacks you want each month or let them surprise you!
Here's a closer look at the snacks we received in our January Laid Back Snacks box….
Wholesome Yogi
Invite good karma into your day with Wholesome Yogi. This mix of heart healthy nuts is well balanced with nutritious pumpkin seeds, flavour-filled cranberries, and topped with Greek yogurt chips to help support healthy digestion. Remember to breathe and enjoy one of the most nutritionally beneficial snacks we offer. Wholesome Yogi will leave you feeling like you've just woken from a long, deep savasana. Namaste!
Ingredients: dried cranberries, yogurt chips, roasted cashews, almonds, pumpkin seeds
Wholesome Yogi is one of my favorite snacks to enjoy when I am craving something sweet. The yogurt chips make for the perfect sweet snack and they pair perfectly with the cranberries, cashews, almonds and pumpkin seeds. I usually enjoy this with a cup of mint tea.
Wasabi-Me
Wasabi can be dangerous if mistaken for guacamole. Who hasn't done that before, right?! That's why we've lightly coated our crunchy peas with wasabi to give you just the right amount of heat in your snack. With both salt and spice, this is a big personality snack for big personality snackers. Wasabi-me isn't all party though. Its substance includes high protein, high fibre, and high nutrient levels to help you relax throughout your day.
Ingredients: roasted wasabi peas, wild rice sticks, roasted peas
Wasabi-Me is one of my all-time favorite snacks from Laid Back Snacks. I love the wasabi flavour and the salty crunch. This is one I like to have in my pantry at all times.
Maple Praline Almonds
Maple Praline Almonds are our salute to the Great White North. Thanks for being awesome, Canada! We use the finest maple syrup from Quebec and mix in some praline deliciousness. The two go together like flannel and lumberjacks. These crunchy nuggets are artisanally crafted in small batches using superior grade California almonds. It's not all indulgence though, almonds also help to build and maintain strong bones. Strong bones for everyone!
Ingredients: dry roasted almonds, sugars, natural flavour
I've received this one a couple times but funny enough, I am yet to try it. The last time I received it I gifted it to my Mother-In-Law. They took it with them on a snow-shoe trip and said it was the perfect on-the-go snack.
Hearty Tamari
Hearty Tamari is one of our most popular savoury snacks. This is a fantastic healthy alternative to those no-good potato chips. Instead of empty calories, Hearty Tamari will leave you feeling happy and satiated. Sesame sticks and spicy pretzels mix with almonds and cashews, all lovingly slow-roasted in delicious tamari. This exotic taste from Japan confirms what we already knew – for good times, make them Tamari times.
Ingredients: dry roasted almonds, dry roasted cashews, oat bran sesame sticks, tamari sauce, canola oil, powders of garlic and onion, spices
Hearty Tamari is one of the most popular snacks on the Laid Back Snacks website and it used to be my number 1 fave, but Wasabi-Me has slowly (but surely) taken over that spot. I still love this one though and it is another mix I like to keep in the pantry.
Aloha Kauai
Welcome to the islands! This tropical treat will escort you to your own private cabana on the beach. Macadamia nuts mingle with island fruits and toasted coconut to give you that cool-dip-on-a-hot-day feeling. Coconut flakes contain manganese for making strong bones and processing cholesterol. Heart-healthy Aloha Kauai is also high in fibre and helps speed along full body healing. Mahalo!
Ingredients: banana chips, pineapple, toasted macadamia nuts, coconut ribbon
I tried this one for the first time a few weeks ago and oh my goodness….it is SO good! I'm actually thinking about ordering a few more because I just can't get enough. The toasted macadamia nuts are to die for, and they go perfectly with the crunchy banana chips. I could do with a little less of the coconut, but I'm certainly not complaining. This is one you MUST try!
Laid Back Snacks Review January 2021 – Final Thoughts
As you can see from my January review, Laid Back Snacks may be a new name but the subscription box and snack mixes are the same. This makes me very happy because I love all of the snack mixes I have ever received from Laid Back Snacks (previously Naked Snacks). I have a bin in my pantry that I keep stocked with my favorite mixes at all times. My current faves are Wasabi-Me, Aloha Kauai, and Protein Power Up. In fact…..I just might place an order right now and stock up on those ones specifically.
If you like to snack as much as I do……Laid Back Snacks is a must!
-AYOB Sarah