Laid Back Snacks Review March 2021
Laid Back Snacks is a healthy snack box subscription service where you choose the snacks you want. Discover deliciousness from over 30 snacks online, including vegan, gluten-free and nut-free options. They kindly sent us this box for review.
Laid Back Snacks is one of my favorite boxes to receive. Probably because I love snacks so darn much, but also because they are a Canadian company and the price point is so reasonable. I have Laid Back Snacks in my pantry at all times and it's my snack of choice for an afternoon pick-me-up.
Subscription Details
Laid Back Snacks has 3 subscription options to choose from…
Choose from 5, 10 or 20 snack box sizes. Delivery is always free for 10 and 20 snacks, and free to some areas on 5 snacks.
Choose the snacks you want each month or let them surprise you!
Here's a closer look at the snacks we received in our March Laid Back Snacks box….
Maui Pineapple
One bite of our juicy pineapple will have you channeling white sandy beaches. In addition to awesome powers of teleportation, these tropical fruits are packed full of incredible antioxidants. Maui Pineapple is a wholesome super-snack for you and the lucky people you share them with. Each delicious bite provides a healthy boost of fibre and essential nutrients. Everything you need to help keep that bod in tip-top shape!
Ingredients: 100% organic pineapple rings. No sweeteners or sulphates added
It's been a while since I've had this particular snack and I actually really love it so I'm happy to see it in my March box. The perfect snack when you are craving something sweet.
PB Chocolate Granola
With the huge success of Goji Granola, April went back to the development kitchen to work on her next masterpiece. This peanut butter and chocolate recipe is made with all the love and care of the original formula, with a little added indulgence. Dark chocolate helps lower blood pressure and is a good source of vitamin E. Enjoy more than a dozen organic ingredients that go into making this granola such a healthy snack for your heart and brain!
Ingredients: Oats, Sugars (chocolate chips, cane sugar, banana chips (banana, coconut oil, sugar, banana flavour)), Organic peanut butter, Sunflower oil, Pumpkin seeds, Coconut ribbon, Peanuts, Sunflower seeds, Flaxseed
Peanut butter and chocolate is one of the best flavour combos, in my personal opinion, so I already know I am going to love this granola. Great on its own but it would also be the perfect topping for banana nice cream.
Spicy Joe
A yawn is a silent scream for coffee. Reaching for your afternoon cup of joe? Maybe it's time to try something a little different. Is Spicy Joe a coffee-flavoured snack that's spicy or a spicy snack with coffee flavour? Regardless, coffee and chocolate make life better, so we've mixed energy (and mood) boosting dark chocolate coffee beans with protein rich Sriracha cashews, spicy wasabi peas and crunchy wild rice sticks.
Ingredients: Wasabi peas, dark chocolate coffee beans, sriracha cashews (roasted cashews, organic sriracha sauce, garlic powder, kosher salt), wild rice sticks
The perfect afternoon snack. I've had Spicy Joe a few times now and I just love the unique mix of chocolate coffee beans, sriracha cashews and rice sticks. I love any of the snack mixes that include rice sticks…..FYI:)
Wooster Sure Almonds
Pip pip and tally ho old chap! Worcestershire Sauce was invented in England in the 19th century in Worcestershire England. You may have had it before on your deviled eggs, or in your caesar cocktail. Here ye, here ye — we bring it to you now lovingly roasted on our nutrient-rich almonds. Enjoy all the antioxidant and blood pressure benefits of snacking on almonds, now with the jolly good savoury taste sensation of Worcestershire Sauce. Ta-ra.
Ingredients: Dry roasted almonds, Sugars (cane sugar, molasses), Apple cider vinegar, Expeller pressed canola oil, Sea salt, Tapioca starch, Powder of onion, Powder of garlic, Spices.
Here we have a brand new snack from Laid Back Snacks and one that I am really looking forward to trying because I absolutely love Worcestershire Sauce!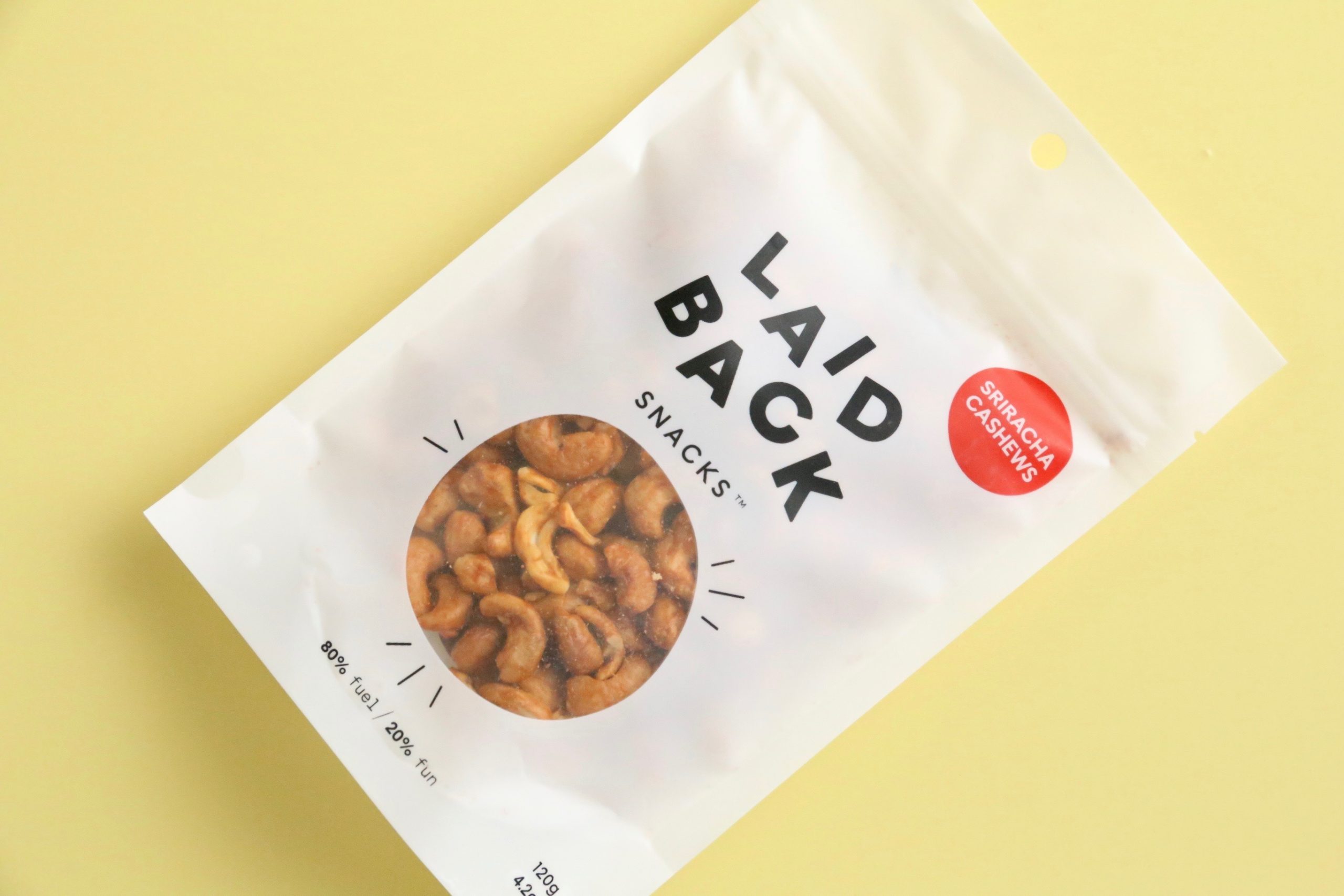 Sriracha Cashews
Sriracha is so hot right now, in all sorts of ways. We took some time to decide which of our favourite nuts could handle the spicy action this exotic hot sauce brings to the table. It turns out that the smooth, rich flavour of the cashew is the perfect dance partner. Cashews give you an extended energy boost and help support a strong immune system. And Sriracha…well, you'll have to let your taste buds decide!
Ingredients: Roasted cashews (cashews, canola oil), Sugars (organic sriracha sauce (organic red jalapeño puree, water, organic sugar, organic garlic powder, xanthan gum, citric acid)), Garlic powder, Chili powder, Kosher salt
Lastly we have my good ol' stand-by – Sriracha Cashews. I have received these quite a few times and they are such a good snack! I love the combination of the creamy cashews and the spicy sriracha.
Laid Back Snacks Review March 2021 – Final Thoughts
If you love snacking as much as I do then I am hear to tell you that Laid Back Snacks is a must-have subscription. I can't even tell you how nice it is to have a box of healthy snacks delivered to your door every month. I also love the convenience. The portion sizes are perfect and the bags fit in my purse nicely. I often grab a bag as we are heading out the door. Laid Back Snacks is definitely a fave!
-AYOB Sarah