Laid Back Snacks Review March 2022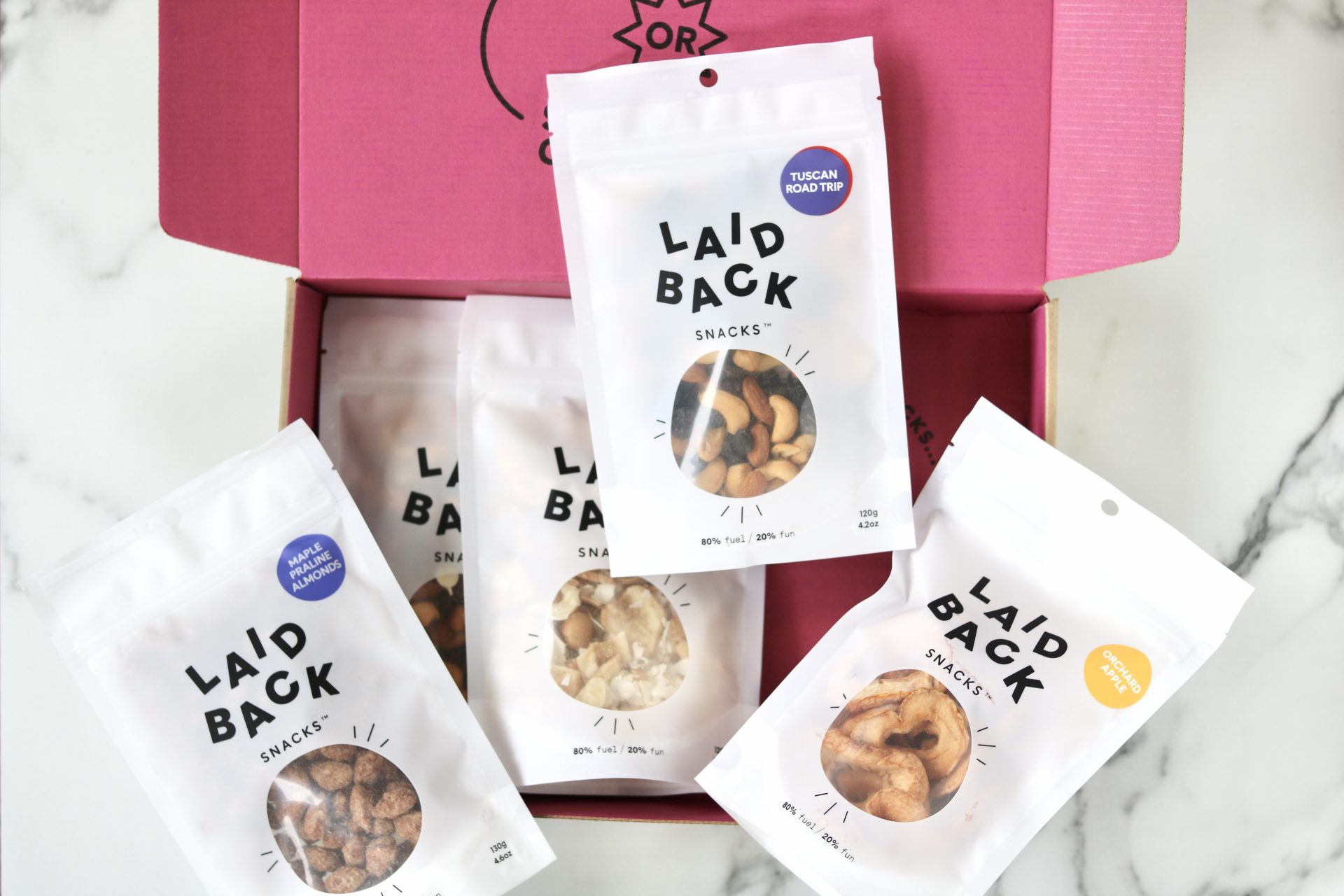 Laid Back Snacks is a healthy snack box subscription service where you choose the snacks you want. Discover deliciousness from over 30 snacks online, including vegan, gluten-free and nut-free options. They kindly sent us this box for review.
I just absolutely love our Laid Back Snacks deliveries. Does anyone else get excited about snacks? Maybe it's just me but I LOVE a good snack, and I LOVE having them on hand. This is easily one of my favorite boxes.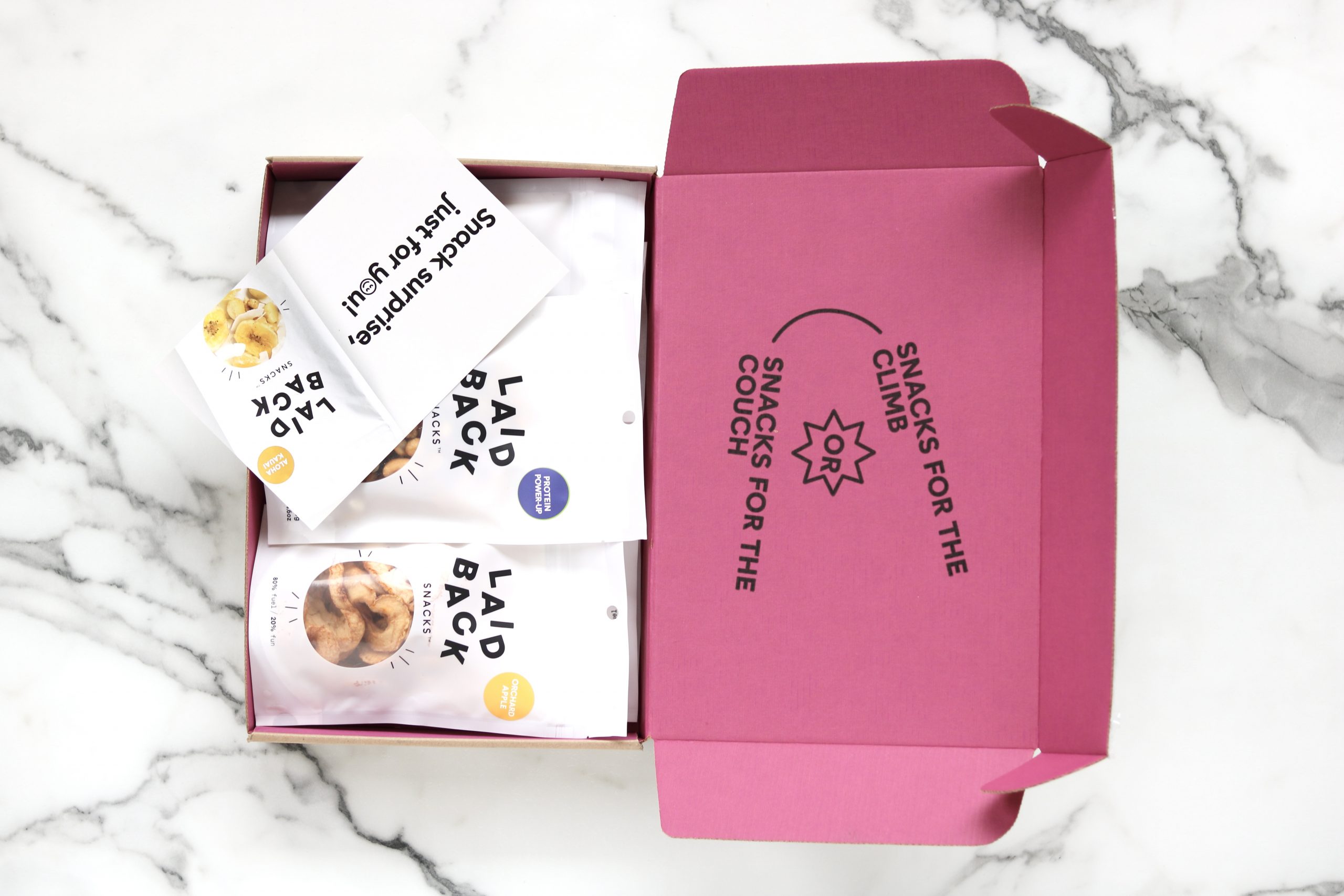 Subscription Details
Laid Back Snacks has 3 subscription options to choose from…
Choose from 5, 10 or 20 snack box sizes. Delivery is always free for 10 and 20 snacks, and free to some areas on 5 snacks.
Choose the snacks you want each month or let them surprise you!
Here's a closer look at the snacks I received in my March Laid Back Snacks box….
Apple Orchard
Snack time can often get messy. Our Orchard Apple is the perfectly packaged snack food with no sticky texture, or badly behaved nuts to worry about. Fresh from the orchard, this apple has a soft and comforting chew, which is sometimes a nice change from our more crunchy snacks. Apples are rich in vitamin B, C and antioxidants, and the pectin helps to reduce bad cholesterol. It really is true what they say – an apple a day!
I have said this before, but this is currently one of my favorite snacks for little Steven. They are soft, easy for him to hold, healthy, and mess-free. If you have a toddler at home….this snack is a must!
Tuscan Road Trip
Everyone loves a road trip, especially with a companion like this! This scrumptious mix was inspired by our healthy hunger for adventure. Explore new horizons with all the goodness of super-berries, mighty nuts, and delicious dark chocolate. Almonds help build and maintain strong bones, while cherries are considered a great source of dietary fibre. And let's not forget, dark chocolate is linked to 40+ health benefits. Happy travels!
This is without a doubt one of the best snacks for road trips so the name is pretty darn perfect. I love that there are no tiny little seeds or nuts. The chosen ingredients are sized perfectly for grabbing while you are driving. And…..the dark chocolate pieces….LOVE!
Aloha Kauai
Welcome to the islands! This tropical treat will escort you to your own private cabana on the beach. Macadamia nuts mingle with island fruits and toasted coconut to give you that cool-dip-on-a-hot-day feeling. Coconut flakes contain manganese for making strong bones and processing cholesterol. Heart-healthy Aloha Kauai is also high in fibre and helps speed along full body healing. Mahalo!
If I am craving something sweet, I will often reach for this snack because I LOVE the mix of crunchy banana pieces, sweet pineapple and healthy fat from the macadamia.
Protein Power-Up
Building a strong body starts with good protein, whether you're a veteran athlete or just hitting the beach weights for the summer. Get the fuel you need for growth through almonds loaded with potassium, protein-rich cashews, high fibre chickpeas, and cranberries with high nutrient and antioxidant content. Yoghurt chips give a smooth finish to your session, no blender required!
This is currently my #1 snack fave from Laid Back Snacks. I just finished a bag of this yesterday. I often eat it in the afternoon with a decaf espresso. You guys…..it is SO good! The creamy yogurt chips and the salty chickpeas is the PERFECT combo!
Maple Praline Almonds
Maple Praline Almonds are our salute to the Great White North. Thanks for being awesome, Canada! We use the finest maple syrup from Quebec and mix in some praline deliciousness. The two go together like flannel and lumberjacks. These crunchy nuggets are artisanally crafted in small batches using superior grade California almonds. It's not all indulgence though, almonds also help to build and maintain strong bones. Strong bones for everyone!
And…..if I am really craving sugar this is the one I will reach for. I save it for emergencies, lol. Time of the month, afternoon slumps, etc…..
Laid Back Snacks Review March 2022 – Final Thoughts
My March Laid Back Snacks features a lot of my sweet snack mix faves but if I had to choose just one it would definitely be Protein Power-Up. I can't recommend that one enough. I am even considering placing an order for an entire box of that snack mix on it's own. I love it that much! And….if you have little ones at home, the Orchard Apples are also a must-have.
Who are we kidding…..I am in LOVE with ALL the snack mixes from Laid Back Snacks.
-AYOB Sarah