Laid Back Snacks Review May 2021
Laid Back Snacks is a healthy snack box subscription service where you choose the snacks you want. Discover deliciousness from over 30 snacks online, including vegan, gluten-free and nut-free options. They kindly sent us this box for review.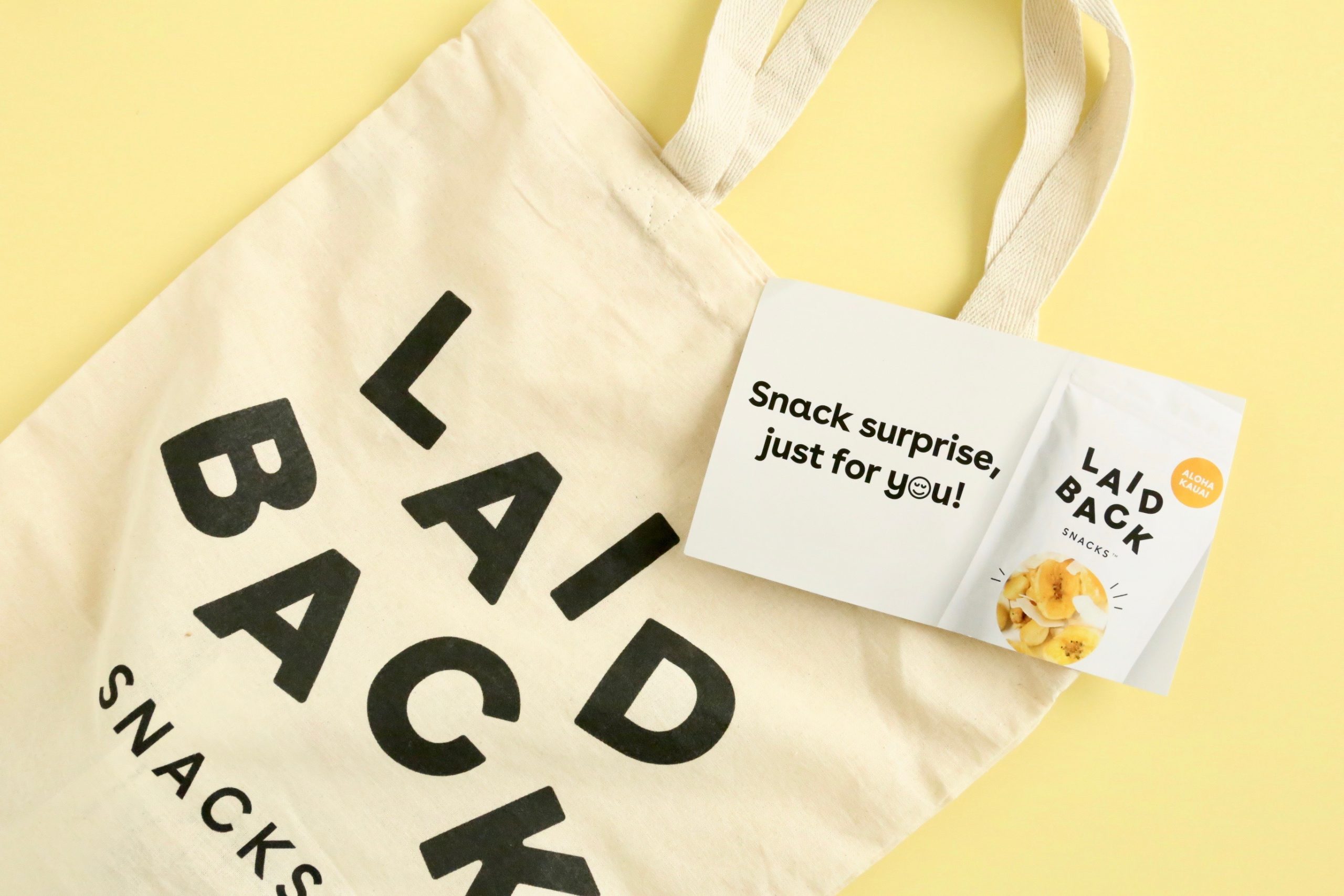 Laid Back Snacks is one of my must-have subscription boxes. Have I told you that before? I'm sure I have but it's worth repeating. I absolutely love having a stash of these yummy little snack bags in our pantry at all times. So much so, I am contemplating getting myself a second subscription. They are just so easy and convenient. I often grab a bag as we head out the door in the morning, or add one to my lunch bag, and I also like to keep a couple in the car. Can you tell I love my snacks?!
PS – My delivery arrived in a different box this month. A plain brown mailing box and this canvas bag was tucked inside.
Subscription Details
Laid Back Snacks has 3 subscription options to choose from…
Choose from 5, 10 or 20 snack box sizes. Delivery is always free for 10 and 20 snacks, and free to some areas on 5 snacks.
Choose the snacks you want each month or let them surprise you!
Here's a closer look at the snacks we received in our May Laid Back Snacks box….
3pm Goji
Ladies and gentlemen, introducing the super-snack! This very-berry treat is jammed full of goodness to shake you out of your 3pm slump, and power you through your day. Goji berries give you slow-release energy for work, exercise, or whatever you need to get done. We're not just talking energy here, this snack also contains a super amount of antioxidants to cleanse your body and keep it running happy and healthy.
Ingredients: Sugars (70%+ dark chocolate coffee beans (sugar, chocolate liquor, cocoa butter, soy lecithin, vanilla, salt, coffee beans, confectioners glaze, arabic gum), dried cranberries (cranberries, cane sugar, sunflower oil)), Roasted cashews (cashews, canola oil), Toasted pecans, Goji berries
This is one that's still growing on me. It's a snack I will only enjoy on certain occasions due to the chocolate covered coffee beans. But let me tell you, it is quite enjoyable the times I do decide to indulge. I love the toasted pecans and the cashews, and it makes for a really great afternoon pick-me-up.
Aloha Kauai
Welcome to the islands! This tropical treat will escort you to your own private cabana on the beach. Macadamia nuts mingle with island fruits and toasted coconut to give you that cool-dip-on-a-hot-day feeling. Coconut flakes contain manganese for making strong bones and processing cholesterol. Heart-healthy Aloha Kauai is also high in fibre and helps speed along full body healing. Mahalo!
Ingredients: Sugars (banana chips (banana, coconut oil, sugar, banana flavour), pineapple (sugar, pineapple, citric acid)), Toasted macadamia nuts, Coconut ribbon
Aloha Kauai is one of my all-time favorite Laid Back Snacks. I blame it on the toasted macadamia nuts. They are OH-SO-GOOD! And it looks like this particular bag has extra banana chips and fewer coconut ribbons which is absolutely perfect!
Weekend Crunch
If you're looking for a tasty alternative to nutrient-free potato chips, then look no further. Weekend Crunch has been designed to give you the same crunch satisfaction, but with none of the nasties. This thirst inducing treat is high in protein, fibre, and contains nutrient levels to help you relax throughout the day. Perfect for when your favourite team is playing and there are bragging rights on the line. Go get 'em!
Ingredients: Roasted peas (green peas, canola oil, salt), Sugars (wasabi peas (green peas, corn starch, rice flour, cane sugar, palm oil, sea salt, wasabi seasoning (mustard powder, yeast extract, corn starch, cane sugar, sea salt, maltodextrin, baking powder, white pepper powder)), Roasted corn nuts (corn, salt, corn oil)
Weekend Crunch is my go-to when I am craving something salty and crunchy. I love, love, love the wasabi peas and the corn nuts. It's the perfect movie snack. As long as your partner doesn't mind the crunching:)
All Day Recess
All work and no play is never a good thing, so we've dialed up the fun to bring you the definitive take-a-break snack. All Day Recess does well in both school and office lunchboxes. Canadian-grown Blueberries have one of the highest antioxidants levels of all fruits and vegetables.  Apples make teachers happy, amongst other benefits. We've also tossed in some pumpkin and sunflower seeds for added fibre and nervous system support. Break time!
Ingredients: Sugars (apple pieces, dried blueberries (blueberries, cane sugar, sunflower oil)), Sunflower seeds, Pumpkin seeds
All Day Recess is the perfect option for those who are nut-free. I myself definitely prefer mixes with nuts but I still enjoy this one thanks to the dried blueberries and apple pieces. This would be a great road trip snack.
Tuscan Road Trip
Everyone loves a road trip, especially with a companion like this! This scrumptious mix was inspired by our healthy hunger for adventure. Explore new horizons with all the goodness of super-berries, mighty nuts, and delicious dark chocolate. Almonds help build and maintain strong bones, while cherries are considered a great source of dietary fibre. And let's not forget, dark chocolate is linked to 40+ health benefits. Happy travels!
Ingredients: Sugars (70% dark chocolate buttons (sugar, soy lecithin, natural vanilla flavour), dried blueberries (blueberries, cane sugar, expeller pressed sunflower oil), dried cherries (cherries, cane sugar, sunflower oil)), Roasted cashews (cashews, canola oil), Almonds
Ahhh…..so excited to see this one in the box for May because it's one of my faves! This is one that I will stash away and save for a day when I need a special little treat. The chocolate buttons paired with the almonds, cashews and blueberries make for the BEST afternoon snack.
Laid Back Snacks Review May 2021 – Final Thoughts
If you are in the market for a snack subscription box I can't recommend Laid Back Snacks enough. It's a box I love to receive because it keeps me supplied with convenient (and healthy) snack options. I mentioned above that I am even contemplating getting a second subscription (this one is gifted) because 5 snacks per month just isn't enough. Is it greedy for me to say "I want ALL the snacks"?
-AYOB Sarah