LaRitzy Review May 2016
LaRitzy Review May 2016 – If you read my blog on a regular basis you will know that I literally just did my April review for LaRitzy, and I am already back with another one. The May box arrived only a few days after the April box so I am assuming the April Box got delayed in the mail, which resulted in it arriving a month later than it should have. It's not really a big deal but I figured I should point it out. I don't get too upset when boxes arrive late. I know that the postal service isn't perfect, and once the boxes are shipped by the vendor they don't have control over them after that.
If you aren't familiar with LaRitzy it is a beauty subscription box that believes in building a product discovery experience for people who are passionate about their skin. The products you will receive are all-natural and never tested on animals. They believe in supporting local artisans; some of the best products are handmade with lots of love! This box was provided complimentary for review and may include affiliate links.
The Box: LaRitzy
Cost:
The LaRitzy Box – $24.99 per month
The LaMini Box – $14.99 per month
What You Get: LaRitzy is an online beauty subscription that surprises you each month with 4-5 incredible full & luxury size cruelty free and vegan beauty products! You can also opt for the LaMini box which includes  2-3 full and luxury size cruelty free beauty items every month.
Ships to: US & Canada
Shipping Cost: FREE to US & $5 to Canada
If you have read previous reviews, you will already know that I love this box, but let me give you some specifics. Typically the contents of the monthly box have a retail value of $60+, but I know that we have also had some months where the value was $100+. I also love that the products are cruelty free  and vegan! I have discovered some AMAZING vegan brands in this box; brands I probably wouldn't have discovered on my own. Here are a few examples – Leo & Goa from the April Box, Deco Miami from the March Box, LoveFresh from the February Box, and Zoe Organics from the January Box……..the love is real!
Manna Liplocked Priming Gloss Stain – Manna Kadar's lip stains are the latest innovation in lip stains. Smooth application that keeps lips hydrated. Pigment lasts for hours.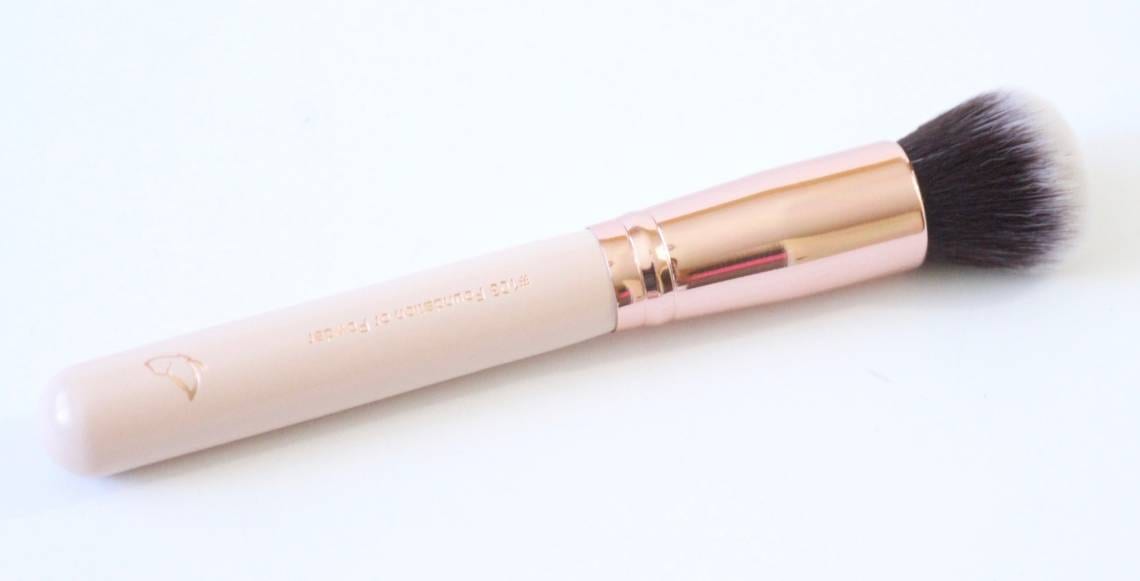 GlamHer Booth Foundation or Powder Brush – This beautiful all-purpose brush makes for fast makeup application that looks flawless! The dense, rounded and extremely soft bristles achieve a natural finish with better coverage than a traditional foundation brush. The small rounded shape helps to get into those hard to reach areas around the nose, eyes, and lips. 
Well isn't this just very exciting. I love receiving makeup brushes because it is something I never go out and purchase on my own. I get overwhelmed with the choices, never know if I am looking at the right one, don't know if I will actually use it, etc. It's so much easier to get them in a subscription box, especially when it is a foundation brush. I rarely wear foundation, but when I do, I like to apply it with a brush as I feel like it results in a more natural look.
Jacq's Organics Carrot Seed Face Toner – Formulated for sensitive, combination and oily skin type to soothe and hydrate your skin after cleansing. Our peppermint hydrosol is distilled from fresh peppermint leaves creating a fresh herbaceous floral water combined with our in-house blend of oils that work to restore your skin's pH balance, restore moisture and feed your skin rich nutrients and vitamins. 
I've never really been a toner girl, but I know that some people LOVE a good toner. They are used to restore pH balance in skin after cleansing, but with my skin being overly sensitive lately I don't like to use anything that isn't absolutely necessary. I stick to a light cleanser and my Neostrata moisturizer.
Bellapierre Cosmetics Diamond Top & Base Coat – Diamond Top & Base Coat is one of Bellapierre's hero products. For optimum results, apply a base layer to clean nails and allow to dry. Follow with two coats of your favourite Bellapierre Nail Polish. Once dry, apply a layer of Diamond Top & Base Coat for a super-shiny salon finish.
Nail polish is another tough product for me. My nails are SUPER picky, and I can't wear it too often or they get weak and brittle. Therefore, I really have to be careful about the brands I choose. Luckily Bellapierre polishes are toluene DBP, and formaldehyde free so I actually might give this one a try. I never use a base coat, or a top coat, and maybe it's time to start.
Thoughts: As per usual, I love my LaRitzy box. We received 4 really great products, from some really great brands. I am particularly excited about the foundation/powder brush, and would love to see more products like this in future boxes. I'm not sure if I am brave enough to try the toner, but at the same time I feel like I need to try it because I know a lot of women swear by toners. In regards to the lip stain, I love the formula but the color isn't really my style, when applied it is maybe only a shade darker than my natural lip color and I like a little more "oomph" when it comes to my lip products. On the whole, we received another great box, and I am a happy girl……. as per usual.
XOXO
Explore.
Save.
Enjoy!
Sign up for a free account on A Year of Boxes to receive exclusive offers, be added to our monthly mailing list, and much more! We are always adding features to improve the experience for our users, from their valuable feedback!
Join Today!