Laurel & Reed Review May 2022
Laurel & Reed is a luxe monthly clean beauty box featuring only full-size, non-toxic and cruelty-free products. You will find a mix of clean beauty cult favorite brands and new to the scene small batch indie brands – a full discovery in clean beauty. They kindly sent us this box for review.
Laurel & Reed is such a beautiful box. I fell in love with it the moment I laid eyes on it. How can you not?! The packaging is gorgeous and I love the products we receive. This makes a great gift to yourself or someone you love.
Subscription Details
Every Laurel & Reed box will feature 3+ full size products including non-toxic, all-natural and cruelty free hair care, body and skincare and other top-shelf surprises with a minimum retail value of $125+.
Here's a closer look at the May Laurel & Reed box…..
MUN SKINCARE Anarose Hydrating Rose Toner – 3.38oz. – $70.00
Anarose Hydrating Rose Toner offers an essential step to balance the skin's pH after cleansing. Bulgarian Rosewater instantly soothes even the most sensitive skin while Hyaluronic acid firms and provides long-lasting hydration. Willow Bark Extract contains natural salicylic acid to exfoliate dead cells for a healthy glow and prepares the skin to receive nutrients. Goji Berry Extract helps reduce free radical damage and provides anti-aging benefits. A combination of Rose, Jasmine and Daisy Extracts recreates the velvety sensation of petals on your skin.
This is a brand I haven't tried before so I am excited to learn more. The Rose Toner sounds lovely. I like that it includes Hyaluronic acid as I need all the moisture I can get. It gets great reviews on the MUN SKINCARE website with a few people saying it is their go-to toner.
DAFNA'S PERSONAL SKINCARE Moisture + Light – 1.7oz – $75.00
Designed to help on hydration without leaving the skin oily, Moisture + Light is more than just hydration lotion. It has aroma-therapeutic properties of bio essential oils, plant extracts and the most advanced biotechnology to nourish and fight the aging signs of the skin. In the short term you will notice how the skin feels more hydrated, soft and with no oiliness. You will feel your skin calm the with less irritations. In the long term it looks like the skin has a healthy and luminous appearance without oiliness, and the signs of aging are delayed (like small wrinkles & skin oxidation). With its light but creamy texture, it instantly integrates into the skin leaving it with a feeling of comfort. The aroma is a unique blend between floral and fruity (from figs juice, Neroli and Rosemary essential oils).
I like the idea of a light moisturizer especially for the Summer months. When it is hot and humid outside you don't necessarily want a heavy cream on your face. It includes things like Hyaluronic Acid, Calendula and Fig Juice.
LAUREL & REED Reusable Cotton & Bamboo Rounds – 5 count – $8.00
Made from 100 percent natural, plant-based cotton and bamboo fibers, these daily rounds can be used throughout your routine to apply or remove skincare and makeup. Simply switch out for disposable cotton pads, so you can care for your skin while caring for the planet. Your rounds are machine washable, so simply toss them in the laundry. How to use: Wash before first use. Pair them with your favorite skincare products to remove makeup, apply toner, or wipe away cleansers and face masks.
I am a huge fan of reusable beauty rounds and love receiving them in my boxes. I appreciate the fact that they included them in this month's Laurel & Reed box because they go perfectly with the toner. And…..I had no clue that L&R had their own product line. How great is that!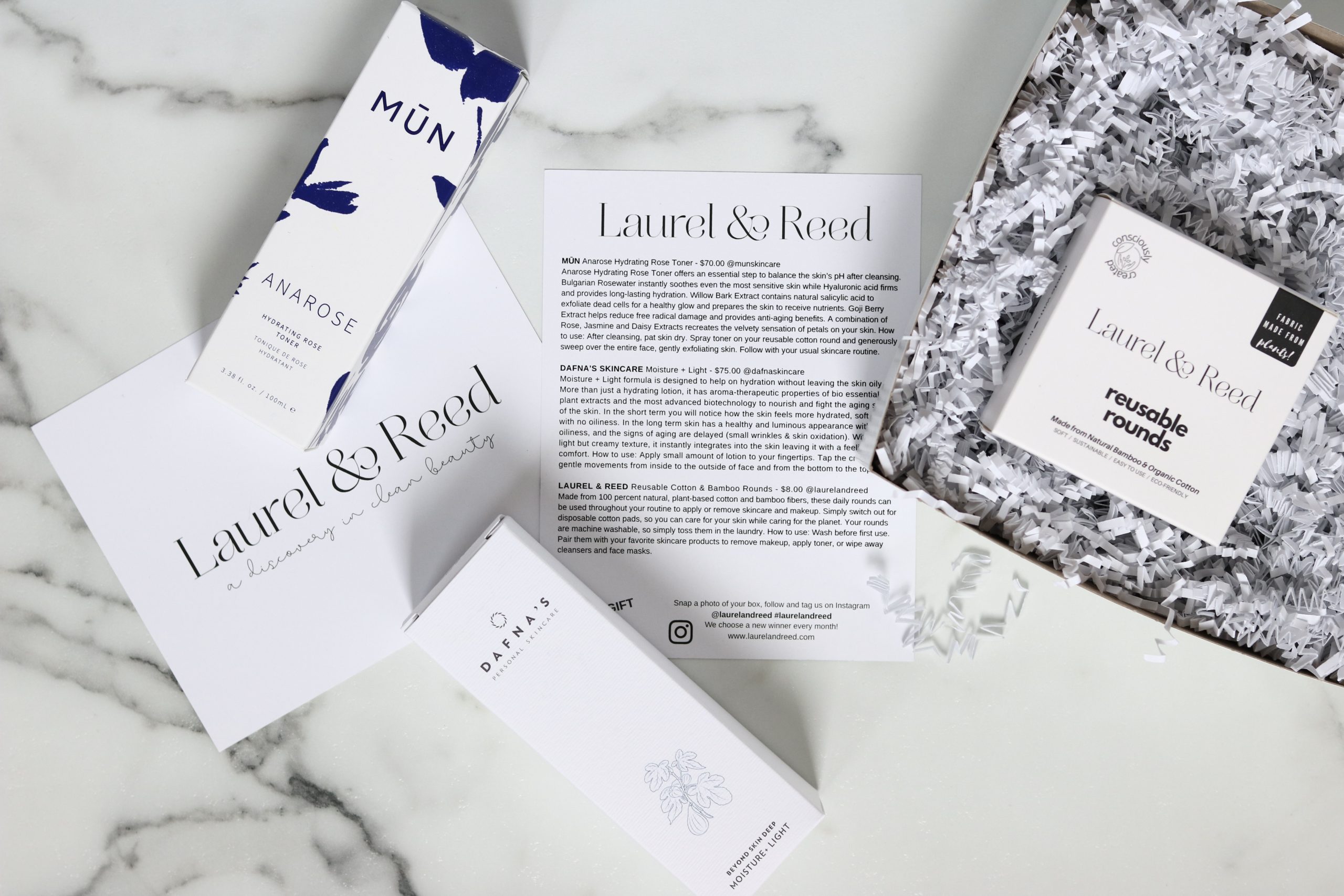 Laurel & Reed Review May 2022 – Final Thoughts
Once again Laurel & Reed has done a lovely job. The May box is curated perfectly and includes skincare items that I am excited to try. I very much appreciate the fact that we received items that complement each other. The toner can be used with the beauty rounds and the moisturizer can be applied afterwards. We received a simple beauty routine perfect for lazy Summer days. I love it!
-AYOB Sarah