LD Accessory Box Review June 2019
LD Accessory Box is the proud and well deserved winner for the Best Fashion Box in the US! And with good reason! They offer a tailored collection of items, accessories and clothing, unique pieces, customized to your tastes and sizes.
Every month I have been getting it, they have blown it out of the water. They chose colors I liked, styles I prefer and even the items that everyone received were so well thought out they were a hit.
Packed with a surprise variety of women's apparel and accessories that may include anything from scarves, gloves, belts, hats, tops, bottoms, socks, hosiery, handbags, wallets, sunglasses, makeup and jewelry. Each box is hand-curated with a minimum value of $100. You can purchase a monthly subscription that will last as long as you like! You can cancel at any time. You can be charged once per month or pre-pay in increments of 3, 6, or 12 months.
It is $35 for a one time box and if you subscribe to a longer plan you can pay as low as $30. And you will see it's the best spent $30.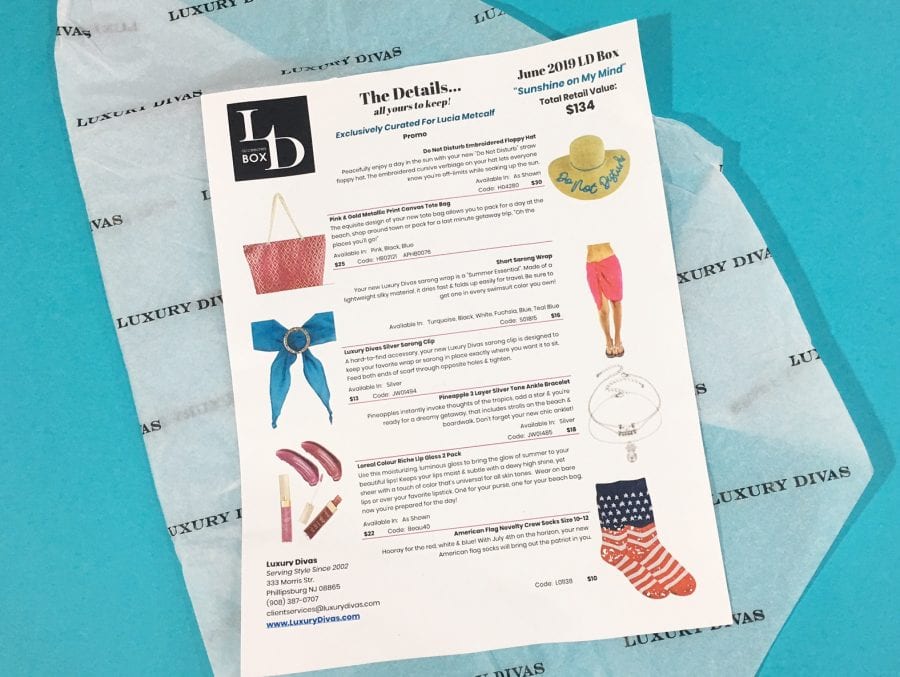 June's box was different from the previous ones. It was a bigger box but it still had the logo on it, so it made us wonder…
Here's my video unboxing:
Here's a closer look at the items I received….
Floppy Hat
As soon as I opened the box, I found a stunning summer hat with the words Do Not Disturb embroidered in turquoise and a fun tassel as well. This gorgeous hat comes in so handy for these months and it's absolutely adorable.
It retails for $30 and it comes in different colors and writing, like No Pictures Please in black or Hello Sunshine in pink.
Socks
Next up, I dug out of the box these fun American Flag Novelty Crew Socks perfect for #socksunday and to wear after a day at the beach while we moisturize our feet!
Jewelry Piece
This month we received the perfect piece of jewelry for the Summer, an ankle bracelet! I haven't had one in forever, hence I am super excited to wear one all Summer long! This is a three layer pineapple silver tone bracelet and it has a pineapple charm, a star and a small round bead in three layered chains.
Short Sarong Wrap
In the hand written note that each box curator writes for the subscriber, mine wrote that she knew pink was my favorite color and that I would love this Sarong. Well… she was not… wrong! This pink lightweight silky sarong is perfect to cover up from the waist down at the beach or pool. It's so perfect because I have a two piece that consist of a tankini and black shorts and the top is a hot pink color! How fitting!
Silver Sarong Clip
This is definitely an item that would be hard to find on its own but that would come in handy to tie up the sarong, and LD Accessory Box made sure we have it all under control with this sarong clip, designed to keep the sarong in place exactly where we want it.
Makeup Items
For the makeup products this month I received a set of 2 Loreal lipglosses. The colors are rich nude and rich pink and they both smell delicious and feel soft and smooth to the lips.
Hydrating but giving it the gloss they need to shine this season!
Print Canvas Tote Bag
And last but not least, at the bottom of the box I saw this tote shinning through with its gold accents. My tote bag came in pink and gold, matching perfectly with the sarong wrap. It has an exquisite design and its the perfect size for a tote bag. Inside it features a waterproof material and two pockets to put phone and keys, or anything we need to save. The handles are braided rope and they're thick but soft, making sure we won't get hurt or scratch.
LD Accessory Box Review June 2019 – Final Thoughts
The total value of this box was $134! If you've been subscribing to LD Accessory Box for the last few months, you'll realize you're 100% ready for Summer. You'll have the hat, tote bag, sarong, ankle bracelet, and from the previous boxes you'll have the flip flops (mine match the sarong as well!), sunglasses and case, a wallet, a summer dress or another piece of clothing, you're all set! LD Accessory Box has been making sure we are ready to hit Summertime in full swing, all we need is sunscreen!
Lucia Metcalf – http://laughingwithoutanaccent.blogspot.com