LD Accessory Box Review March 2019
Luxury Divas came out with their own accessory/fashion box – LD Accessory Box – and they're taking the subscription box market by storm. Many YouTubers have been raving about this amazing box that's only $25, and it's customized and personalized.
This is my second LD Accessory Box and I have to say, I'm blown away, again! They hit it right on the head when they curate each box, keeping in mind each person's sizes, taste and preferences.
For the March box a lot of subscribers got the same things but the colors and sizes were customized to each person.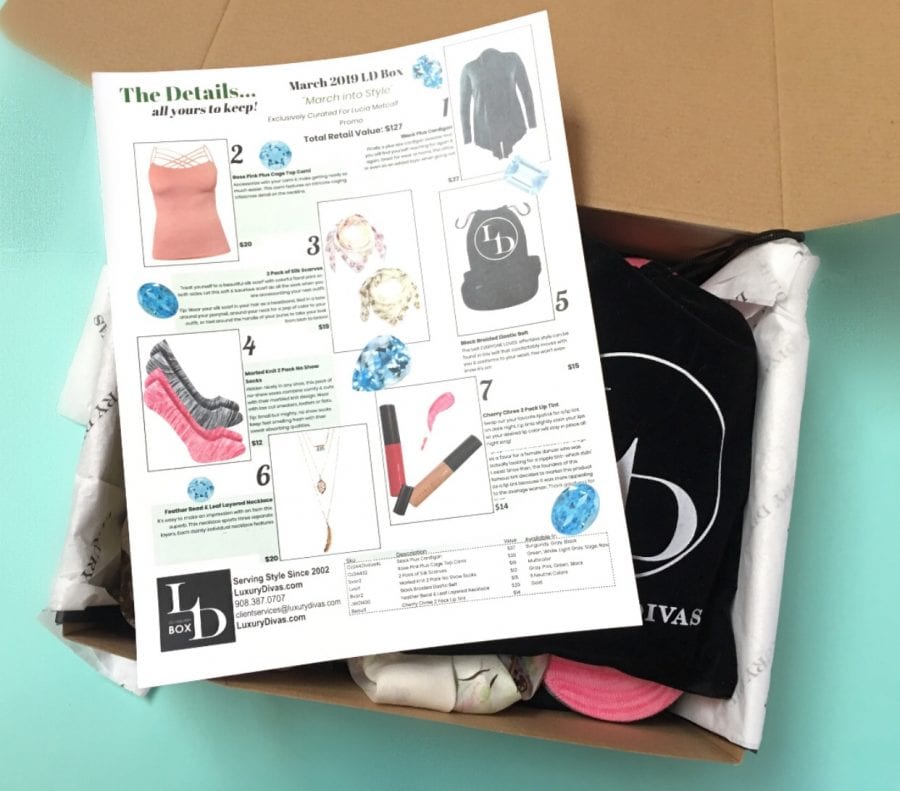 As always the box comes inside a plastic mailer, and it's classy and sleek. Inside it's wrapped in a Luxury Divas branded tissue paper.
On top we find a handwritten card by my curator, Nikki and this time I got a green sucker for St. Patty's Day. We also receive a sheet detailing all the contents, a magazine type print with the featured items of the month on their website and a letter from the owner, Deb and some social media information.
Let's dive into the contents!!
Elastic Belt- $15
The first think I saw was a velvet bag with the LD logo. Inside there was a black braided elastic belt. It's so pretty, definitely a staple we need in our closet and the best feature is that it adjusts to your shape and form. Each person got a different size but the fact that it's elastic is a major plus.
Three Layer Necklace – $20
This was such a great surprise for me because I've always wanted to layer my necklaces but I can't seem to get matching items, so getting a layered necklace was spot on. Now I don't have to worry about mixing and matching accurately. This necklace came in gold and it had a feather on the bottom layer, little coin shaped charms on the middle layer and blue beads on the top layer. I love getting jewelry in my boxes because it's not something I go and buy for myself.
Silk Scarves (Set of Two) – $19
I saw some reviewers that received the box had gotten this set of scarves and I was so wishing I would too! I am so excited I did because I know I will use them a ton!
They came in two different floral patterns, one with purple and pinks and the other with greens and yellows, perfect for Spring. The material is soft and airy.
No Show Socks – $12
I got two pairs of no show socks, something I actually needed! I got them in gray and pink. I really appreciate getting essentials as well because then I don't have to go and buy them, it's like Nikki read my mind!
Lip Stains – $14
Some subscribers received an eye shadow pallete, I got one last month, so I was excited to receive a set of two lip tints. One is in a neutral color and the other in a crimson red. Both colors I really want to wear! The good thing about these is that they dry like matte lipstick!
Rose Pink Cami – $20
This was also an item I had peeked but was so happy to receive in this color!! I have seen it in dark teal for some, and gray for others, all being their favorite colors! I had said in my style profile I loved pink so I got a stunning rose pink cami! The top part, being crossed makes it so unique and different from other camis.
Black Cardigan – $27
You know when you don't think you need something until you get it? That's the case with this cardigan. I used to have some similar to it years ago and used it with everything. This LD cardigan is in plus size, as I am still trying to lose my baby weight (not so much baby's fault) and I am so grateful that LD Accessory Box has an option for us curvy girls. The cardigan fits me so well! These girls are killing it with this box and like I said, they're getting noticed! It's hard to show it in a frame, but let me show you how it looks in the product sheet.
LD Accessory Box is a great box for the value, the total retail was $127 and it costs only $25, that's an amazing deal if I ever saw one! I really hope LD Accessory Box keeps growing because they're truly doing an amazing job!
Lucia Metcalf – http://laughingwithoutanaccent.blogspot.com
Explore.
Save.
Enjoy!
Sign up for a free account on A Year of Boxes to receive exclusive offers, be added to our monthly mailing list, and much more! We are always adding features to improve the experience for our users, from their valuable feedback!
Join Today!