LD Accessory Box Review September 2019
LD Accessory Box keeps living up to their well deserved title of Best Fashion Box of 2019! Each box is on point with the trends they include, the season appropriate selections and the customizations.
LD Accessory Box is only $35 a month and it packs more than $100 in retail value every time.
They always include a handwritten letter by the stylist assigned and mine, Marina, has been doing an amazing job! Each box is so very me it can't get any better!
September's theme was "Back to Business" and the retail value of my box was $127!
Watch & Necklace
This was such a great item to receive and it's the first time I've seen it in this box. The strap is stainless steel and the watch is rose gold making it two toned. The inside has gorgeous rhinestones: it's classy and chic, perfect for getting into business. Retails for $30.
Scarf
Every time I've gotten a scarf in this box, it's always one of my favorite colors. This month is no exception. It is a teal scarf with a dark blue tassel trim and it's a gorgeous color for fall. Retails for $17 and it's available in gray, olive, green and ivory.
Mascara
We usually receive a makeup or beauty item and this time we got Lashes for Daze waterproof mascara. I use black mascara so this comes in handy. Retails for $10.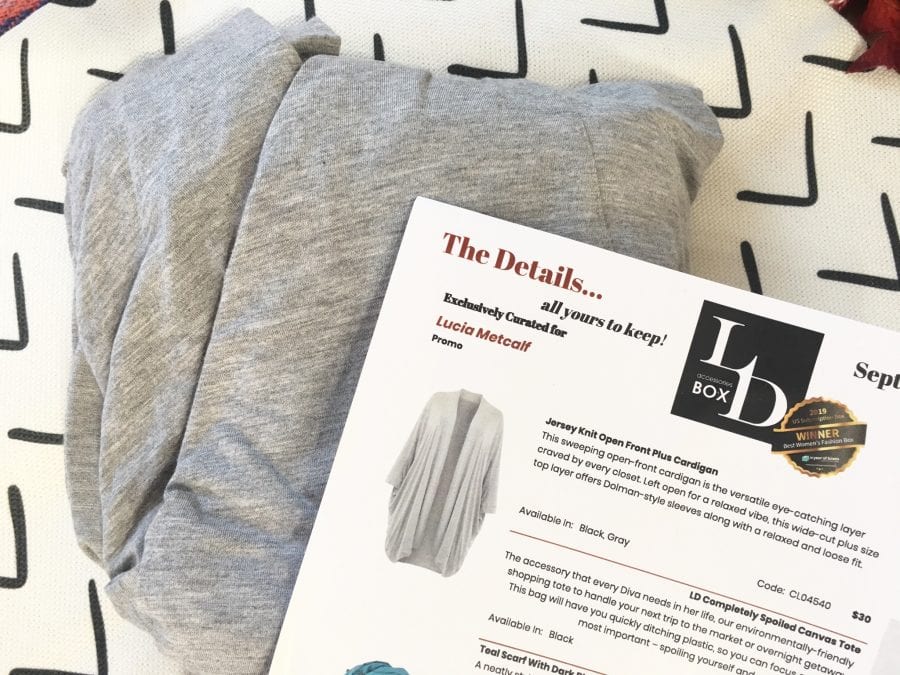 Cardigan
I received a super soft jersey knit open front cardigan that has 3/4 sleeves. The one other cardigan I got from a previous box has been a staple in my closet so I am so excited to have received a gray one! Retails for $30.
Luxury Divas Tote Bag
So excited to have my very own LD tote bag that says "Totally Spoiled", super cute! It's big and sturdy to carry anything you need! Retails for $20.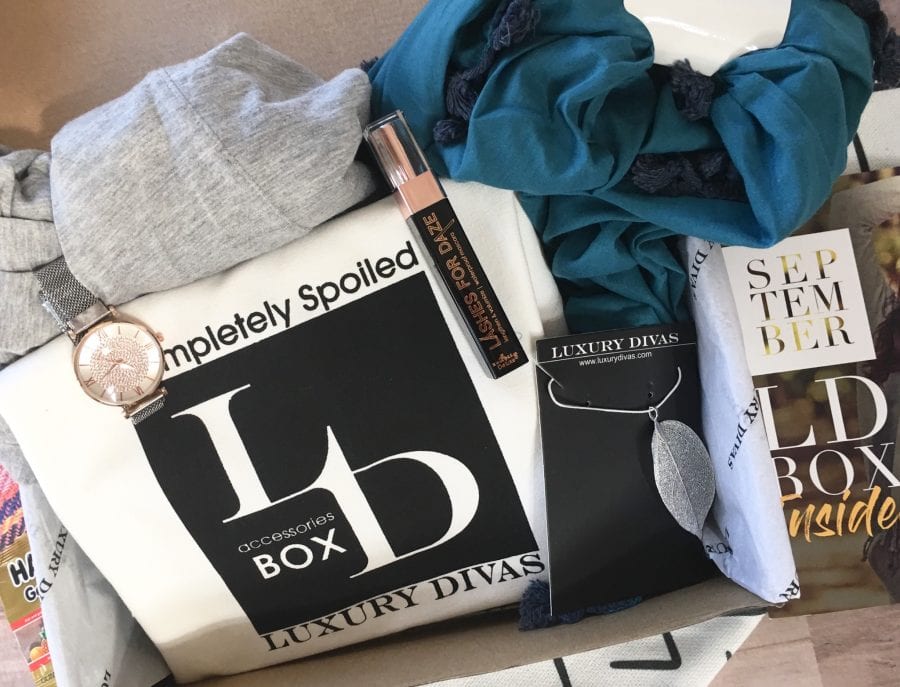 LD Accessory Box Review September 2019 – Final Thoughts
What can I say? LD Accessory Box speaks for itself. They put so much care and love into each and every box. Each box is well thought out to match the season and personalized as much as it can be to match our preferences. It's like having a personal stylist for only $35 a month!
-Lucia
Explore.
Save.
Enjoy!
Sign up for a free account on A Year of Boxes to receive exclusive offers, be added to our monthly mailing list, and much more! We are always adding features to improve the experience for our users, from their valuable feedback!
Join Today!