Lillypost Review March 2022
Lillypost is a monthly book subscription box that sends children's books to your door! Each month, tiny fingers will discover carefully curated books, a note, and stickers for fun! They kindly sent us this box for review.
Lillypost is a must-have subscription if you have littles at home. Steven and I get so much enjoyment out of this box, and thanks to our monthly deliveries reading has become one of Steven's favourite things to do.
Subscription Details
Lillypost was founded on the idea that reading is fundamental to the development of every child. The love of books and learning starts early in life and what better way to ignite that love, than a child receiving an entirely new set of books every month? Discover books for the special little one in your life from newborn to 7 years old at up to 70% off retail price!
What You Get: Each box includes 4 board books or 3 picture books (or a mix of both!) to engage and entertain.
Lillypost Gives Back – For every box that is purchased, Lillypost will donate one book to a child in need through various charities.
Here's a peek at the books I received in our March Lillypost box……
We're Going on an Egg Hunt
We're going on an egg hunt. We're going to find them all. We're really excited. Hooray for Easter Day!
This is the CUTEST Easter book. Each page has tiny little flaps for Steven to lift and behind some of the flaps are hidden eggs. He gets to do his first egg hunt this year so this will be the perfect book to read on the days leading up to the big hunt!
Bunny and Friends
Hop, jump, play and find in this adorable flap book. With playful characters hiding on every page, join bunny in this fun, interactive story.
Here we have another cute little book which will be perfect for our Spring nook. Each page has a flap for Steven to lift with an animal friend hiding behind each one. He will love it!
Touch & Learn Farm
Children can touch and trace the colourful felt finger trails to help water the crops, plow the field, brush the horse's mane, and more!
This will be such a fun book for Steven and I to read together. Each page has felt cutouts for Steven to trace and I love that each page also asks your little one to do something. We have a couple other books similar to this and Steven LOVES them!
Things That Go
Travel by land, sea and air in this bright and bold board book full of peek-through holes, flaps and surprises!
Steven is a typical little boy who loves anything with wheels or any kind of vehicle. This book will be so fun for him to read because there are surprises behind every flap.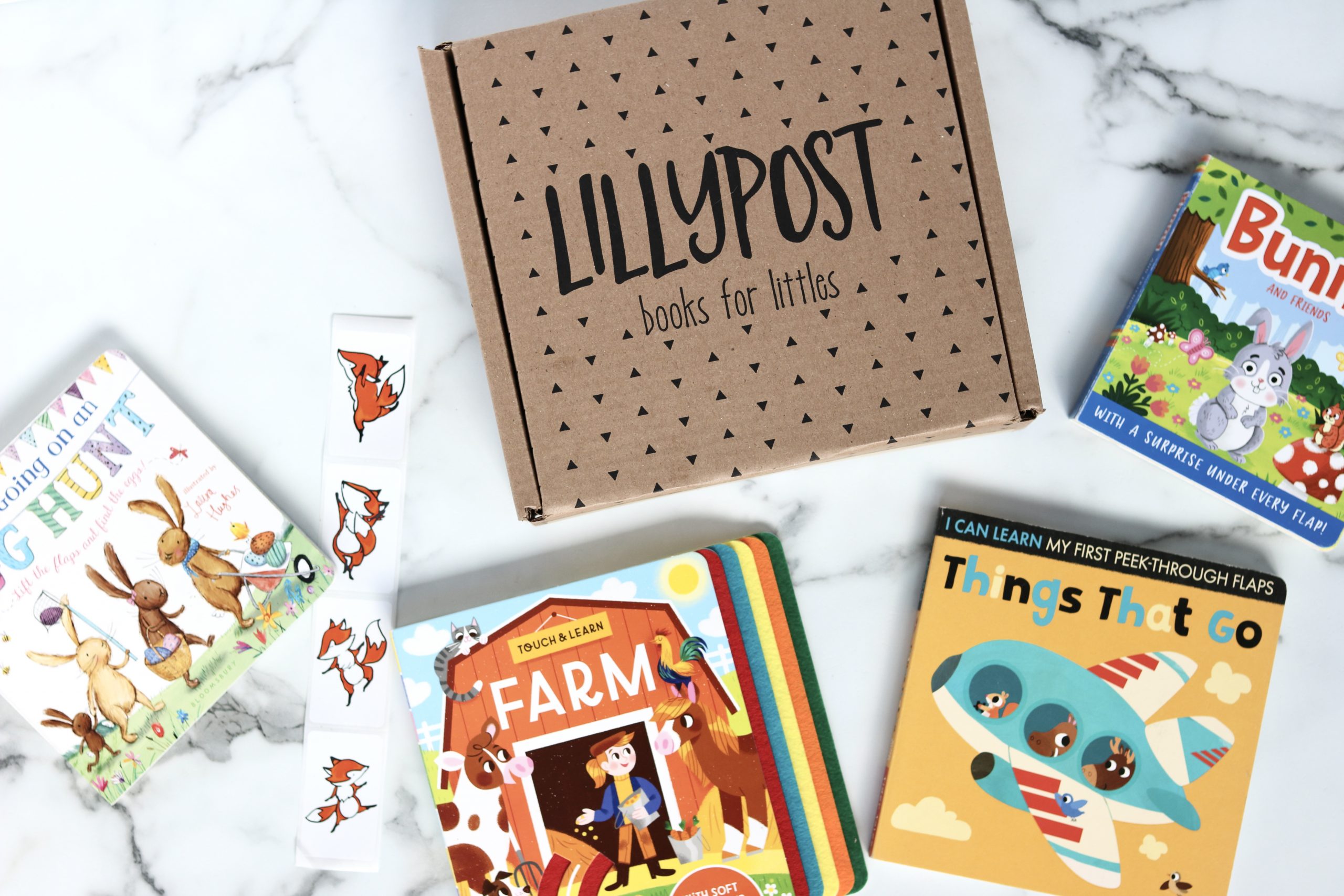 Lillypost Review March 2022 – Final Thoughts
I am absolutely thrilled with our March Lillypost box. It includes the perfect mixture of books, all of which Steven will love. I am going to use the 2 bunny books for his Easter basket and I think I might put the other 2 in the car. I LOVE that Lillypost has helped me introduce Steven to books at such a young age, as well as provide so many learning opportunities through our moments spent reading. It's a subscription that I highly recommend.
-AYOB Sarah