Lip Monthly Review August 2019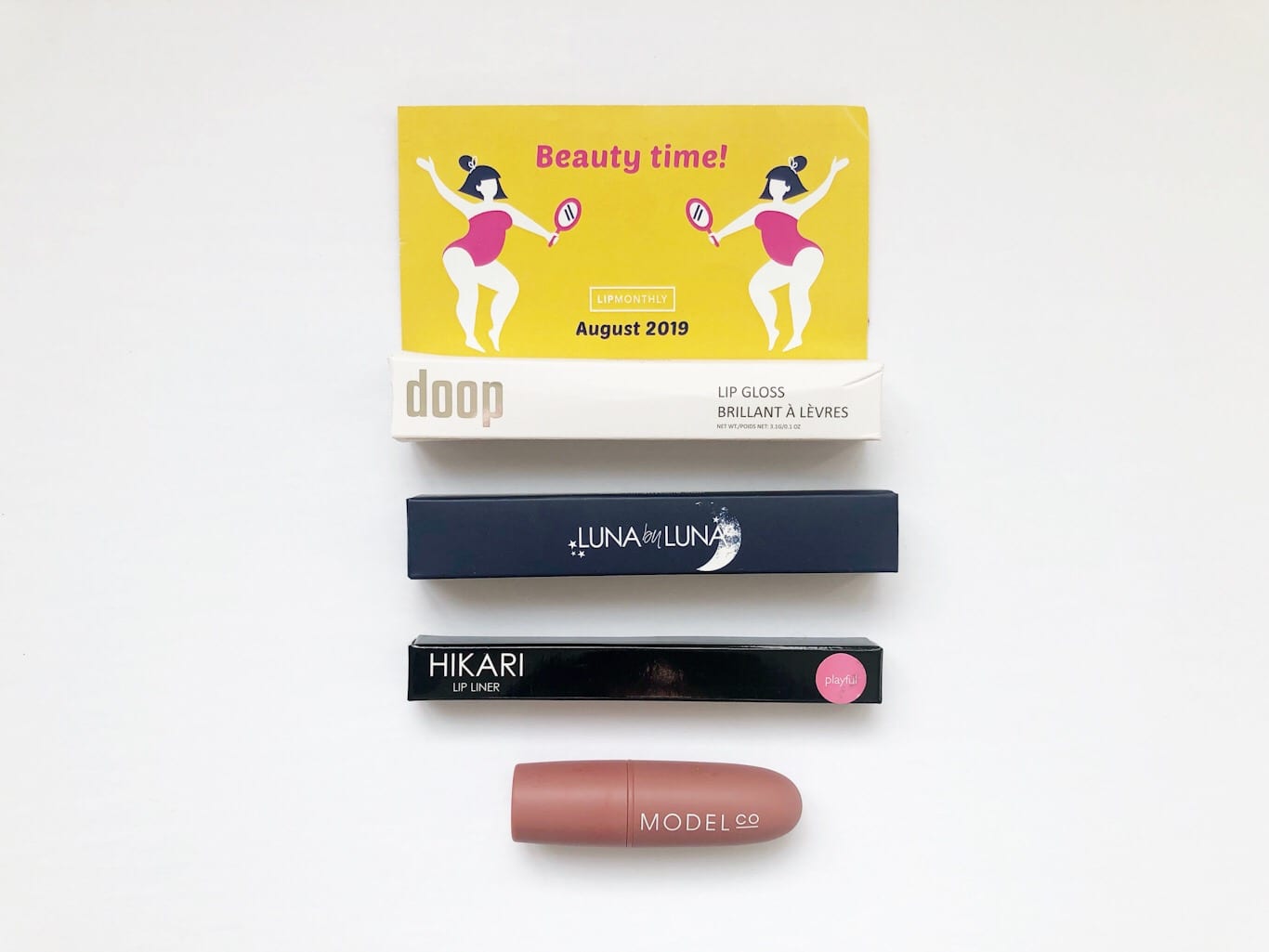 If you are a makeup lover looking for your next subscription box to subscribe to, look no further than Lip Monthly. Lip Monthly is a subscription box that sends you 4-5 FULL size lip products each month, that equal to $50+ USD. Prices for subscription plans start at $12.95 with free U.S. shipping!
One of the great features to the Lip Monthly box is the variety of product you receive. Brand-wise you'll get everything from big brands to niche brands. And on the product side you will get all sorts of products from lip stains, glosses, liquid lips and more!
Alongside the 4-5 products you also get a card describing that month's box and a cute pouch that everything comes in. In the August 2019 box, I received 4 products. Let's take a look at what I got!
ModelCo Lipstick in Tango Pink
The first product in the box is this lovely lipstick by ModelCo in the colour Tango Pink. The shade is a beautiful coral toned pink. The actual formula itself is very beautiful and soft – it glides on so easy and the colour payoff is excellent!
Luna by Luna Lip Oil in Cosmo – $18
The Luna by Luna lip oil in Cosmo is just gorgeous! It's like a cross between a gloss and balm. It provides all the sheer glossy finish as a gloss, but also the hydration of a balm. I also love the hint of sheer purple in it!
Hikari Cosmetics Lip Liner in Playful – $15
Hikari Cosmetics Lip Liner in Playful is designed for precision. It's a mechanical pencil with an extremely fine and precise tip which makes it easy to create defined outlines. And the shade playful is a super fun bright pink shade.
Doop Lip Gloss in Peak
The Doop lip gloss in Peak might be my favourite item out of the August 2019 box. It is a gorgeous metallic sparkly pink shade. And when applied leaves the most beautiful glossy, sparkly sheen to your lips. I also found it very comfortable to wear!
Lip Monthly Review August 2019 – Final Thoughts
The August 2019 Lip Monthly box sort of had a pretty pink theme to it – and I loved that. Each product was something different (gloss, lipstick, oil and pencil) and the colours are all so gorgeous. I definitely recommend trying this box out if you are lip product fan. I'm excited to see what's in store for the September box!
The Trendy Files – www.thetrendyfiles.com
Lip Monthly is an affordable monthly club for all LIP LOVERS! For only $12.95, discover the best products for your lips, and fall in love with them!
Learn More about Lip Monthly »
Explore.
Save.
Enjoy!
Sign up for a free account on A Year of Boxes to receive exclusive offers, be added to our monthly mailing list, and much more! We are always adding features to improve the experience for our users, from their valuable feedback!
Join Today!