Lip Monthly Review January 2019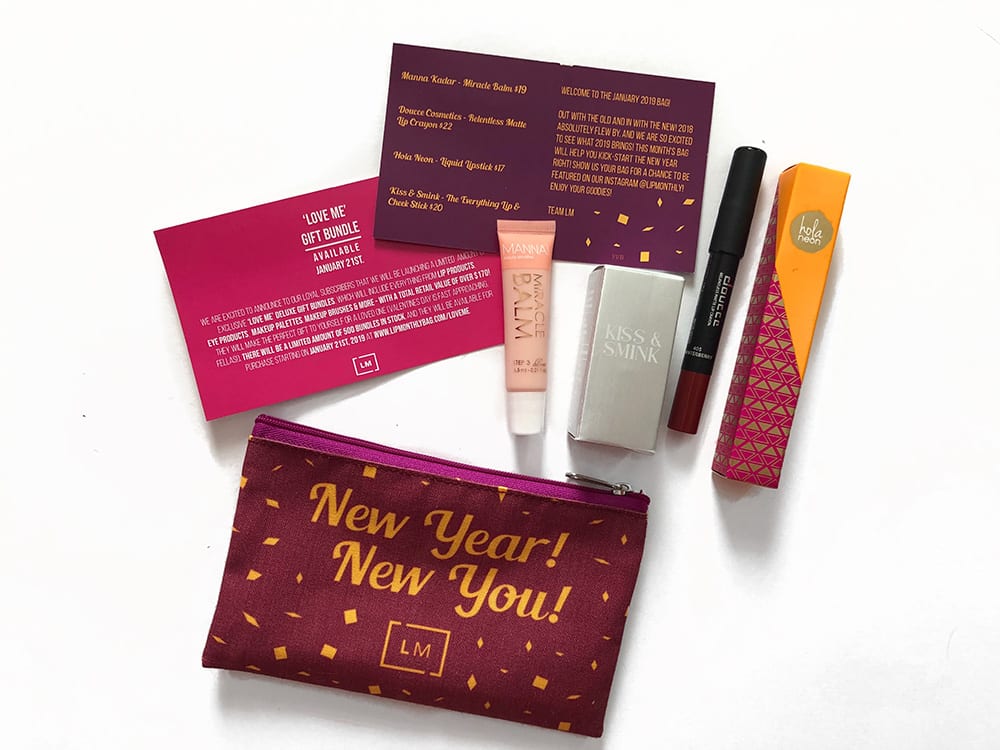 New year, new lippies! Lip Monthly is a subscription box that sends you up to five types of lip products each month. Products come from niche and well-known brands giving you tons of different variety. Speaking of variety, the types of products you can expect are lipsticks, glosses, balms, lip masks, pencils, and more! And you can sign up for a plan that starts as low as $11.45 USD and month.
In the January 2019 Lip Monthly box I got a cute maroon pouch that says 'New Year, New You' along with a product card, four products and another card that explains a special launch Lip Monthly has. The 'Love Me' Gift Bundle is a limited exclusive deluxe gift bundle that has not only lip products but other types of makeup. They only have about 500 in stock so make sure to snatch one up! – CLICK HERE
Manna Kadar Miracle Balm – $19
This Manna Kadar Miracle Balm couldn't have come during a better time to test. When I got this box in the mail my lips were so dry and I can say that this balm totally helped. The creamy texture of the balm is easy to apply and it totally helps diminish dry skin. Bonus: you can also use this on other dry areas like your hands for extra moisture.
Doucce Cosmetics Relentless Matte Lip Crayon in Winterberry – $22
If you're looking for a comfortable and pigmented lip crayon look no further than the Doucce Cosmetics Relentless Matte Lip Crayon. This lip crayon has a perfectly shaped tip that allows quick and easy application. It also is a gorgeous deep berry shade that is great for the winter months.
Hola Neon Velvet Liquid Lipstick in The Easy Sell – $17
Next up is a great addition for any liquid lipstick lover, or any makeup lover's collection. This gorgeous shade is so complementary and beautifully pigmented. Plus it glides on so nice. I think this is going to become a staple in my lip collection!
Kiss & Smirk The Everything Lip & Cheek Stick in Santorini – $20
Heat up the winter with the last product in the box. This versatile product is not only for lips but can also be used on your cheeks. The orangy- coral shade adds just the right pop of colour. It's also hydrating and pigmented! Tip: Since the stick is fairly wide (making it easy for cheek application) I suggest using a lip brush for perfect precision when applying to your lips.
Lip Monthly Review January 2019 – Final Thoughts
These lip products are the perfect new addition to the new year. Lip Monthly is, in my opinion, the best and most hassle-free way to try out and discover amazing new lip products. Not only are the products so different from one another, but they are really great. This is definitely a must-try box for the beauty lovers out there.
The Trendy Files – www.thetrendyfiles.com
Lip Monthly is an affordable monthly club for all LIP LOVERS! For only $12.95, discover the best products for your lips, and fall in love with them!
Learn More about Lip Monthly »
Explore.
Save.
Enjoy!
Sign up for a free account on A Year of Boxes to receive exclusive offers, be added to our monthly mailing list, and much more! We are always adding features to improve the experience for our users, from their valuable feedback!
Join Today!