Lip Monthly Review March 2020
How's everybody doing? I'm tryyyying to keep it together but my kids have ramped up the squabbling to another level and it's driving me batty. Certainly not all sunshine and roses and subscription boxes over here, ha ha. 'Tho I do have some mail for you today. It's Lip Monthly, a subscription service from the US that delivers a variety of full-size lip products + one bonus cosmetic in a reusable pouch every month. Subscriptions start at $12.95 USD/month and each pouch is valued at $50+. They're shipping a month behind schedule so I've got the March one here.*
*They kindly sent us the March bag for review
Lip Monthly offers four subscriptions (all prices in USD and all products full-sized):
Monthly subscription: $12.95 for 4 products/month
Lip Monthly Plus: $19.95 for 7 products/month
3-Month subscription: $38.85 for 4 products/month
Annual subscription: $155.40 for 4 products/month
Shipping is free in the US; $3.99 to Canada and the UK; and $4.99 to Australia.
Lip Monthly subscribers get a mixed bag of products every month so mine may be different than the next person's. It also explains why the product card is also a welcome message rather than a description of the contents. I've looked up each one and included descriptions and prices from the brands.
Jing Ai Velvet Shine Lip Jewel (Pink a Boo)
"Made in America. Paraben-free. Long-lasting colour. ($14)"
We've just had our warmest weather yet this year and this Pink a Boo is perfect for it. It goes on brighter than it looks here with an almost neon, '90s feel that's got more pop than what I usually wear but I like it a lot. It's got great staying power, feels moisturizing and I love the crayon format.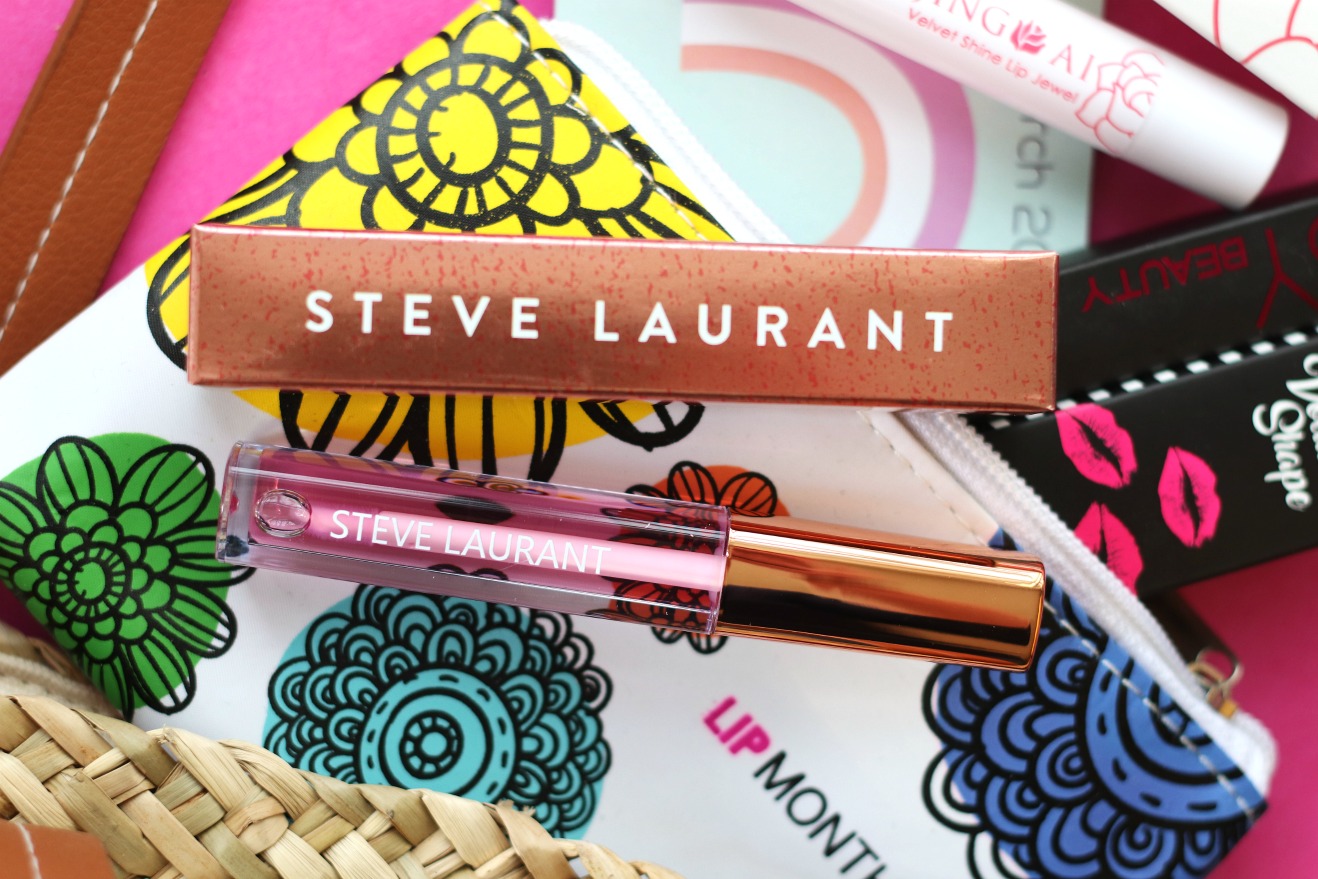 Steve Laurant Orchid Lip Oil
"Our lip oil is designed to soften the lips and prevent sun damage and is both moisturizing and hydrating. Re-apply as often as necessary. Gluten free and cruelty free. ($20)"
Again, another well-timed product for the season we're in but unfortunately a miss for me. Way too sticky. Maybe it's a great moisturizer (it's got many five-star reviews) but I don't want to wear it long enough to find out. Just don't like the feel.
IBY Beauty Velour Liquid Lips (Naked)
"A highly pigmented, rich, long lasting formula that glides on smooth, while quickly drying to a velvety finish. One application yields hours of kiss-proof coverage. Vegan, gluten-free, and free of parabens and sulphites. ($12)"
This one's a pass too. Which is really too bad because I love a great nude. This one is matte (which is totally fine when not too drying, which it isn't) but more brown than peach. Terrible colour on me.
CB & Co Perfect Pout Volume & Shape Lip Gloss
"Perfect Pout is not just any old lip gloss. With an active ingredient of Volulip, this lip gloss with plumping effect mimic's hyaluronic acid injection by doubling its synthesis level but also strongly stimulates the synthesis of matrix and dermal-epidermal junction molecules. This makes an improvement of the internal and superficial lip texture with a visible impact on the lip shape: increases the volume of the lips, Decreases anti-ageing and anti-sagging effect on the lips and improves hydration and softness of the lips. Volulip at 1% is added for lip architecture – shaping, plumping and moisturising; Vitamin E  is added for antioxidant and moisturising properties; and Corum and Peppermint for heating and cooling sensation that creates a tingling effect but also creates a refreshing flavour and scent. ($24.55)"
I use a great lip plumper from time to time that tingles a bit when you put it on but this one burns. Burns! I could barely stand it for a minute and couldn't wash it off fast enough. Literally. Is it just me or have you found the same?
Well the March Lip Monthly was disappointing, to say the least. It's valued at $70.55 but the only product I value is the lip crayon at $14. That and the pouch. This one feels more sturdy than the usual fare and it's a cute, summery pattern. Here's hoping for better luck next month.
Try Small Things – https://trysmallthings.com
Lip Monthly is an affordable monthly club for all LIP LOVERS! For only $12.95, discover the best products for your lips, and fall in love with them!
Learn More about Lip Monthly »
Explore.
Save.
Enjoy!
Sign up for a free account on A Year of Boxes to receive exclusive offers, be added to our monthly mailing list, and much more! We are always adding features to improve the experience for our users, from their valuable feedback!
Join Today!