Little Life Box Review April 2017
Little Life Box is a Canadian subscription box that gives you the opportunity to sample and experience new green, organic and health conscious products in a convenient and fun way that saves you money. Little Life Box kindly sent us this box to review.
Little Life Box is quickly becoming one of the most well-known subscription boxes in Canada. They have been around for a while now, and they are continually making improvements to their box, their branding and their website. They have proven themselves to be consistent and reliable, which are two very important qualities when it comes to subscription boxes.
Lately we've been lucky enough to post spoilers for upcoming boxes so make sure to keep an eye on the blog for the next one. I was super excited when I saw the April spoiler and couldn't wait to get this month's box in my hands.
Here's a look at the items I received in the Vegan Little Life Box this month:
Hemp Protein – Mettrum
This pure, single source vegetable protein and fibre has an abundance of amino acids essential to optimum health and performance. Boasting 65% edistin (the highest ranked protein in the plant kingdom) and 35% albumin, this powder also contains 10% Omega 3, 6 and GLA beneficial fats. It's vegan and made in Canada.
I like to have a few travel packs of protein on hand for emergencies and road trips, so these samples came at the perfect time. I also happen to love testing out new vegan protein powders as I am desperately trying to incorporate more protein in my diet. I received vanilla and berry flavour.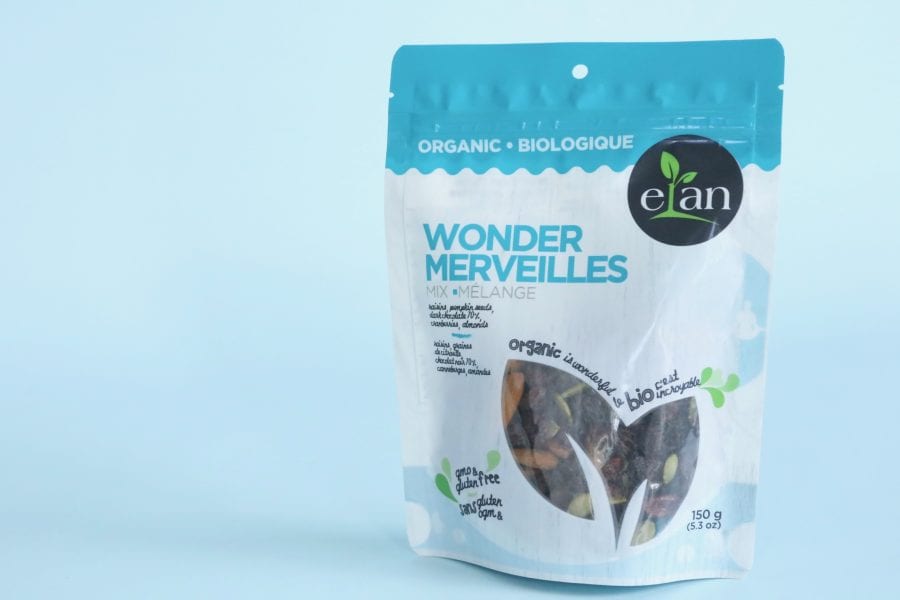 Wonder Mix – Elan
This organic, gluten-free, vegan and non-GMO trail mix is great. Blending the health benefits of chocolate with the antioxidant values of cranberries, pumpkin seeds, and almonds. High in protein, almonds will help curb your appetite.
I feel like Little Life Box read my mind with a few of the products they included in this month's box. The other day I was thinking about one of my favourite snacks as a child – peanuts, raisins and chocolate chips. My Mom use to buy all three ingredients in bulk and mix them together for us. It's one of my comfort snacks and I was just about to go purchase the ingredients to make my own. This particular mix doesn't include the peanuts, but it does include pumpkin seeds (which are better for me) and vegan chocolate chips!!
Travel Wipes – Caboo
These travel wipes are multi-purpose and can be used for anything. They're also biodegradable, hypoallergenic, cruelty free and vegan.
Eeek!!! It's my favourite product to receive in my subscription boxes……as sad as that sounds. I literally just ran out of the travel wipes I had in my car and desperately wanted to replace them. I am beyond excited to see these in the box.
Chocolate Bunny – Camino
This dark chocolate is made from 55% cocoa from small-scale farmer co-ops in Peru. It's peanut & nut-free, fairtrade, organic and vegan.
This is making me so darn happy right now. I can't even put into words how excited I am. This little bunny is bringing back memories of Easter when I was a child. My Grandma use to get us all a chocolate bunny every year. We would eat the ears off first and then keep the rest in the freezer and sneak little bites here and there.
I received this just in time for Easter and am so excited about the fact that I have a vegan chocolate Easter bunny to indulge in this weekend. I have a feeling there will be a movie night in my near future, complete with cozy blanket, chocolate Easter bunny, and a hot cup of tea.

Somnipax Sleep Troubles
Mood disorders related to seasonal depression and emotional shock are often not treated. These situations can lead to consequences such as minor sleep disorders, minor anxiety and hyper excitability. SOMNIPAX™ is an effective and safe alternative to reduce these symptoms by acting on the central and automatic nervous systems. Most importantly, SOMNIPAX™ does not cause addiction.
As much as I love discovering new health supplements, I just can't get excited about sleep aid products. It's the one thing I have absolutely no use for.
Milk Thistle – A.Vogel
Every once in a while, you can go overboard with the drinking. Milk thistle is here to save the day, and not just when you need to help clear your liver of the damage caused by alcohol, but it's Traditionally used to treat: disorders of the liver, spleen and gall bladder hepatic, splenic or renal congestion gallstones hepatic pain and swelling.
I have received this before but am yet to test it out. I feel like I just don't have a grasp on the actual benefits of taking Milk Thistle so I did some quick research. Most of its benefits pertain to the liver, but apparently it is also good for: cholesterol, Alzheimer's, cell damage, menopausal symptoms, and a few others. At this point in my life I'm just not drawn to this particular health supplement. That might change in the future though.
Collagen Chews – Neocell
NeoCell Beauty Bursts deliver high absorption beauty nutrients in delectable, gourmet soft chews.  Collagen Type 1 & 3 is the body's beauty protein & strengthens skin, hair & nails.  Hyaluronic Acid is know as "Nature's Moisturizer" & hydrates the skin.  Vitamin C is essential to boosting collagen in the skin.  
I am ALWAYS on the lookout for health supplements that will strengthen my nails and hair. So these are a welcome addition to the box.
Wellness Teas – Ingenium
All-natural, vegan and organic tea made with: green maté, lemongrass, spearmint leaves, gingko, ginseng, nettle pieces, calendula, cornflower, sunflower petals.
Tea is my newest obsession. I am drinking a cup of green tea as we speak, and I am even contemplating giving up my coffee for a couple of weeks and focusing more on my tea consumption. So it should come as no surprise that I am happy to see tea in the box. I would be happy to see it in the box every month.
Little Life Box Review April – Final Thoughts
They had me at chocolate bunny! Really, Little Life Box nailed it this month. I couldn't be happier with the items we received. I feel like they read my mind as we received a few products that I had plans on purchasing in the next week or so – travel wipes, trail mix, samples packs of protein, and vegan friendly Easter chocolate. Not only is Little Life Box a fun surprise and a way to test out new products, they also provide me with some of my pantry stapes each month. This is why I love Little Life Box so much. It's my own little health food store excursion, and I don't even have to leave the house. Bonus points for that!!
XOXO