Little Life Box Review Fall 2020
Little Life Box is a seasonal subscription box from Canada that you cannot get enough. It gives you the opportunity to sample and experience new vegan, health conscious and mostly organic products in a convenient and fun way that saves you money. You find around 8 to 12 products (mostly full size), a lot coming from Canadian companies.
Little Life Box kindly sent me their Fall box to review. I have been reviewing their box for over a year now and I am always surprised by the variety of products that I receive and how good the box always is.
If you want to try it out, you can choose between two options: subscribe for one season at a time at $45 per season (you can cancel anytime) or pay $160 annually ($40/season) so you will receive one box every 3 months. Shipping is free for both options! I would greatly recommend the annual option since you cannot be disappointed with LLB and that makes you save $20.
There is some novelty this month. We now have the detail of what is in the box on a fancy little piece of paper. It is simple but it gives all the information we need and make the global value of the box easier to see without having to look online. This month, the value of the box is over $100! Also, last season the items were wrapped in one large silk paper closed with a sticker made from LLB logo, but it was changed for tiny yellow pieces of paper at the bottom of the box. Now, let me show you what I received.
Play Hard Aromatherapy Roll-On – Jubel Naturals
"Play Hard is an invigorating essential oil blend that is designed to uplift throughout the day. Perfect boost for when you're heading off to work or school. This roll-on compliments our Work Hard Roll-On if you need to uplift post work or school day."
This is exactly the type of essential oil blend that we all need when Fall comes in. The ingredients are: Rice Bran, Pink Grapefruit, Cypress, Lemon, Lime, Basil and Rosemary. This uplifting blend is perfect to help you wake up in the morning. Since I do not drink coffee, I like this gentle way to give me a little boost. The roll-on makes it easy to apply on temples, wrist, under the chin and on the soles of the feet. It is recommended to put a little at a time and add more if needed. Jubel Naturals has ten different roll-ons for different purposes. I will check those too as I love these little bottles and even more when it is made by a Canadian company.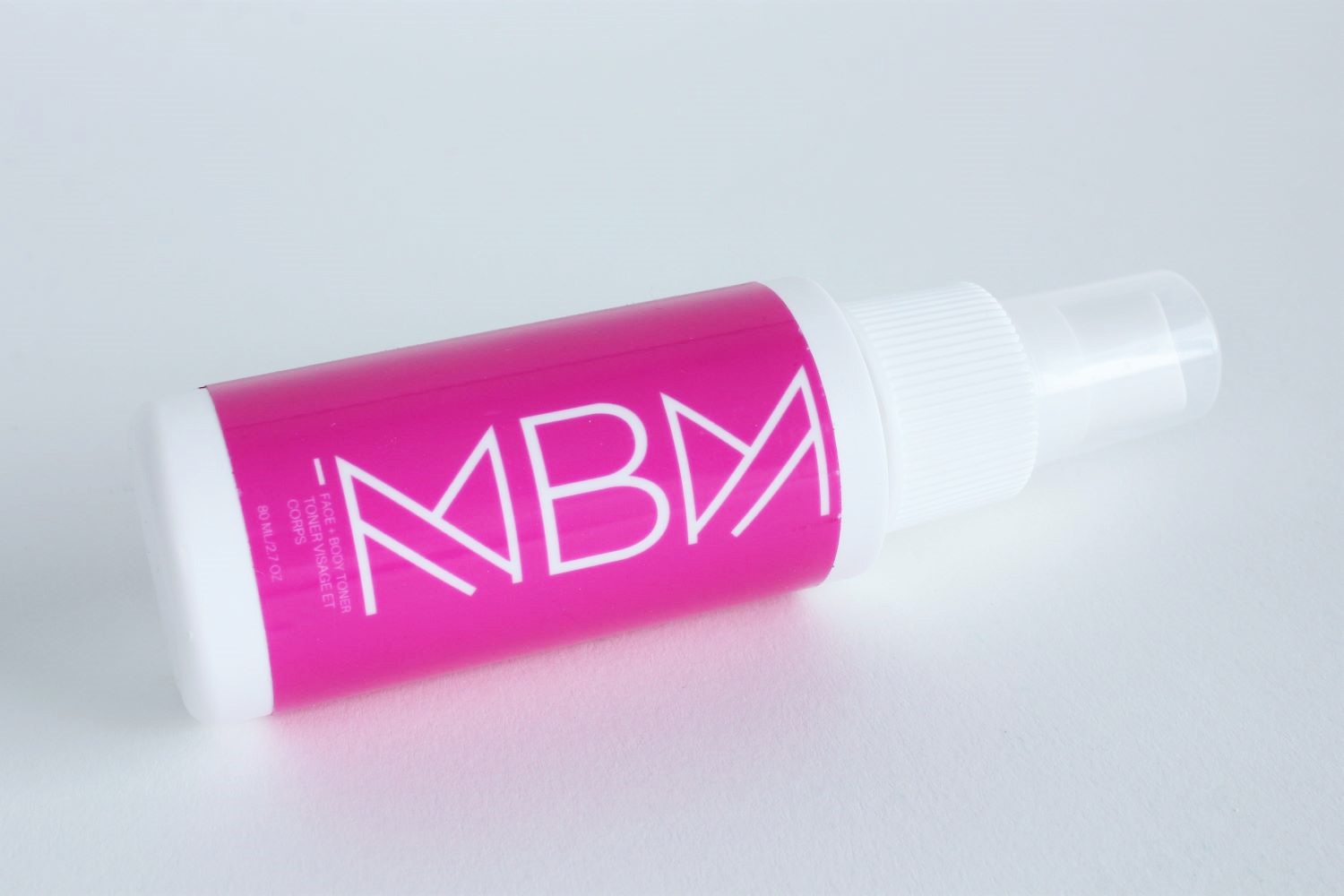 Organic Face & Body Toner – Made by Madrigal (MBM)
I happen to have a MBM body scrub with the same blend (Bulgarian rose oil, organic petitgrain oil, geranium) and I love it. It smells divine. The face and body toner can be sprayed all over your body and is recommended after sun exposure and to calm your skin when needed. With the vitamin E and the witch hazel it helps to ease inflammation and soothe sensitive skin so you can also use it after hair removal treatments (laser, Electrolysis…).
Liquid Beam Multipurpose Illuminator – Laritzy
"Designed to be versatile, Liquid Beam can be used in endless ways. Blend it into the high points of your face as a highlighter, use it on your eyelids, as a liquid eyeliner or mix it into a matte eyeshadow to create a brand new, creaseless metallic shadow."
Makeup has not been so much on my mind since I started working from home. No glamorous social event planned also, so I wonder if I will be using this illuminator, but I wish I had the opportunity to do so. It gives a nice shiny effect like thousands of little diamonds. Having a Christmas party with my office, that would have been in my makeup bag for sure.
Classic Coconut Good Bites – Sun-Rype
These 1-inch bites are filled with fiber, low in sugar and simply delicious. The main ingredients are unsweetened dried coconut, brown rice syrup (to hold it together) and organic coconut sugar. Sun-Rype Good Bites are Canadian made, vegan and they make a good snack for your kid's lunch box since they are peanuts and tree nuts free. I love to have a snack in my subscription box. It never goes to waste and I can add it directly to my work desk drawer for a quick snack.
Eyeshadow (color: Deeper) – Estate Cosmetics
"For a cool monochromatic look, blend all over your lid and up toward your brow bone using a fluffy eyeshadow brush. Finish off the look by smudging a little along your lower lash line with an angled eyeliner brush."
This eyeshadow delivers its promises. The color Deeper (matte teal royal blue) is highly pigmented and gives a lot of options for different looks. I gave it a try and made it just bright enough and added a bit of the Laritzy illuminator to complete the look. Easy to apply, vegan, made in Quebec (Canada), Estate is a cosmetic brand that I appreciate a lot. As I said before, I do not wear makeup as often now that I work from home, but I would go for this cool blue anytime if makeup is needed.
Superfood Reviving Cocoa & Coconut Hydrating Mask – Dr botanicals
This will be my first product from Dr botanicals, and I am highly intrigued. It is a 10-minute hydrating facial mask to hydrate, nourish and revive your skin. The key ingredients of the mask are cacao butter and coconut oil and it has no perfume or chemicals and preservatives. The list of ingredients is a little bit long but nothing harmful in there. I am just a little confused on how to use this mask. On the tube, it says to use 2-3 times a week and leave it overnight, and on the packaging and the website, they say to use once a week and wash off after 5-10 minutes. It is best preserved in the fridge and can be used up to 3 months once opened.
Wellness Analysis Strip – Vivoo
"At-home urine test strips for nutrition and lifestyle advice based on your body's needs. Vivoo helps you track your hydration level, pH, ketones, UTIs and much more!"
What an interesting object. Vivoo is a test strip with 8 different little boxes that each test a different parameter of your health. You have to urinate a few seconds on the boxes then photograph the test strip and let the Vivoo app analyse it. Then, you get a general health score and a specific score for eight parameters: water, pH, immunity, kidney, liver, UTI, energy and ketone.
You can track different health concerns in the app and receive advice and information tailored to your needs. I find the concept interesting and I am curious to try and see the results. Only one strip will not tell me much, so I wish there were at least two tests to give it a real try. Also, the company is based in the U.S.A. and the only way to get more test strips is to buy directly on Vivoo's website. For a one-time purchase, it is $24.99 USD (free shipping worldwide) for four tests or you can opt for a subscription and receive 4 tests once a month for a cheaper price.
Fairtrade Ground Coffee – Ethical Bean
Not a coffee drinker here, but this product will surely make a lot of Little Life Box subscribers happy. It is an excellent Canadian brand that is Fairtrade and organic. The beans used to make this bag are from Colombia, more specifically from the cooperative "Caruchil". They added a sticker at the back with a QR code that brings you to a web page with a lot of details on this specific bag. There is also a link to the "cupping score" which gives a lot of details for the connoisseur. I will gladly give this bag to a member of my family.
Protein Bars – Simply Protein
Simply Protein bars have been on the market for some time now and I received two of their bars. The first one, Coco Raspberry flavour, looks delicious and will make an excellent snack after a training with 15 g of protein in it. The second one is new and contains 5g of collagen peptides sourced from grass-fed bovine. The flavour is "Dark Chocolate Peanut Butter Strawberry". Even if I am not a big fan of peanut butter flavour, I think this mix might be a hit. Another good snack from a Canadian company that I like.
Lozenges – B Vitamins – Bach Rescue Plus
At first, I thought it was lozenges for sore throats, but it is another type of remedy. It is the Rescue Plus remedy from Bach. Each lozenge contains 4 drops of the original mix known as Rescue Remedy®. It is a homeopathic product that helps relieve stress. It is perfect for those stressful days with a never ending to-do-list to help you go through your day calmly. My stress level is quite high these days and I must not be alone with everything that is going on. That product is an excellent idea.
Little Life Box Fall 2020 Review – Final Thoughts
There were a lot of surprises and unusual items in this month's Little Life Box that I was happy to discover. I am thinking of the Vivoo analysis strip that got me intrigued and that I had never seen before. If it was a Canadian product, it would have been even better. There are always one or two makeup products and even if I do not wear makeup as often as I was before March, I was happy to find two brands that I like. Also, new healthy snacks are a staple in Little Life Box, and I love the three I received. The coconut Good Bites are my favourite, but I like the new bar with added collagen. New brands, ones that I know and love, delicious snacks and great wellness products, I got a little bit of everything and that is why I like this box so much.
Jacynthe Létourneau – https://www.instagram.com/miss_minamie/