Little Life Box Review Fall 2021
Fall is upon us and I just received my favourite seasonal box. Little Life Box is a Canadian subscription that gives you the opportunity to sample and experience new natural, health conscious and mostly organic products in a convenient and fun way. I must say, I am always impressed with the value of the box compared to the price.
Every 3 months, you get to try 8 to 12 different products (mostly full size), most of them coming from Canadian companies. I love it when Canadian boxes put Canadian products upfront! If it is from another country, Little Life Box always chooses the best.
If you want to try it out, you have two options: subscribe for one season at a time at $49.95 per season (you can cancel anytime, and shipping is free) or pay $179.80 annually ($44.95/season) so you will receive one box every 3 months. I would greatly recommend the annual option since you cannot be disappointed with Little Life Box and that makes you save $20.
The first thing we find in the box is a cute list of the items. It is simple, but it gives all the information we need and makes the global value of the box easier to see without having to search every item online. I also appreciate that the list is also in French on the other side.
Now, let me tell you a bit more about the Fall Little Life Box.
*Little Life Box kindly sent me this box for review.
Shampoo & Conditioner – Inecto Naturals
It is love at first smell with these two bottles. The fragrance of coconut is so good I almost want to eat it. These two bottles will not last long with my long hair, but they will be enough to test and see if it is worth buying bigger sizes. Inecto naturals is a vegan brand from England, and I normally prefer Canadian products, but with that delightful coconut smell, I might be tempted to change.
Brighten My Day Serum – Puur Cosmetics
In the Summer box, there was a scrunchy from Puur Cosmetics and I had a feeling we would see more from this company. This season, we received a Vitamin C and Hyaluronic serum to try. Hyaluronic acid is said to "add hydration and help protect the lipid barrier and to firm facial contours for a more youthful appearance".
I already added this new product to my morning and night skincare routine. I cannot say much about the improvements on my skin yet, but I like the consistency of the product, and the fact that my sensitive skin does not react to it. It is also absorbed quickly into the skin, so you can add your moisturizer quickly after.
Refillable Lip Balm – Pogo
"The Pogo Lip Balm is the world's first refillable, reusable and customizable balm made with the Ocean Bound Plastic"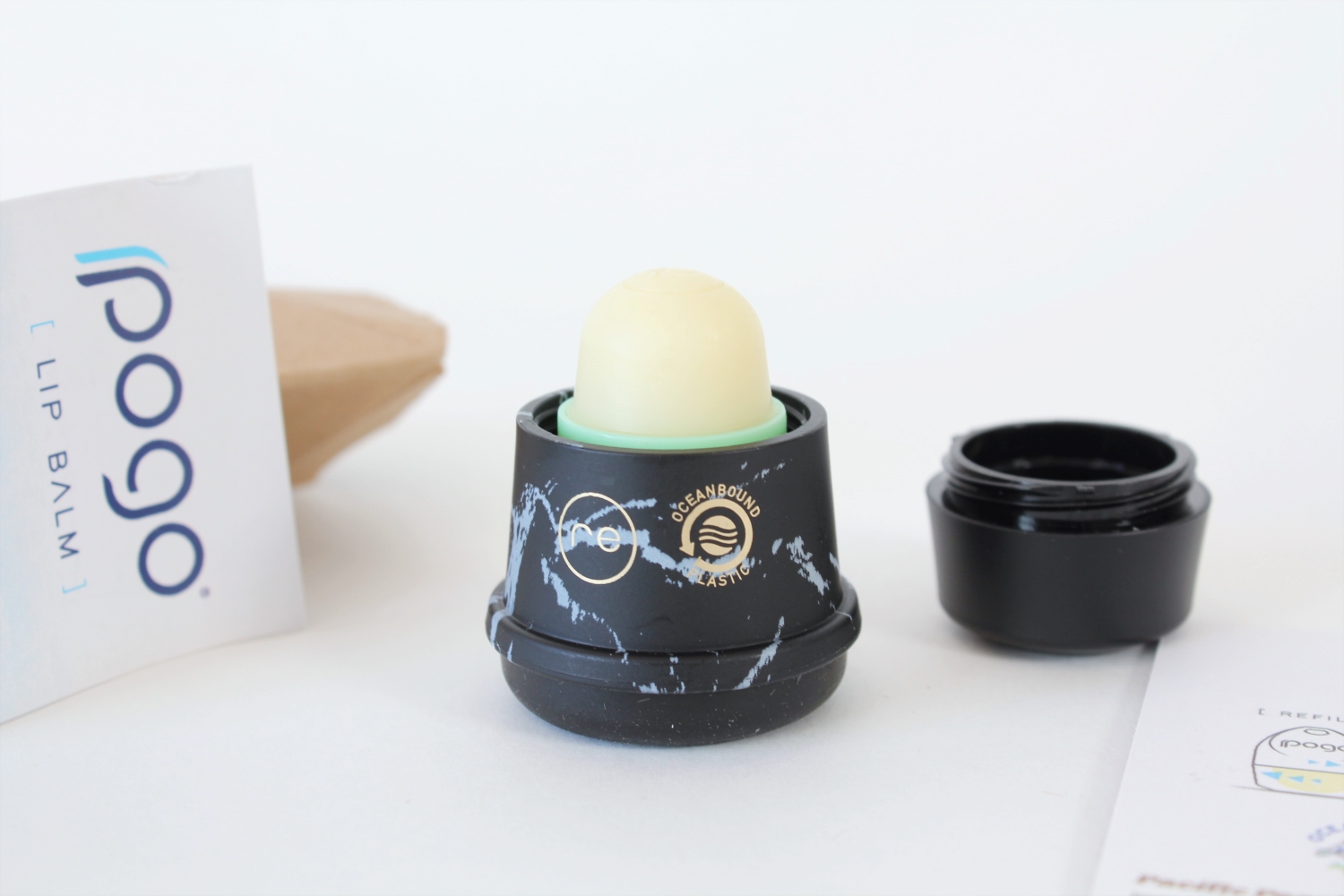 I love the concept of the Pogo lip balm. Once you have the applicator and the balm comes to an end, you can put the balm part in the recycling bin and buy a refill. That means less plastic in the trash. Also, the plastic used to create this product is a blend of 100% recycled and Ocean Bound Plastic.
Just friendly advice, be careful when you add a refill and follow the instructions. I was curious to see how it worked and pushed the balm out and put it back in, and partially destroyed the balm by pushing it with my fingers. I was quite devastated. I will salvage what I can and certainly try a new flavour when I am done with what is left of this one (I will do it the right way next time).
Perfume Roll-On – Scentuals
"This elegant scent is the perfect balance of floral and woody. Scented with 100% natural patchouli, ylang ylang and sweet orange, this is subtly seductive perfume; like a Neroli Twist."
I am unsure about this perfume. I cannot say that I like it or dislike it. In my opinion, a perfume is something personal and it is hard to find the right one just for us. I have tried a few products from Scentuals and liked them all. This perfume made 100% from natural organic ingredients (a mix of different oils and essential oils) is nice and the roll-on applicator is a good idea, but maybe just not for me.
Eye Shadow Palette – Estate Cosmetics
The palette I received are the Foxtrot shades, and I am happy to see a mix of matte and shiny tones to create different looks for different situations. This brand is cruelty free, vegan and free of mineral oil and parabens. I am no makeup artist, but I gave it a try and was pleased with the result. The colors are beautiful with my green eyes, the application was easy and the blending too. These shades of brown and green will be perfect for this season.
Chocolate Peanut Butter Cups – Justin's
I must admit, I did not resist long before trying one little cup, and… I went for another not long after the first. Justin's already had this product, but three times bigger and it came in a package of two. This new size makes them easier to share and a more reasonably sized treat. Everything is good in moderation they say (I will keep that in mind). I had tried other products from Justin's before, so it was not a surprise to find these little cups so delicious. The only downside is that it is not a Canadian brand, and I have never seen these in nearby stores. That makes them even more special.
Moisturizing Body wash – Mrs Meyers
"This moisturizing Body Wash gives your skin the soothing, refreshing clean it deserves. Aloe Vera gel, essential oils, flax seed oil and other thoughtfully chosen ingredients leave your skin smooth and soft as the delicate foam rinses clean. "
A body wash is always an appreciated product on my part. It is useful for everybody and you can rarely have too much. Meyer's has three different scents for their body wash: Plum Berry, Oat Blossom, and Rain Water, which is the one I have. I like the scent, but it reminds me of a natural detergent or hand wash product. I like that they added essential oils for the scent, the fact that it is a cruelty-free product, and the promise of smooth skin. I will gladly try it and with such a big bottle, I will share it with my family.
Orange Pekoe Tea – Yorkshire Gold
"At Yorkshire Tea we know that the best tea is about the best blend of leaves. And the finest blend we make is Yorkshire Gold. We choose teas from our three favourite origins – Assam for richness and body, Kenya for vibrancy, and Rwanda for its beautiful golden glow – and we buy them from the top ten tea gardens in the world."
I am not an orange pekoe enthusiast, but even if it is not my favourite tea, I could tell this is quality tea. The color is beautiful, and the taste is rich. Yorkshire, as you may have guessed, is from England. They have been on the market for over 130 years and have created a company they can be proud of. I have read a bit on their website to learn more about the company and was pleased to see they had great values, ethics, and how much through the process is to create their teas. My stepfather loves orange pekoe. I will gladly share this golden product with him next time he comes for dinner.
Superfood Face Mask – 7th Heaven
7th Heaven is often seen in Little Life Box, but I do not think I have seen the same product twice. For Fall, I received a sheet mask with turmeric. I have tried masks made with turmeric before, and from my experience, turmeric is an excellent natural ingredient for glowing skin. This mask also has something special. The sheet is made of biodegradable bamboo, so I imagine it can be added to the compost bin. Love the improvement!
Keto Bars – Buddha Brands
Keto bars are quite the trend these days, and the ones from Buddha Brands are an excellent choice. This flavour (coconut cocoa) must be delicious. If you follow a keto diet or not, this makes an excellent snack option. With 9g of protein and only 2g of sugar per bar, it is perfect after a good workout session or just to keep you going at work in the afternoon.
Immune Supplement – Nutrazul
In the Summer box, I discovered Nutrazul and their effervescent tablets of vitamin C. I had mixed feelings and was not sure I liked it at first, but in the end, I loved how easy it was to add it in my routine. A tablet in my first bottle of water of the day made a tasty drink with the added benefits of vitamin C. This season, we get to try Immune +, a mix of zinc, vitamin C and vitamin E. It is gluten, sugar, lactose and preservative free. If you do not like to take pills, this is a must try.
Little Life Box Fall 2021 Review – Final Thoughts
I have everything here to enjoy Fall to the fullest. A book in one hand, my cup of tea in the other and a sheet mask for a well hydrated and glowing skin. That sounds like an excellent start for next weekend. Two snacks, one for my sweet tooth, and the other for my performance days are also perfect. Canadian brands were less present this season compared to previous boxes, but I cannot complain. This box was filled with quality, healthy and overall well curated products that I like. Little Life Box is the perfect box to try new products from new brands to well known ones. The Fall box is one of my favourites this year. If you want to gift yourself or a friend, this might be the one.
Jacynthe Létourneau – https://www.instagram.com/miss_minamie/