Little Life Box Review February 2017
Little Life Box is a Canadian subscription box that gives you the opportunity to sample and experience new green, organic and health conscious products in a convenient and fun way that saves you money. Little Life Box kindly sent us this box for review.
Little Life Box always has been, and always will be, one of my favourite Canadian Subscription Boxes. I just love this box. I've been a huge fan from the very beginning. I've been following this subscription since they mailed their very first box. I've seen them grow over the years, and would easily consider them one of the best subscription boxes based in Canada.
Every month I review the Vegan Box, but you can also order the Original Box.
Here's a look at the items we received in the February Box:
Tortilla Chips – Haunted Ghost Pepper – Paqui
The spiciest tortilla chips you'll ever try. They are non-GMO, nut free, egg free, no preservatives and no artificial ingredients.
If you read my posts on a regular basis you will know that I love receiving chips in my subscription boxes. I love crunchy snacks but don't buy them very often. I prefer small bags to full size versions. This is the perfect way to control portion and test out new brands.
Soap – Olive Oil & Aloe Vera – Néolia
This soap is Paraben-free, no animal ingredients, not tested on animals, biodegradable, gentle, hypoallergenic and recyclable.
Natural soap is another item I like to see in my boxes. I don't purchase regular soap anymore, I only use natural versions. This will be used in one of our bathrooms.
Rhodiola – New Chapter
Rhodiola Rosea is an exalted herbal stress "adaptogen" that helps with stamina, endurance and well-being under conditions of exertion and sleep disruption.
I think it is such a great idea to include items like this. Little Life Box is one of the few boxes I receive that includes full-size bottles of vitamins and supplements. I don't have problems in the sleep department but I know a lot of people who do. I think LLB subscribers are going to love this product.
Soybutter – Wowbutter
Allergies are no fun.  Especially when they involve peanuts. This is an alternative to peanut butter that tastes just as good, minus the peanuts. It's made with toasted soy, so it's a great alternative for anyone who is looking to stay away from peanuts or anyone who just loves the taste of soybutter!
These didn't survive the shipping process so I will be throwing them away. I have tried Wowbutter before and think it is a great alternative for peanut butter.
Canola Oil – Prairie Farms
This canola oil is cold-pressed, non-GMO and Canadian. It's a good source of Vitamin E, antioxydant and Omega-3.
I am ALWAYS happy to receive oil. Whether it is a full-size bottle like we have received in the past, or a sample bottle like this one. I use a lot of oil now that I cook every day.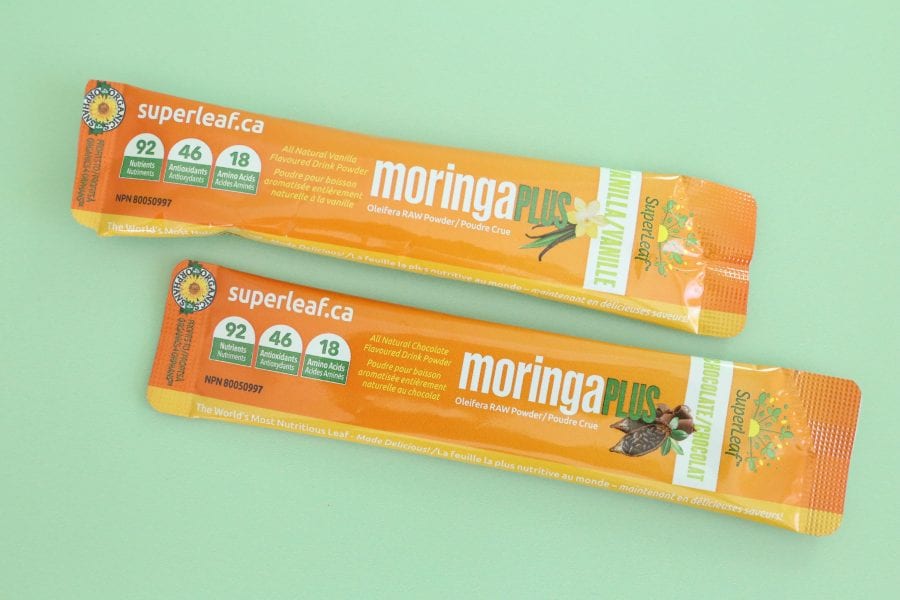 Moringa – Natural Calm
Moringa has the health benefits of a multivitamin! Each 11 gram serving contains the equivalent of 50 grams of fresh Moringa leaves. That's more than 2 full servings of raw, organic greens!
I am so intrigued by this product. Moringa is something I want to learn more about. It has many different health benefits and is used in Eastern countries to treat and prevent diseases such as diabetes, heart disease, anemia, arthritis, liver disease, and respiratory, skin, and digestive disorders.
Snack Bar – Crunchy Peanut Butter – Clif Bar
An energy bar made with nutritious & organic ingredients.
I am a huge fan of Clif Bars. I use to buy boxes of them from Costco. This is actually a good little reminder. I almost forgot how much I like these.
Energy Ball – Spirulina Ginseng – Bounce
These yummy energy balls are filled with protein and they are gluten-free and non-GMO.
Oh my goodness. I am so excited to see this in the box. These are my favourite. I discovered them at the health food store about a year ago, and have been hooked ever since.
Dried Cranberries – Patience Fruit & Co
Organic, vegan and non-GMO, these dried cranberries are a great addition to your favorite dishes.
Dried fruit is good to have on hand. It makes a quick snack, and can also be used in baking, and as smoothie toppers.
Artisan Blend – Zesty Sunshine – Patience Fruit & Co
A mix of dried cranberries, dried goldenberries and brazil nuts with lemon zest. It's non-GMO and vegan.
This is a really awesome blend of fruit and nuts. It has cranberries, golden berries, pumpkin seeds, brazil nuts and lemon zest.
Chocolate Bark – Carazel – Prana
This chocolate bark is organic, vegan, non GMO, fairtrade and gluten-free and is made from caramelized roasted nuts and fine sea salt to give you a sweet & salty taste.
Yes, this rounds out the box perfectly! I would have been sad if we didn't receive at least some sort of chocolate for the month of February. This sounds pretty darn amazing. Great addition to the box!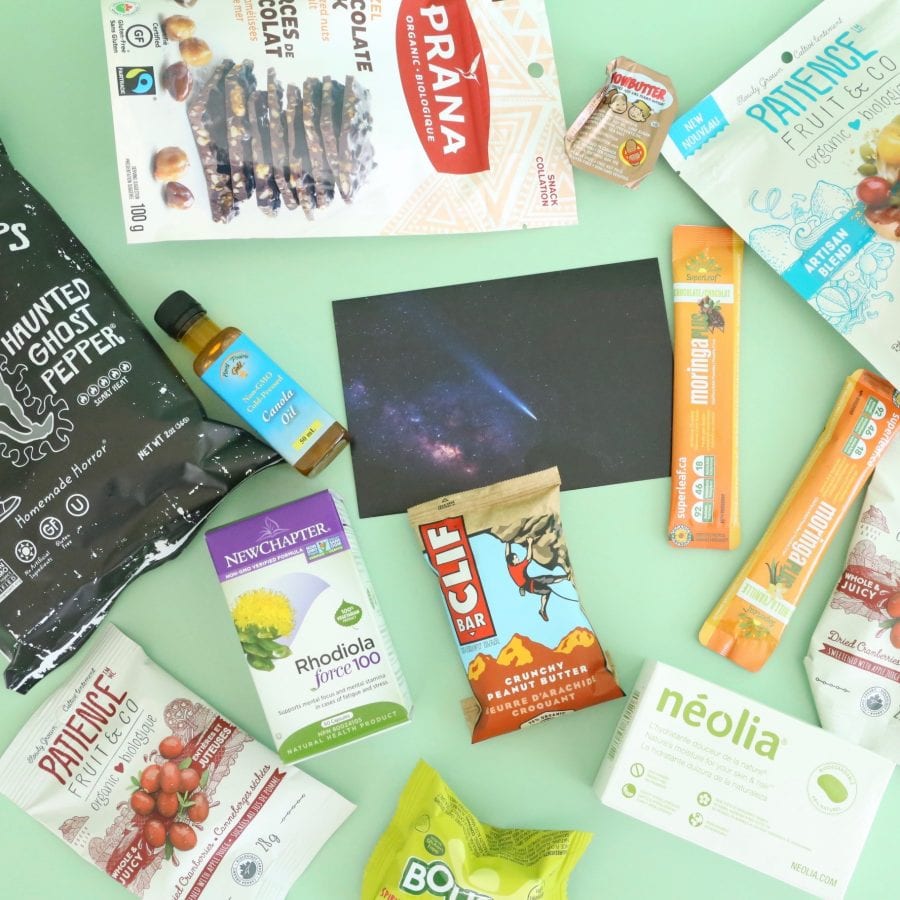 Little Life Box Review February 2017 – Final Thoughts
Yes! Great job Little Life Box! This is what I like to see, and what I have come to expect from the Canadian Subscription Box. I included them on my Favourite Canadian Subscription Box list for a reason, and this is it! I absolutely love this month's box. It was packed full and had a nice mixture of products – sweet snacks, salty snacks, supplements, bath & body products, and pantry staples. I think they did a really great job this month, and I absolutely love that they included a chocolate treat. It makes the box extra special and holiday appropriate. I wouldn't change a thing.
XOXO