Little Life Box Review January 2017
Little Life Box is a Canadian subscription box that gives you the opportunity to sample and experience new green, organic and health conscious products in a convenient and fun way that saves you money. Little Life Box kindly sent me this box to review.
Little Life Box is definitely one of my favourite Canadian Subscription Boxes. It allows me to test out new health products and discover new brands. I also LOVE that they have a vegan option. I really should put together a list of Vegan subscription boxes because there's really only a few to choose from. This being one of them.
Here's a look at the items we received in the January Box:
Facial Scrub – Acure
This brightening facial scrub with argan extract and chlorella is sulfate, paraben and cruelty-free as well as being vegan.
I'm always on the lookout for a good scrub. And this looks like a good one. It is made with argan extract and chlorella! I've never tried a face product made with chlorella. I'm very intrigued by it.
Camelina Oil – Three Farmers
Camelina oil is cold pressed and perfect for salads & dipping. It's grown in Canada and it's non GMO, gluten free, vegan and nut free.
This is making me very happy!! I love infused oil and like to have at least 3 or 4 different flavours on hand at all times. I use it in everything. Anytime a recipe calls for oil, I use an infused oil in its place. This one is onion/basil and I speak from experience when I say that basil oil is amazing on spaghetti noodles.
Juice – Kiju Organic
This juice has no added sugar, is non GMO, vegan and made in Canada.
I don't drink a lot of juice, but I still like to have it in the fridge. If I'm really thirsty, I reach for juice instead of water.
Mineral Supplement – ConcenTrace
Complete ionic mineral and trace element supplement. It's vegan, gluten free, lactose free, soya free and peanut free.
I've always known how important electrolytes are, but this little bottle was a nice reminder. It prompted me to do some research. I found out that mineral deficiency can cause a number of problems, and that it becoming very common. This tiny little bottle was actually a really great idea for them to include in the January box.
Makeup Sponges – Life Candy
This is kind of a random item, but that doesn't mean I'm not excited about it. I received a bag of eyeshadow applicators in one of my Little Life Boxes more than a year ago, and let me tell you….those little applicators have come in very handy. I have a feeling the same will apply to the sponges. Not necessarily an exciting item, but one that will be put to use.
Pur Gum – Chocolate Mint
I'm kind of over the gum thing, and wasn't too excited to see this in the box, until I discovered that it was Chocolate Mint. Now I am EXTREMELY excited!
Prebiotic Fiber – Fiberrific
Taste-Free All-Natural fiber supplement. It's gluten-free, non GMO, natural, vegan and dairy free.
Fibre is something I don't think about too often. Maybe this is a little reminder that I should be thinking about it?
BambooLife Toothbrush
It doesn't get softer or more natural than this brand new bamboo toothbrush. You will love the feel in your mouth. We are making everyday life products for you to remember that the little things are what matter the most in the end.
I don't know why, but I get very excited about oral hygiene products. Everyone needs a new toothbrush every few months, so it's a practical item. And the fact that it is bamboo makes it kind of fun.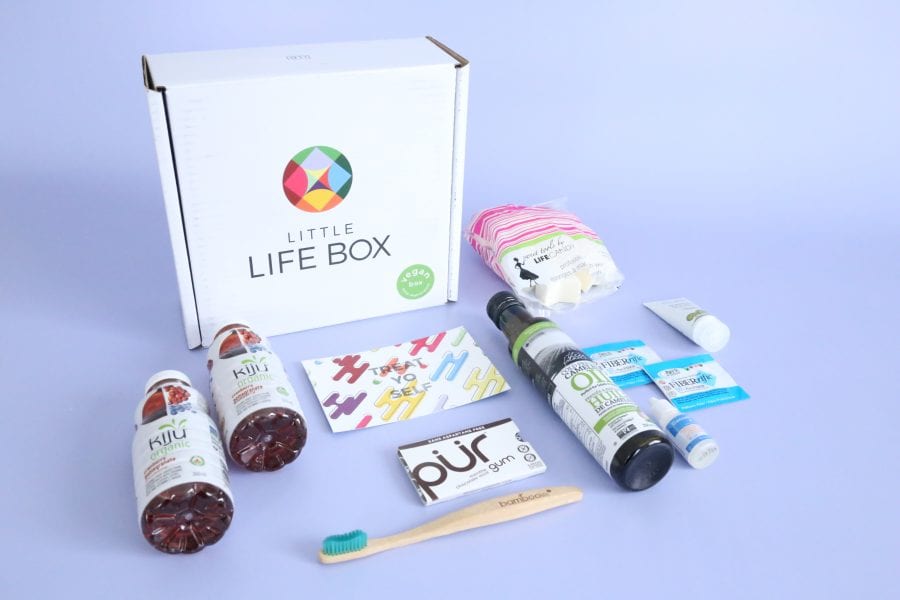 Little Life Box Review January 2017 – Final Thoughts
I wouldn't consider this an exciting box. I've definitely seen better from Little Life Box. But at the same time, it's practical and useful. It has also provided a couple little health reminders (minerals and fibre) and that is actually very cool. I've mentioned this before, but I use this box as a monthly reminder to live a healthy lifestyle, and that is exactly what it has provided this month. Not to mention the fact that I have a new bottle of infused oil. I will be using that on a regular basis. One thing to keep in mind when it comes to Little Life BOX, it's not always going to have the "wow" factor, but its a great box nonetheless. I never end up gifting any of the items from my LLB, I keep them all for myself. That alone speaks volumes.
XOXO