Little Life Box Review July 2018
Little Life Box is a Canadian subscription box that gives you the opportunity to sample and experience new green, organic and health conscious products in a convenient and fun way that saves you money. Little Life Box kindly sent us this box to review.
Little Life Box is one of my favourite Canadian subscription boxes. They have been in business since 2013 and we have been reviewing them since they launched their first box. I love that I have been able to follow them over the years and experience their journey firsthand. Little Life Box is consistent, reasonably priced and one of the most popular subscription boxes in Canada.
Subscription Details
Canadian Subscriptions:
Choose from either the Original Box or the Vegan Box
Month to Month, 3-Month or 6-Month subscriptions
Shipping is $5 per box
US Subscriptions
Quarterly Subscription = $25 per box
Annual Subscription = $90 (4 boxes pre-paid)
Trial Box = $27 (one time purchase)
Here's a closer look at the items we received this month…..
Concentrated Stevia Liquid – Pure-Le Natural
Stevia is one of the few sweeteners I will actually use. I was quite happy to see this in the box as it will be nice to have on hand. It's 100% natural which is very important when it comes to zero calorie sweeteners. Just in case you aren't familiar with Stevia here's more info…….
Natural sweetener made from the stevia leaf
Ideal for people with diabetes or for those looking to manage their weight
No calories or carbs, no artificial ingredients
Non-glycemic response, no bitterness or aftertaste
Zero Calories, zero carbohydrates
Zero glycemic, safe for diabetics
WEIGHT LOSS: Stevia as a zero calorie sweetener can reduce calorie intake aiding in weight loss.
Gluten-free, kosher, vegan and non-GMO Herbal Supplement. 100% Natural
Flexi Spray – Pro Circuit
Temporarily relieves aches and pains of muscles and joints associated with one or more of the following: simple backache, lumbago, strains and sprains (involving muscles, tendons, and/or ligaments), and arthritis.
I received this item in a previous box so I'm not overly excited to receive it again. But, with that being said, it's a great product to have on hand. Perfect for relieving aches and pains.
Granola – Granolust
Granolust produces the most delicious Organic, Vegan & Gluten-Free Premium granola you've ever tasted! Maple Quinoa Crunch is one of their most popular flavors featuring puffed quinoa, pumpkin and flax seeds, unsweetened coconut and a hint of Maple syrup. They use only the finest ingredients, healthiest oils and non-refined sugars.
If you read my blog on a regular basis you will know that granola is my comfort food. I could eat it all day, every day. This one includes puffed quinoa which is something I've never tried in my granola.
Juice – Kiju Organic
This juice has no added sugar, is non GMO, vegan and made in Canada.
I don't drink juice on a regular basis but it's something I like to have on hand, especially during the summer months. Sometimes water just doesn't cut it.
Kale Chips – Vegan Vixen
WOW these tasty kale chips are saucy af !!!!   Nice Cheesy taste, feel great after consuming plant based snack!   These glorious kale chips are dehydrated at 104°F keeping all the nutrients values intact.  It's a great way to get your vitamin K, E, C, A, and a great source of calcium and magnesium.
I decided to try these right after taking the product photos and I ended up eating the entire container in one shot. I happen to love kale chips, especially those that are flavoured with nutritional yeast. So good and so good for me.
Lentils – Tipiak
Green lentils in a convenient boil-in-bag format ensure perfect cooking in only 8 minutes. Very high source of fiber and an excellent source of iron.
I like to see these kind of items in my Little Life Boxes. Lentils are a great side dish and can also be added to sauces, soups and salads.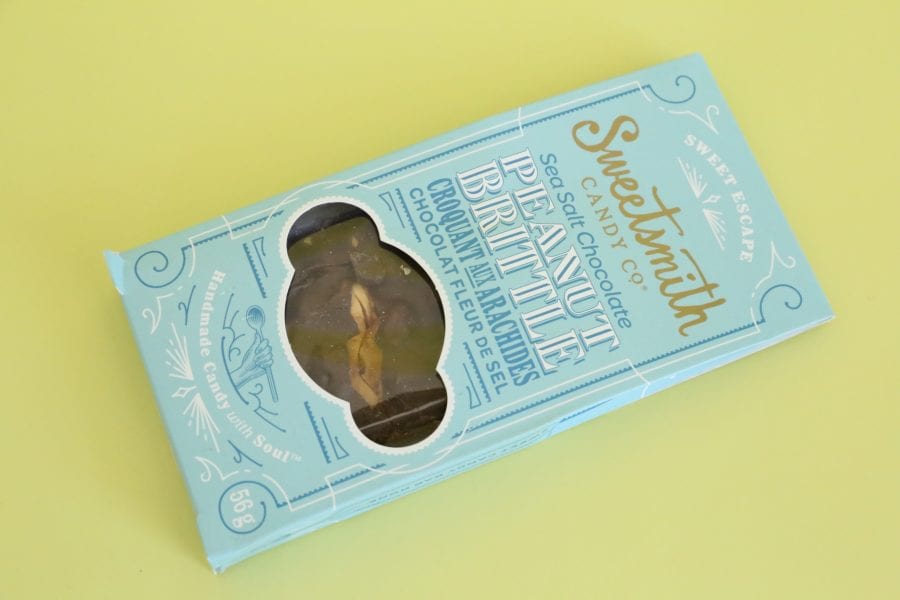 Peanut Brittle – Sea Salt Chocolate – Sweetsmith
Fleur de sel- the flower of the sea. Sink into bliss as flavours wash over your palate. The sweet, and salty perfectly mingled with the smooth sensation of Belgian Chocolate. More delicious than the depths of your imagination. Dive in! This is a great dairy free and low fat alternative to our English Toffee!
Peanut Brittle is naturally Gluten free, and our facility is 100% gluten free, meaning that all products made by Canada Sweet Shop have no risk of cross contamination!
We have received this brand before but it was a different flavour. I can't quite remember what it was but I do remember that it was very tasty. I will keep this in the freezer (as I do with most of my treats) and break off a piece as needed.
Protein – Vanilla – Sample – Profi Pro Health
This protein is vegan, non GMO, gluten free, halal and kosher. Add one cup of water and one pouch (32g) of drink mix to a shaker bottle. Shake until all powder is dissolved. ENJOY!
Protein samples like this are perfect for road trips or days spent running errands. Just add to a bottle of water and you are good to go.
Sleep Gum – Chew Pod
Chew to get rest & reset your body's sleep-wake cycle.
Chew 2 tablets for 5 minutes before bed. Check with your doctor before taking if you have any medical conditions, if you are taking any medications, if you are breastfeeding or pregnant.
Stink Bombs – Sample – Nature Clean
Get the stink out! These Odour Remover Pacs naturally destroys foul odours and unwanted smells. This product works powered by mineral zinc, by trapping and neutralizing odour without the use of enzymes, alcohols, masking agents like perfumes and fragrances. This product is also biodegradable and not tested on animals.
Little Life Box Review July 2018 – Final Thoughts
Little Life Box is a really great way to discover new products. Take this month for example…..I get to try a new brand of kale chips, granola, juice and protein. Products I probably wouldn't have been able to test if it weren't for my LLB subscription. I also received a bottle of stevia which will be nice to have on hand, as will the Flexi Spray. I would have maybe liked to see some sort of beauty product but I'm certainly not complaining. The July box was packed full and bursting at the seams. I can't believe I have been reviewing this box since 2013! We are coming up on 5 years and I still look forward to this box as much as I did the first few times I received it.
XOXO