Little Life Box Review June 2017
Little Life Box is a Canadian subscription box that gives you the opportunity to sample and experience new green, organic and health conscious products in a convenient and fun way that saves you money. Little Life Box kindly sent us this box to review.
Do you love health products as much as I do? Could you spend hours wondering the aisles at the health food store? Would you rather have a peanut butter smoothie than a glass of wine? And do you prefer natural deodorant to regular deodorant? If you answered yes to any of these questions then Little Life Box just might be the box for you.
Here's a look at the items we received in the June Vegan Box:
Snack Bar – White Chocolate Macadamia Nut – Clif Bar
Made with organic ingredients and lots of vitamins & minerals, this bar is perfect to bring with you on-the-go.
Have you tried these yet? If not, you need to. These are my new favourite Clif Bar flavour. I want a box of them….or two. Pair with your morning coffee and you are golden!
Almond Milk Mini – Vanilla – Natur-a
You will love this delicious low calorie non-dairy beverage. Made with California almonds, all the vitamins and calcium the body needs, Natur-a Almond is a satisfying non-dairy way to help stay healthy, happy & strong. Great hot or cold, over cereal, in your favorite recipes or as a dairy free creamer.
We received chocolate almond milk in last month's box so I maybe would have liked to see something different in place of this item.
Energy Water – Pomegranate – Guru
Rare are the times when a company launches a new product that's better than the original – but Guru just did it. We're not ones to encourage the consumption of energy drinks, but this Organic Energy Water is right up our ally. It's made with caffeine from green tea and ingredients that we recognize and love. It's definitely our go-to alternative to coffee. So refreshing!
You had me at zero calories. Sometimes I need a beverage other than water, especially in the Summer when it is hot out.
Lip Pencil – Laritzy
These incredibly creamy lip pencils are infused with plant oils and waxes to moisturize and protect your lips all day. Wear it alone or under lipstick or lip gloss! They are also vegan, cruelty free, paraben free and gluten free.
LaRitzy use to have their own subscription box, and now I see their products in other subscription boxes. They seemed to have morphed from a box company to a cosmetics company. I have been really happy with all the products I have received from them thus far, so I actually really like to see their makeup in my subscription boxes from time to time.
Toothpaste – Himalaya
This toothpaste is fluoride-free, gluten free, vegan and it also helps fight plaque.
I am always happy to receive natural toothpaste as I am yet to find one I like. And if it whitens my teeth then that's just a bonus.
Allergy Relief Tablets – A.Vogel
Hay fever symptoms relief. For the treatment of sneezing, itchy nose, burning eyes, consider A.Vogel Allergy Relief. These are vegan and gluten free!
Oh my goodness! This is absolutely perfect! I've been suffering from allergies for the last month or so. I still don't know exactly what I am allergic to but I've been meaning to find some sort of natural allergy relief and here it is!! This is the perfect item for a June box!
Dried Saskatoon Berries – Prairie Berries
These dried Saskatoon berries are non-GMO, vegan and gluten free.
The perfect little snack for my purse…..actually, these will go nicely with the Clif Bar and a big ol' Starbucks…….
Joint Complex – Sisu
These joint capsules help reduce joint pain. Improves flexibility and range of motion. They are gluten free, vegan, peanut free and wheat free.
Incense Sampler – Auromere
Made from fine essential oils, fragrant herbs, powders and resins, ranging from the most heavenly floral fragrances to the down-to-earth woody and herbal scents of the Ayurvedic preparations. Each stick is rolled by hand and packaged in 100% hand-made, recycled paper.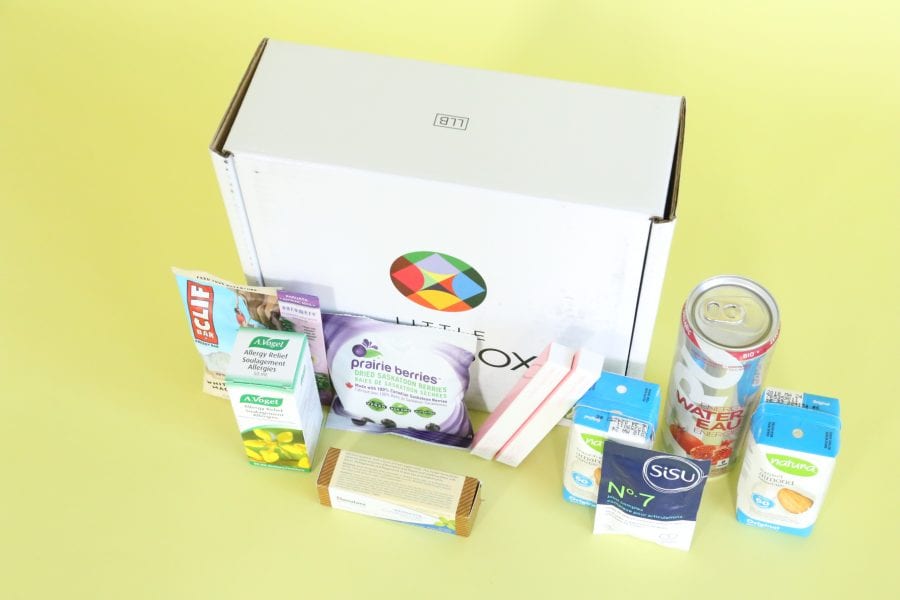 Little Life Box Review June 2017 – Final Thoughts
Little Life Box is my go-to subscription for healthy discoveries. I am obsessed with health products and could honestly research them for hours on end. I want to try the newest trends in natural beauty, I want to discover the best vegan-friendly snacks, and I want to learn about natural supplements and vitamins. I get so excited about these kinds of things and love that Little Life Box lets me discover new products every month. I also love that we get a little bit of everything, but I have said that before. This is definitely a box to try……or to subscribe to for life.
XOXO