Little Life Box Review June 2018
Little Life Box is a Canadian subscription box that gives you the opportunity to sample and experience new green, organic and health conscious products in a convenient and fun way that saves you money. Little Life Box kindly sent us this box to review.
Looking for a way to keep your healthy lifestyle on track? Or maybe you like trying new health conscious products before committing to the full-size version? Or maybe you want to receive a wonderful little box full of healthy goodies every month just because? Whatever the reason, Little Life Box is the Canadian Subscription Box we recommend most often when it comes to lifestyle subscriptions.
Subscription Details
Canadian Subscriptions:
Choose from either the Original Box or the Vegan Box
Month to Month, 3-Month or 6-Month subscriptions
Shipping is $5 per box
US Subscriptions
Quarterly Subscription = $25 per box
Annual Subscription = $90 (4 boxes pre-paid)
Trial Box = $27 (one time purchase)
Here's a closer look at the items we received this month…..
Breakfast Bars – KIND
Here is one part of breakfast grown ups and children can agree is amazing: soft-baked super grains with a crispy outside filled with a double dose of chocolate and a touch of cinnamon. They also make the perfect dipping companions for your morning cup of coffee or glass of milk!
I've had these before and I love, love, love them. I save them for days when I am craving something sweet and chocolatey. They are best enjoyed with a big glass of cashew milk while binge watching Riverdale.
Ester-C Energy Boost – Pina Colada – SISU
A daily, rehydrating vitamin drink mix. Multi Vitamin and Mineral supplement. 
I use to keep a box of this on hand at all times but it's been a while since I've had a box in my pantry. It's great to have on hand now that the days are long and hot. I add a pack to a large bottle of water and carry it with me throughout the day.
Focus Gum – Chew Pod
Chew to boost mental focus & stamina, while relieving stress.
Caffeine
Rhodiola Rosea
Vitamin B6
Vitamin A
Gherkins – Maille
At Maille, they know you want the best, so their all new Cayenne Cornichons are all carefully selected with passion to meet the highest quality standards and then blended with the finest ingredients, including specific cayenne peppers measuring 308 on the Scoville Heat Unit. These tasty cornichons are a perfect balance between spicy notes and hot flavours of the cayenne pepper.
I feel like this is a random item to see in a Little Life Box, unlike anything we have received before, but at the same time, who doesn't like cornichons!
Mushroom Bouillon Cubes – GoBio
GoBIO! Organic Bouillon cubes add a delicious deep and rich flavour to soups, stews, sauces and gravies. No MSG Added. Each 66g unit contains 6 individually wrapped cubes.
Yes! Love these! I use bouillon cubes quite often when cooking so these will be good to have in the pantry.
Organic Protein – Purely Inspired
100% organic and plantbased protein. It's gluten-free, soy-free and vegan. Great for smoothies.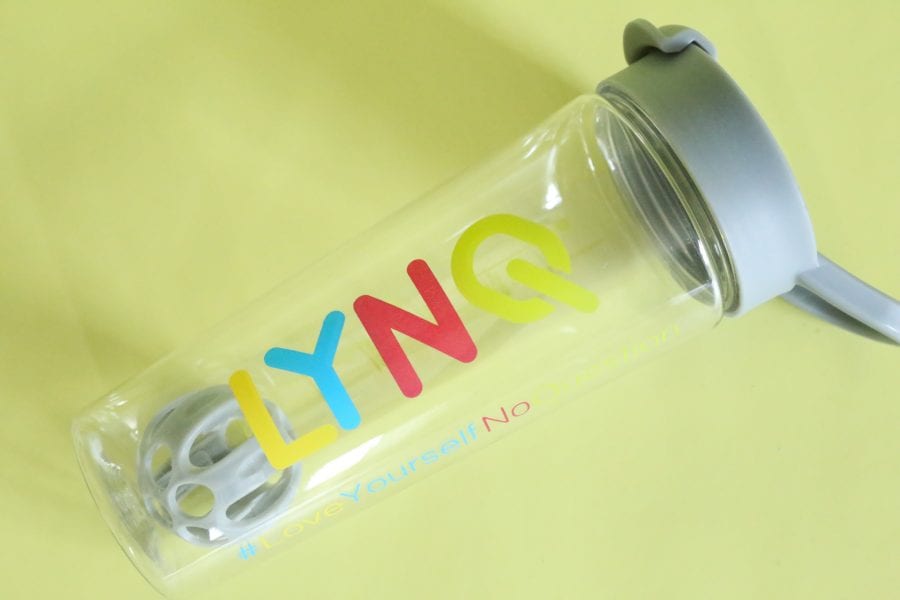 Shaker Bottle – LYNQ
24oz/700ml Tritan Protein Shaker Bottle. BPA free. Secure Lid and Shaker Ball.
Shaker bottles are great for travel or days spent running around. It's a quick and easy way to mix your protein powder with the beverage of choice.
Vitamins in a straw – Sample – Vita Smart
Sip your supplements at home or on the go!
The fun way to take your supplements!
Great-tasting Orange flavor
NON-GMO
Sugar Free
BPA Free
Gluten Free
Certified Vegetarian
Drink more water and like it!
16 Vitamins and Minerals!
Over 72 Ionic Trace Minerals
LYNQ Superfood Blends
Cocoamotion – Cocoamotion is the perfect chocolate superfood blend your whole family can enjoy – hot or cold.  The rich chocolate taste will delight your tastebuds – and your body will thank you for drinking this powerhouse of nutrients!
This all-natural, non GMO blend is chock full of vitamins naturally derived from 12 fruits and vegetables – plus it's a good source of iron, calcium and fiber, and it's gluten-free!
LYNQ 12 – LYNQ 12 is the is the perfect fruit and veggie superfood blend. Get creative. Add this powerhouse of nutrients to just about anything!
This all-natural, non GMO blend is chock full of vitamins A, B, C, D, E and K – naturally derived from 12 fruits and vegetables – plus it's an excellent source of fiber. And, it's vegan and gluten-free!
Little Life Box Review June 2018 – Final Thoughts
Wow! Little Life Box couldn't have packed any more items in the June box even if they wanted to. This box was packed full! Every little bit of space was utilized, even the inside of the bottle was full of goodies. The shaker bottle was a nice little surprise. It will come in handy during the Summer months when I am on the go and in need of a quick protein shake or need to mix my Ester-C Energy Boost (which I will be taking with me everywhere). I am pretty excited about the Kind Bars and intrigued by the fact that we received a jar of Gherkins. I always have so much fun unboxing this subscription. I get to discover new brands and learn about new products. It's definitely at the top of my list!
XOXO