Little Life Box Review March 2018
Little Life Box is a Canadian subscription box that gives you the opportunity to sample and experience new green, organic and health conscious products in a convenient and fun way that saves you money. Little Life Box kindly sent us this box to review.
Little Life Box is my go-to subscription for product discoveries. It's also my go-to subscription for keeping my healthy lifestyle on track. If you are anything like me, you go through phases with your health. Some months I'm on top of things and some months I'm a big ol' slacker. That's why I love Little Life Box. It's really nice to see this box show up in the mail when I'm having one of "those" months. It's a kick in the butt and a reminder to pay attention to my health.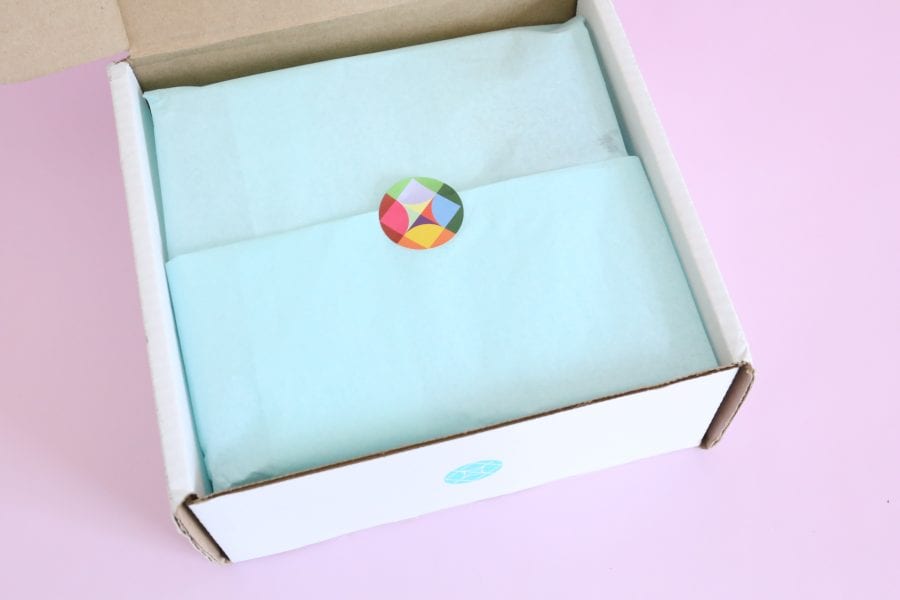 Subscription Details
Canadian Subscriptions:
Choose from either the Original Box or the Vegan Box
Month to Month, 3-Month or 6-Month subscriptions
Shipping is $5 per box
US Subscriptions
Quarterly Subscription = $25 per box
Annual Subscription = $90 (4 boxes pre-paid)
Trial Box = $27 (one time purchase)
Here's a closer look at the items we received in the March box……
3 Sample Creams – Viva Organics
This ultra-high-potency serum helps reduce the look of age spots, scars, fine lines, and even deep wrinkles as skin quickly becomes firmer and more radiant. Packed with antioxidants, vitamins, and organic compounds, the Concentrated Antioxidant Serum feeds your skin with the nutrients it needs to rejuvenate and revitalize your skin.
I'm on a very strict skin regimen at the moment, but if I wasn't I would be more than happy to test this skincare line out. I like that we received 3 different items from their product line. It allows subscribers to get a feel for their formulas.
Asparagus Rice Chips – Vegan Rob's
These asparagus rice chips are vegan, gluten free, non GMO and kosher.
Yes, yes, yes!!! I may have eaten these already. They are THAT good. I've had these a few times before and as of right now they are my favourite vegan chips. They have great flavour and great crunch.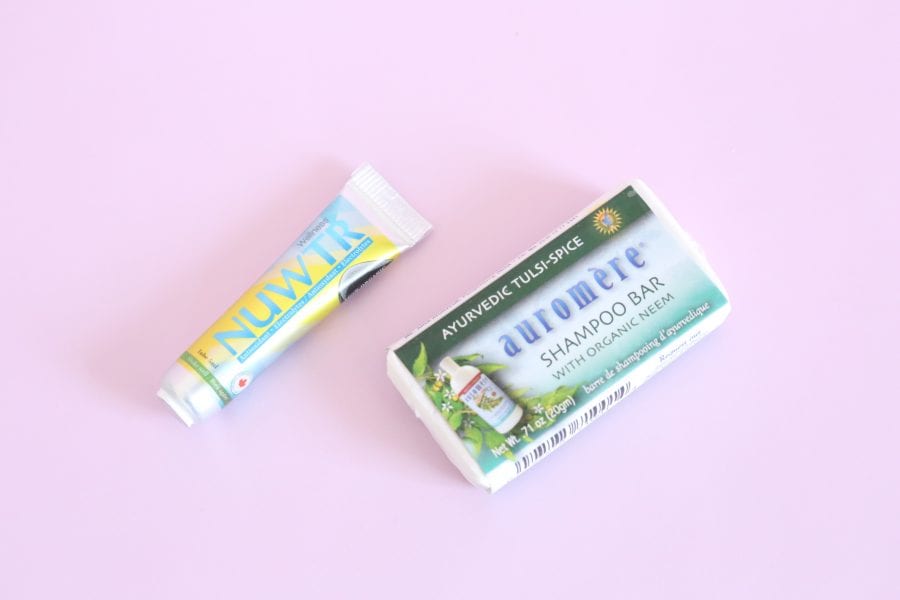 Ayurvedic Shampoo Bar – Sample – Auromere
A unique Ayurvedic formula which includes organic Neem, the premier herb for skin and scalp, plus 5 other potent herbal extracts prized for their natural cleansing, nourishing and rejuvenating properties and effect on the hair and scalp. May be used also for face and body. Makes an excellent shaving soap.  Great for travel, camping and gym bag. Gluten-free.
I'm yet to try a shampoo bar but I absolutely love the idea. How great will this be for my travel bag!? You can use it for so many different things – hair, face, body, shaving…..I love it!
Fulvic Acid – Sample – NuWTR
Our Fulvic Acid based supplement is not only a powerful antioxidant and electrolyte, it is also very rich in trace minerals.
Bamboo Concealer Brush – Evelyn Iona
A small brush designed to precisely cover dark circles and blemishes.
This is genius! I can't believe this is the first time I am seeing/receiving a brush like this. I have always loved foundation brushes so I'm pretty sure I am going to love this brush as well. I don't wear concealer often but when I do I usually apply it to my problem areas with a q-tip. An actual brush makes much more sense.
Coconut Brittle – Sweetsmith Candy Co.
Ready for a vacation? Close your eyes. Feel the sun soaking in- salty breeze tickling palm trees, & warm sand underfoot. Good company, cantinas, and candy – take a bite! Made with ribbons of organic coconut that will take you on an instant vacation! It's cheaper than a plane ticket!
This sounds amazing! I'm a huge fan of anything made with coconut. I'll be saving this for a later date. I'll enjoy it when I feel like I need a sweet treat or a pick-me-up.
Eczema Cream – Sample – Flexitol Naturals
Flexitol Naturals Eczema Cream temporarily relieves minor skin irritation and itching due to Eczema.
Gum – Bag – Pur
An indulgent, yet guilt-free flavor that freshens breath and kicks sweet tooth cravings!
Chocolate mint gum……how good does that sound?! Pretty darn good. I've had this flavour before and it's the perfect amount of sweetness to curb my after dinner dessert cravings.
Soybutter – 2x – Wowbutter
Allergies are no fun. Especially when they involve peanuts. This is an alternative to peanut butter that tastes just as good, minus the peanuts. It's made with toasted soy, so it's a great alternative for anyone who is looking to stay away from peanuts or anyone who just loves the taste of soybutter!
I recently discovered that I have a sensitivity to peanut butter, which is a real bummer because I LOVE peanut butter. Therefore, I really need to start paying attention to PB alternatives…..starting with this one. Normally I don't get too excited about small snack samples, but this month I was really happy to see Soybutter samples in the box.
Vitamin C U-Cubes – Sample – SISU
Chewy, sour vitamin C Pectin-based gummies, no animal gelatine No artificial flavours, sweeteners, or colours.
Little Life Box Review March 2018 – Final Thoughts
This month's Little Life Box might not be as exciting as the last few boxes, but it did provide me with some really great products. I received my favourite chips, a sweet treat, a new makeup brush, and some product samples I'm really looking forward to testing out. I maybe would have liked to see one more full-size item, but that's mostly because we have been spoiled the last few months with jam-packed boxes.
Did you receive this month's Little Life Box? What was your favourite item?
XOXO