Little Life Box Review March 2019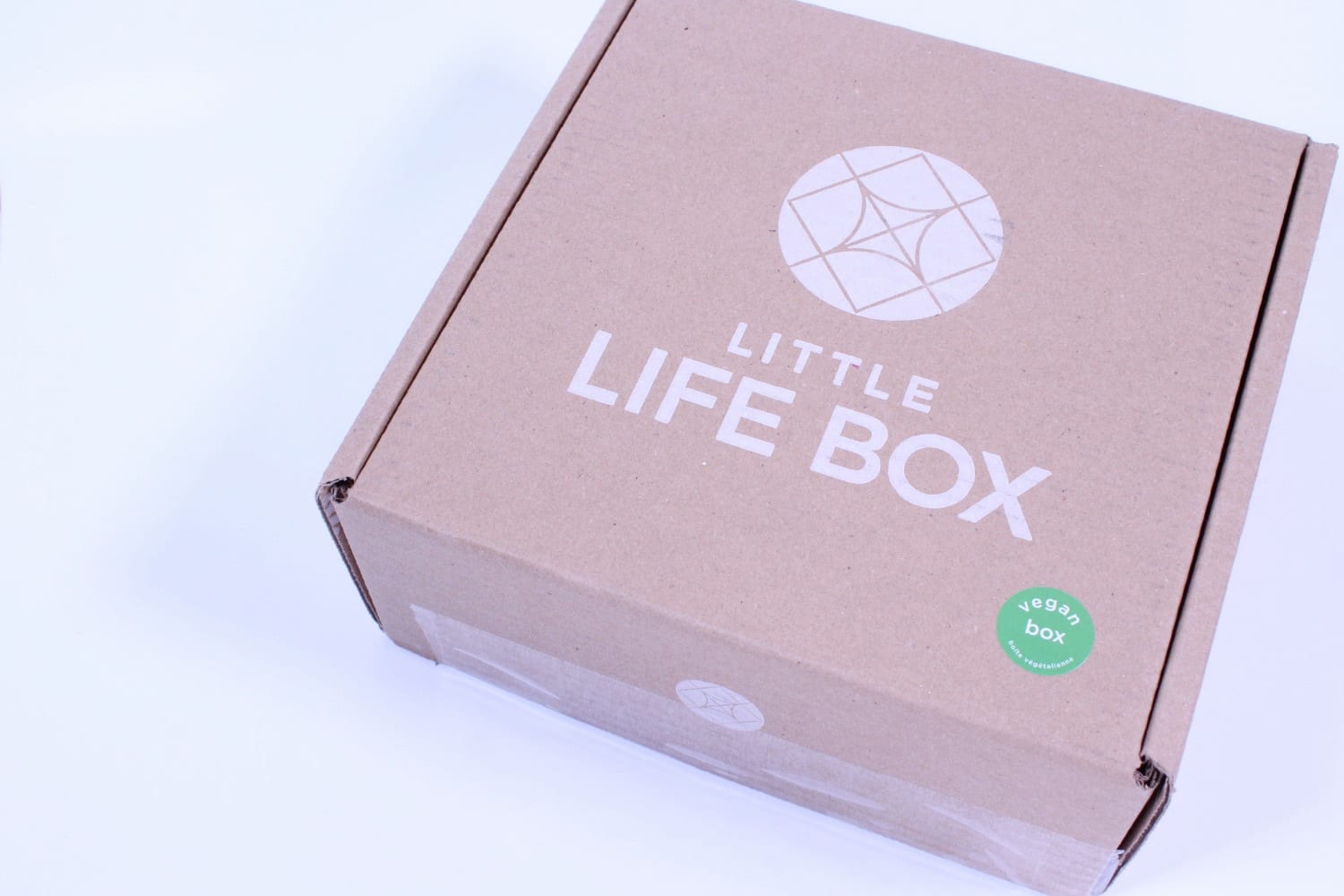 Little Life Box is a Canadian subscription box that gives you the opportunity to sample and experience new green, organic and health conscious products in a convenient and fun way that saves you money. You find around 11 to 14 products, a lot coming from Canadian companies, and they always give a large variety of items.
Subscription Details
Canadian Subscriptions: Choose from either the Original Box or the Vegan Box
– Month to Month ($25/box) or 3-Month ($24/box)
– Quarterly Subscription = $45
– Shipping is $5 per box
US Subscriptions:
– Quarterly Subscription = $35
– Trial Box = $27 (one time purchase)
– Free shipping
Little Life Box is one of my favorites because there is always lots of products, and they are all quality ones. I like to have good snacks on hand and try new self-care products and this box always deliver. This month, Little Life Box kindly sent me the Vegan box to review.
The products came in a nice box with a floral pattern inside. For March, Little Life Box opt for a magenta silky paper attached with the Little Life Box logo. On top, there was the fun monthly quote that always make me smile, and inside, 17 different products to discover. Let's take a look.
MSPrebiotic – Sample
MSPrebiotic® is a safe, effective, and versatile prebiotic, making it easy for consumers to determine a dose and method of consumption that works best for you.
MSPrebiotic should stimulate growth of healthy bacteria in the gut microbiome, increase energy and improve digestion and support regularity. There is enough product in this sample to last 9 days. You take 3.5 grams the first 3 days and 10 grams the days after until you reach the desired effects. I do not feel the need to use prebiotics, but someone close to me could benefit from this, so I will gift it to her.
Bambu – Organic Coffee Substitute – A. Vogel
Bambu Organic coffee substitute is an alternative to coffee, made from fruits and cereals. Ideal for people suffering from nervousness or sleeplessness. Caffeine free.
It is made of natural and organic ingredients (chicory, wheat, barley, fig and acorns) and makes a good coffee substitute without the side effects of coffee like sleeplessness when it is time to go to bed.
Even kids can have a cup. Hot or cold, with or without milk, the choice is yours. I do not drink coffee, but I was really curious to test this product. It smells so much like coffee, that I asked my husband to test it for me. He confirms, it does taste like coffee! A good product to try if you want to slow down your coffee intake or cannot have a cup of the real thing for health reasons.
Pretzel Twists – Glutino
What a fun snack. It is gluten free and tasty. Not necessarily the healthiest snack, but perfect for that salt craving moment. I saw that the Pretzel twists are sold in 28 grams snack bags or 400 grams bags perfect to share.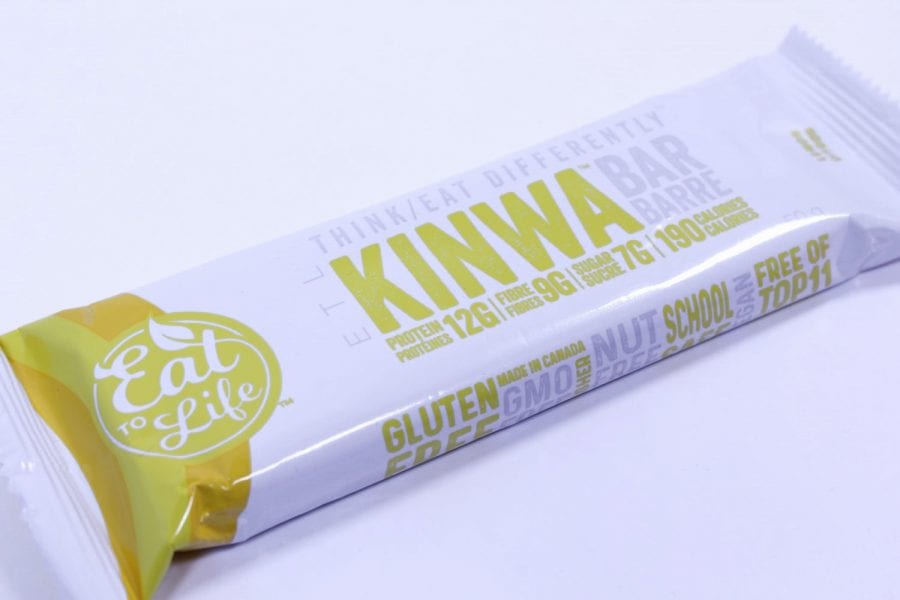 Kinwa Bar – Lemon – Eat to Life
Here's a visualization exercise. It's winter, you're wearing a parka and you're still freezing your butt off. You wish it was summer and you were on a deck or dock enjoying a refreshing lemonade (vodka optional). The lemony tang of this bar will remind you of that tall glass of lemonade on a sunny day.
Oh boy, how that description talks to me. Will winter ever come to an end? Will I ever go back to the beach with the kids? While waiting for spring and summer, I will gladly take this delicious lemony bar, dreaming of that lemonade on the beach. I like the flavor, but also the 12 grams of proteins, the 9 grams of fiber and the low amount of sugar that comes from coconut syrup.
Whole Nuts & Sweetened Dried Cranberries – Sea Salt & Pepper – Patience Fruits & Co
This blend of dried cranberries, cashews, pumpkin seeds, chickpeas, sunflower seeds, sea salt and pepper balances sweet and salty in a way everyone will love. A savvy touch of pepper brightens up your snack time.
I know Patience Fruits & Co company pretty well and often buy their products. The Sea Salt & Pepper mix is a new, and I was happy to find it in the March box. I recently started a new training routine and I think this mix is going to be perfect to maintain my energy level to the max during the day.
Green Superfood – Sweet Berry and The Original – Amazing Grass – Sample
Amazing Grass Berry Green SuperFood is a premium blend of superfoods that provide amazing energy and amazing health. With antioxidant-rich Goji and Acai berries, Berry Green SuperFood is delicious and nutritious.
Another great product to keep your body healthy and full of energy. I did not know this brand before but I will definitely give it a try after a training session this week. The antioxidants in both mixes might help me with my sore muscles.
Herbamare Vegetable Broth – A. Vogel
Enhance the flavor of all your dishes with Herbamare vegetable broth. Use it as a base for soups, sauces or stews or for cooking rice, risotto, pasta, couscous and vegetables.
I love to cook, and we make at least one soup every week, so a pack of vegetable broth is always useful to have on hand. I did not know that A. Vogel has such a large variety of products. I received 3 products from this company with Little Life Box and have only good things to say so far.
ChlOralfa – Land Art – Sample
Detergent free, Land Art's ChlOralfa gives you fresh breath and a naturally clean mouth. This formula combines the powerful deodorizing effects of chlorophyll with the added benefits of essential oils.
Oil of oregano, known for its antiviral and antibacterial properties, cleans teeth and gums. Essential oil of thyme is antiseptic and fights bad breath. Essential oil of eucalyptus disinfects, and also has hemostatic properties which are particularly beneficial for those that have bleeding gums.
This mouth wash looks really promising. Chlorophyll and oregano oil being natural products, ChlOralfa sounds like a much better option than the standard mouthwash found at the drugstore. Hopefully for me, my breath is fine, but I will give it a try in the morning to see how effective it is.
Chewing Gum – (Fresh Fruit, Spearmint and Peppermint) – Spry
Spry Chewing Gum helps: contribute to the reduction of oral dryness and neutralise plaque acids and reduce tooth demineralisation.
Chewing gum is always good to have in your purse or in the drawer at the office when you are in a rush and do not have time to brush your teeth for example. 3 packages will last quite a long time with me, but I am happy to have the choice between 3 different flavors.
Intensive Serum and Night Restore Complex – Refresh Botanicals – Samples
Provides intensive nourishment and hydration without an oily appearance. Formulated to combat early signs of aging.
The serum and the cream can be use simultaneously for even better results. They are filled with plant extract such as olive leaf, cucumber and watermelon extract. I hope 5 ml of both is going to be enough to try it at least 2 times because it looks like a promising duo (and my skin needs a good boost after all those cold months).
Eye & Face Makeup Remover Plus Toner – Me MAXEFFECTS naturals
Get amazing results with this gentle, pH balanced formulation that effectively removes all traces of eye and face makeup plus tones in one easy step.
A makeup remover made with natural plant extracts that balance and brighten, I'm in. I put makeup on 5 days a week and in my bed time routine, I like my makeup remover to be easy to use like this one. Eye and face friendly with no rinse needed, that's quick and simple enough for me.
Infusions – Organic Lavender Tulsi and Decaf Earl Grey – STASH (sample)
I drink a LOT of tea every day and already know the company STASH, so I was pleased to see these two samples. I bought a few box of the Organic Lavender Tulsi in the past months, so I am a little bit familiar with it. I have not tried the black tea yet, but I am always happy to have more tea on hand.
Little Life Box Review March 2019 – Final thoughts
Another great box from Little Life Box! Maybe just a little bit too many samples, but even if I prefer full size products, the samples are always a good way to try new products. I like that the LLB March box was filled with a large variety of products. It was my second Vegan box and I like it even more than the last one. Finally, the box has a value of approximately $50.
Jacynthe Létourneau – https://www.instagram.com/miss_minamie/