Little Life Box Review May 2017
Little Life Box is a Canadian subscription box that gives you the opportunity to sample and experience new green, organic and health conscious products in a convenient and fun way that saves you money. Little Life Box kindly sent us this box to review.
Did you know that Little Life Box is one of the more popular subscription boxes in Canada? I feel like that is worth mentioning seeing as us Canadians are still play catch-up on this whole subscription box trend. It started in the US, and for quite some time us Canadians had only a handful of subscription box options, but we are slowly starting to catch up with the US and are producing some really amazing sub boxes……Little Life Box being one of the best.
Here's a look at the items I received in the May Vegan Box: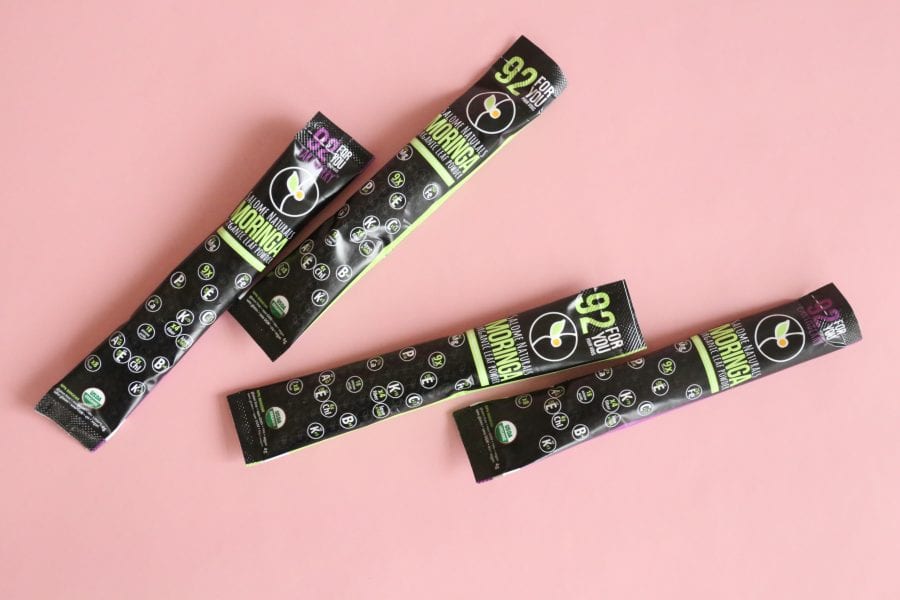 Moringa – Monnol
The Moringa leaf is the most energy-dense, nutrient-rich plant on the planet and is an ancient superfood loaded with highly bioavailable vitamins and minerals. It is the perfect supplement to supercharge your energy levels, improve your health, and nourish your body. It's vegan too!
I'm actually kind of glad that they decided to include these samples in the May box. I have received Moringa before but am yet to try it. I have no clue why I haven't tried it yet, it seems like something I would absolutely love. Hopefully these samples won't go to waste.
Organic Protein – Purely Inspired
100% organic and plantbased protein. It's gluten-free, soy-free and vegan. Great for smoothies.
I have received this a few times in different subscription boxes and actually quite like it. My only complaint would be the fact that it contains cane sugar. If I am being really picky I definitely prefer my protein to be sugar-free.
Face Cream – Acure
This is a great day cream to apply to your face. Made with gotu kola extract and chlorella. This product is vegan, sulfate free, paraben free and cruelty free.
Now that I'm not as scared to test out new skincare products as I once was, I get excited to see things like this in my subscription boxes. From what I can see on the ingredient label it contains some of my favourite essential oils.
Almond Milk – Chocolate – Natura
You will love this delicious low calorie non-dairy beverage. Made with California almonds, all the vitamins and calcium the body needs, Natur-a Almond is a satisfying non-dairy way to help stay healthy, happy & strong. Great hot or cold, over cereal, in your favorite recipes or as a dairy free creamer.
Now this is the kind of snack/beverage I need to be bringing with me on road trips. I don't know why, but I ALWAYS crave chocolate when stuck in a vehicle for long periods of time. This would tide me over, and squash the craving.
Tea – Chamomile – Four O'clock
Its daisy-like flowers reminded the ancient Egyptians of the sun, calling it "herb of the sun". The presence of lemongrass gives the blend a nice citrus finish.
I say this every time, but I will never get sick of seeing a big ol' box of tea in my subscription boxes. In fact, I am going to go make a cup of this right now……really I am….
Antibacterial Hand Gel – Puressentiel
Wash hands without water, soap or rinsing. Composed with 3 essential oils, Aloe Vera and vegetal alcohol, purifying antibacterial gel is moisturizing. This product is vegan and Canadian!
I have mixed feelings when it comes to antibacterial gel, but I think it's because my past experience has been based on that of the Bath & Body Works kind. There's just something that's not right about that particular brand of antibacterial gel…..just sayin'. But this one doesn't contain nearly as many ingredients, and it also includes essentials oils, so I figure I could probably give it a try.
TigerNuts – Sliced – Organic Gemini
Raw, Organic, Sun-Dried TigerNuts have a sweet and slightly nutty flavour.  A TigerNut by any name, however, is a little tuber with a great deal of superfood qualities. They are vegan, peanut-free, tree-nut free, natural, gluten-free, kosher, non-GMO and sugar-free.
Ummm……what do we have here!! What in the world is a TigerNut and why haven't I heard of them before? Did you know that these little gems contain as much iron as red meat!! Are you kidding me! If I had a nickel for every time someone asked me where I get my protein or my iron I would be retired by now. I want a year supply of these little packs so I can throw one at each person who asks me about my iron from now on! Take that!
PS – Apparently this is a small root vegetable, not a nut. Sorry, can you tell I am excited about this new discovery? I can't stop talking about them.
Bites – Tutti Gourmet
These are a nutrient-dense fruit cracker using bananas, organic coconut and organic sesame seeds. They are carefully dried at a low temperature, creating a concentration of flavours. The result is a perfectly thin and crispy texture. 
I LOVE Tutti Gourmet! I love their snacks and I love saying the name – Tutti Gourmet. I've tried a few of their snacks over the last couple years but I am yet to try this one. The main ingredient is bananas and I am going through a serious banana phase right now. I could eat them all day, every day!
Little Life Box Review May 2017 – Final Thoughts
When I first opened my May Little Life Box I kind of thought it might be a blah month. Boy was I wrong. Those TigerNuts are an amazing find, and definitely add a ton of value to this month's box. You see, I don't necessarily place value on high-priced items, I place value on the experience and discovery factor. If a subscription box helps me discover an amazing product I never would have discovered on my own, then that is worth something to me. That is how Little Life Box can best be described – a discovery box. I just love it!! Period.
XOXO