Little Life Box Review May 2019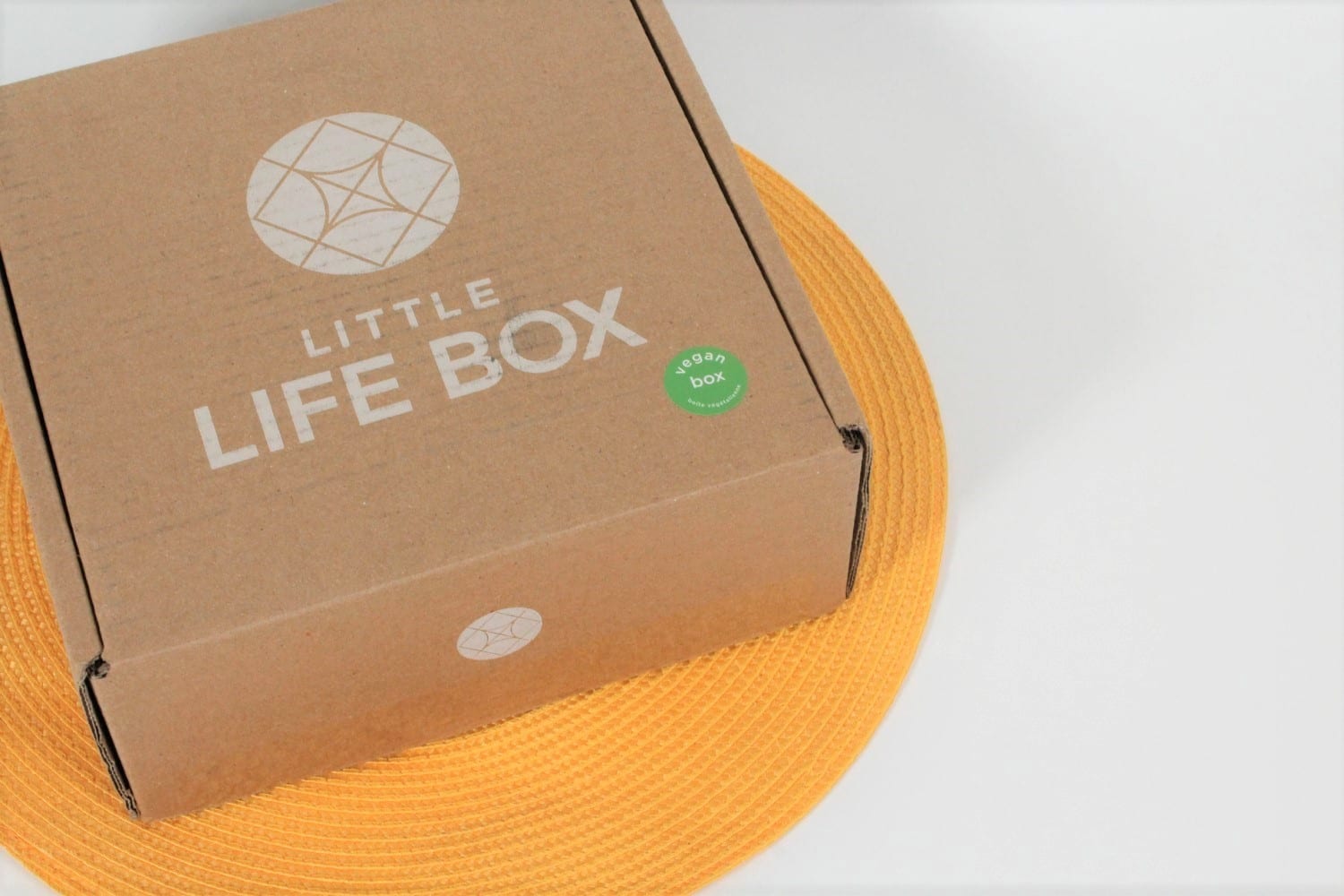 Little Life Box is a Canadian subscription box that gives you the opportunity to sample and experience new green, organic and health conscious products in a convenient and fun way that saves you money. You find around 11 to 14 products, a lot coming from Canadian companies, and they always give a large variety of items.
Subscription Details
Canadian Subscriptions: Choose from either the Original Box or the Vegan Box
– Month to Month ($25/box) or 3-Month ($24/box)
– Quarterly Subscription = $45
– Shipping is $5 per box
US Subscriptions:
– Quarterly Subscription = $35
– Trial Box = $27 (one time purchase)
– Free shipping
This month, Little Life Box kindly sent me the Vegan box to review.
Can you relate with the ancestry report on the green card? I did (just change avocado for coconut). Life has been pretty busy recently and the unboxing of the May Little Life Box was a good moment to take some time for me, relax and enjoy new products and rediscover some I had seen before.
Under the card was the products carefully covered with blue silky paper attached with the LLB logo. Let's take a closer look…
Alkaline Spring Water – Flow
Enhanced with the essence of organic blackberry and hibiscus, Flow hydrates with an uplifting and refreshing taste.
This is something I would not normally buy, but I am happy to discover Flow. Instead of the classic plastic water bottle, Flow created a pack made from renewable resources (70%). Also, the flavors added are from organic plant-based ingredients and it tastes delicious without adding any calories or sugar.
Peri-Peri Sauce – Nando's
I love peri-peri sauce! I always thought the secret of a peri-peri sauce was hidden in Portuguese restaurants, but I should have looked for a bottle of sauce in the grocery store. Happily for me, I now have enough sauce to cook a few recipes this summer. I am already thinking of what I could cook on the BBQ with this (I also found some interesting recipes on Nando's website).
Organic Coconut – Elan
Rediscover this tender and crisp fruit! Gently roasted to emphasize their rich flavor, coconut smiles will fill you with happiness.
Delicious coconuts! I like to sprinkle some in my granola, energy balls, cakes, etc. It mixes well in baking goods but is also so yummy with nothing else. It is naturally packed with protein, fiber and iron and will leave a smile on your face.
Chocolate Macaroon – Sun-Rype
I got the same bag in the January box, but I am not complaining. I shared with my coworkers last time, but this time I may hide the bag so it lasts at least a week. These bites are made from simple ingredients that shines together. Dates, seeds, seeds butter, coconut and dark chocolate chips. It makes an enjoyable fulfilling snack that brightens any evening.
Moringa Puffs – Vegan Rob's
The miracle moringa is like a "vegetable tree" loaded with health and beauty supporting vitamins, minerals, and enzymes, making it a true superfood in every sense of the word. Not only is it incredibly nutritious, but absolutely every part of the tree can be eaten!
I do not know what moringa tastes like, but these puffs are yummy and so fun to munch.
There is 2g of proteins in a 35g bag and also 4g of added sugar. The Moringa Puffs are, of course, vegan but also gluten-free, plant-based and as no trans fat and GMO.
Active Blend – Patience Fruit & Co.
This company makes amazing products. Patience Fruit & Co. is a brand you will find every week in my grocery basket. I had the occasion (with a previous LLB) to try another similar mix (salt & pepper) and enjoyed it. A moka flavor is not what I look for (I do not like coffee), but that is just a question of taste. The blend itself is super healthy and makes a tasty snack.
Vegan Protein + Green – Cocoa – Pro Circuit Organik
A mixture of 4 carefully selected organic vegan proteins to make an exceptional drink containing 20g of protein. The addition of 12 organic fruits and vegetables contribute a high content of vitamins and minerals giving the drink incomparable taste.
They got me at cocoa and organic. I tried the vanilla flavor recently and liked it, so I am happy to get the cocoa flavor this month. It will be perfect in a banana+strawberry smoothie.
Green Farm – Pro Circuit Organik
I have seen many products from Pro Circuit in the past months and I have been pleased with every product I received, from healthy supplements to a spray for muscle pain. The antioxidant properties of these supplements are going to be welcome after a hard morning training to help reduce the muscle pain the next day.
All Natural Skin Gel – Nature's Aid
Nature's Aid skin gel is a soothing all-purpose natural treatment for skin care like eczema and rashes but can also be put in your first aid kit to treat insect bites and sunburns for example. You can also use it as a beauty product to apply alone or with your daily face cream.
In my house, it is going to be very useful this summer with my two kids always playing outside and getting little injuries.
Dishwasher Pac – Nature Clean (sample)
Nature Clean® Dishwasher Pacs are high performing without the use of chlorine, phosphates, perfumes, dyes or animal by-products. This product is vegan, gluten-free, kosher, septic and grey water safe. Biodegradable and not tested on animals.
Even if it is just a sample, it made me think about what I use in my dishwasher. I try to buy healthy and environmental friendly products for my family but have not really thought about this specific product. I will definitely give it a try.
Konjac Facial Sponge – Urban Spa
Konjac facial sponge is rich with copper, zinc, vitamins A, E, C, D, B1, B2, B6, B12 and folic acid. It will leave your skin supple, smooth and glowing.
Konjac sponges are made from the dried and ground root of the konjac, a plant native to Asia. It is super light and hard to the touch when dry, but after letting it soak for a few minutes, it really becomes like a sponge and is support smooth to the touch.
Little Life Box May Review – Final Thoughts
In the May Little Life Box many brands were not new to me and I had seen a few of the products or brand in previous boxes. For the repeating products, LLB chose some winner products like the chocolate macaroon that I loved so much in the January box and the vegan protein from Pro Circuit that are always useful. Also, the peri-peri sauce is going to be perfect for the upcoming BBQ season and I have enough snack options to last me a few weeks and that's what I like! Overall, the box has a value a little over $50 and I liked everything in it.
Jacynthe Létourneau – https://www.instagram.com/miss_minamie/