Little Life Box Review October 2018
Little Life Box is a Canadian subscription box that gives you the opportunity to sample and experience new green, organic and health conscious products in a convenient and fun way that saves you money. Little Life Box kindly sent us this box to review.
Little Life Box is one of the subscription boxes (the few subscription boxes) we have bene reviewing since we started the blog. It's one of the original Canadian subscription boxes and the fact that they have been around that long speaks volumes. They are consistent, professional and the price point is extremely reasonable. We love this box and are pretty sure you will too!
Subscription Details
Canadian Subscriptions:
Choose from either the Original Box or the Vegan Box
Month to Month, 3-Month or 6-Month subscriptions
Shipping is $5 per box
US Subscriptions
Quarterly Subscription = $25 per box
Annual Subscription = $90 (4 boxes pre-paid)
Trial Box = $27 (one time purchase)
Here's a closer look at the items we received this month…..
Beanbark – Remixed Snacks
64% dark chocolate bark with dehydrated beans and fruit. Vegan and preservative-free!
This is a genius idea and is sure to become a new favorite snack. It's vegan and made with healthy ingredients. What's not to love?!
Protein – Sample – SunWarrior
Warrior Blend fuses and multiplies the power of several rich protein sources into one smooth, great-tasting formula that's overwhelmingly superior to the individual components alone. Medium chain triglycerides from coconut then join this dynamic fusion to create a unique, raw, plant-based protein with a complete amino acid profile exceptionally rich in Arginine, Lysine, Leucine, and branched chain amino acids.
Plant-based protein is a must-have in our house. I have it in the pantry at all times so I'm happy yo receive samples to test out.
Salad Topper – Samples – NaturSource
Invigorate your salad with this colourful blend of ruby red cranberries, crunchy cashews, pumpkin and Tamari® sunflower seeds. Rich in antioxidants, this mix is sure to bring your salad to new heights of flavour and nutrition. Don't be fooled by its name – Salad Topper is a delicious snack all on its own.
I don't know about you but I prefer a salad with toppings. Some like their salad with veggies and dressing and nothing else but I need a little crunch. I'm looking forward to testing this out.
Teapigs Rooibos Crème Caramel
Scrumptious, this tea has it all – rooibos is naturally caffeine free, contains flavonoids and as hydrating as water. The chunks of caramel make it a sweet, rich, comforting drink to rival any dessert but a cup contains 2 calories. We can't guarantee all temples contain caramel chunks but If you do get all 15 full of chunks, you've really hit the sweetness jackpot!
Teapigs – English Breakfast
Our signature blend, our daily cuppa, our builders brew, our Rosy Lee; call it whatever you want but our everyday brew is the ultimate British favourite. Three delicious teas: Assam, Ceylon, and a lovely Rwandan blended to give a balanced, malty, zesty alliance.
Juice – Strawberry Watermelon – Kiju Organic Fit
Kiju Organic Fit juice beverage is refreshing, light and contains 55% less calories than their regular 100% juice. It's organic goodness you can enjoy anytime. Vegan & made in Canada.
I love that Little Life Box includes beverages in their boxes on a regular basis. It rounds out the product mixture nicely.
Natural Elixir – Maca Sutra – Bolema
Is an all-natural pineapple and coconut based drink, containing powerful botanical extracts intended to improve both the male and female libido. Preservative free and vegan!
Oh…..how fun is this? I love discovering new products and this is definitely new.
Kracklin Kamut – Dosch Organic
A crunchy & light snack that's vegan, organic, nut-free, non GMO & made in Canada!
Lip Icing – Goodie – Estate
It's not glue, boo, so it's not sticky. Their lip gloss will leave your lips looking irresistible, like icing on a cake. Glaze it over your naked lips or over your favourite lipstick for a comfortable, high gloss finish.
This is my favorite kind of item to see in LLB. They don't include makeup in every box but I kind of wish they did. It adds value to the box and makes the product mix more fun.
Vitamin C Spray – My Kind Organics
My Kind Organics Vitamin C is a whole food, vitamin C formula that's both Certified USDA Organic and Non-GMO Project Verified—all in an easy-to-use, great-tasting cherry-tangerine spray. Made from real organic whole foods, including Amla berry and many other vitamin C-packed foods, mykind Organics Vitamin C provides 100% DV in approximately five yummy sprays! Why Amla berry? Organic Amla berry is one of the richest food sources of vitamin C with naturally occurring bioflavonoids and supporting co-nutrients for vitamin C absorption.†
Vitamin C is one of the few vitamins I keep in my cupboard at all times. My body responds very well to it and it's great for your skin.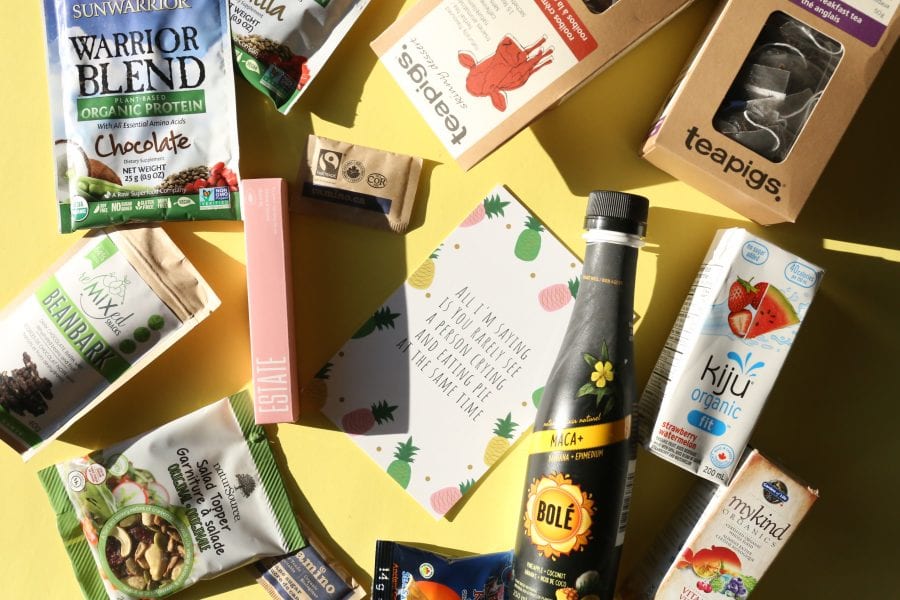 Little Life Box Review October 2018 – Final Thoughts
I am really happy with this month's Little Life Box. I think they did an amazing job and put together  really great box of new and useful items. I love that we received makeup, tea and vitamins. I feel like I will get a lot of use out of the full-size items and am really looking forward to testing out all the sample-size items. Keep this one in mind when making your Christmas list.
XOXO