Little Life Box Review Summer 2019
Little Life Box is a seasonal subscription box from Canada full of vegan products. It gives you the opportunity to sample and experience new vegan, health conscious and mostly organic products in a convenient and fun way that saves you money. You find around 8 to 12 products (mostly full size), a lot coming from Canadian companies.
This month, Little Life Box kindly sent me their brand-new seasonal box to review. They stopped shipping in the US and are now shipping once every season instead of every month.
From now on, you have two options to subscribe: Pay $45 per season, and cancel anytime or pay $160 annually ($40/season) for four boxes. Shipping is now free for both options!
I would greatly recommend the annual option since you cannot be disappointed with Little Life Box and that you save $20. I have received many boxes from this company in the past years and have never been disappointed. The products are awesome and the box value is at least double what you pay.
The box itself has not changed, but the usual coloured silk paper wrapping the products as been swapped for these cute little paper pieces. I also found a nice card with a flower pattern with all the details about the new seasonal box. I am very excited to show you more of this new version of the box.
Sparkling Coconut Water – Peach Mango – Thirsty Buddha
Thirsty Buddha is one brand under the company Buddha Brand. I love the coconut chips that are also from the same company and I did not know they made such nice drinks. Already a great discovery. This sparkling coconut water has no added sugar and is full of potassium. The peach mango flavour is also very good. With only 70 calories per bottle, it makes a delicious and refreshing drink!
Pomegranate Echinacea Herbal Tea – Four O'Clock
This blend combines sweet chamomile, tart pomegranate, floral echinacea and a touch of organic, Fairtrade black pepper. This pinkish red tonic sets the tone year-round.
A whole box of herbal tea? As an avid tea drinker, I could not be more pleased. Flour O'Clock blend is indeed perfect all year round but I will definitely make iced tea with this for the hot days to come. Echinacea is also good to prevent from catching a cold, and all help is welcome in my family of four to prevent illness.
Tropical Delight – Patience Fruit & Co
I have tried many products from Patience Fruit & Co and discovered a lot of their products in past boxes from Little Life Box. I was very pleased to find another new blend from this company that I love. I tried the salt and pepper blend and the moka blend recently, and they were both a hit in my family. The new Tropical Delight blend sounds perfect too! A mix of sunflower kernels, dried cranberries, toasted coconut, pineapple powder, pumpkin kernels and cashew. Yummy! I normally eat all the ingredients in this bag separately but all those flavours really shine together.
Coconut Gluten-Free Oat Bar – Bobo's
Our whole grain coconut oat bar is spun with the sweet flakes of organic coconut, for a transcendent snack flowing with tropical goodness. It's hard to go wrong with a coconut oat bar when every morsel treats you to a hint of the islands, with a gluten-free, handmade wholesome twist.
I love coconut so much, that bar is a real threat! It is delicious and you cannot tell it is gluten-free. It is tasty and fulfilling, but the only downside (for me) is the amount of sugar. 10 g of sugar for half a bar, that is more like a desert for me. (I ate the whole bar while writing my review, and I really enjoyed it.)
KEY-TO-LIFE Keto Bar – Red Velvet – Natera Sport
Since I have eliminated a lot of sugar in my life, the keto lifestyle has a great appeal to me. Less sugar and carbs and more good fat, fruits and veggies. I received other bars from the same company and liked them a lot. It is healthy, packed with good ingredients like almond, hemp seeds and protein, cocoa powder and many more. The bar is intentionally high in fat, but low in sugar (only 1g per bar). Definitely a good bar to keep in my office drawer when I feel like snacking or after my morning training routine to complement my breakfast.
Facial Sunscreen SPF 30 – Goddess Garden
When you have a fair skin complexion, protecting it from the sun is a necessity. Personally, I do not bronze, I burn, so sunscreen is essential and I prefer to put natural and organic products on my skin just like the Goddess Garden sunscreen. It is easy to apply and feels a bit sticky the first minute, but the feeling subdued. Also, the tube size is perfect to keep in your purse in case you need to apply some more during the day.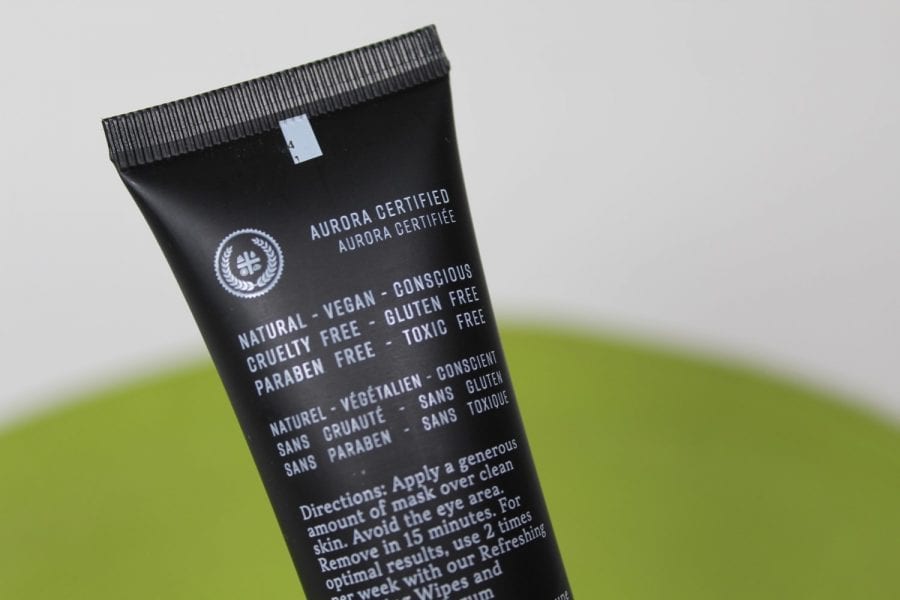 Rejuvenating Mask – Evio Skin
A deeply hydrating mask that will nourish and leave your skin feeling rejuvenated and glowing. The natural fatty acids and antioxidants found in hemp seed oil make it a good choice if you suffer from dry or sensitive skin, especially those with eczema. Apply a thin layer to the face to use as an everyday moisturizer.
I am not a connoisseur of products made with cannabis oil but was interested to try. Evio Skin mask is vegan, cruelty-free, gluten and paraben free and for all skin types. I have sensitive skin and gave it a try. I applied a thick layer of cream on my face (avoiding the eyes area) and left it for 15 minutes like recommended. Then, I washed my face with warm water and pat dry. It left my skin smooth and well hydrated and definitely gave it a hydration boost.
Lip Gloss – Knockout – Laritzy
Formulated to give you an effortless high-gloss, editorial look. We took out the stickiness and the glue-like feeling and created the ideal gloss. Unlike other glosses, our gloss is designed for ultimate comfort, so we packed each swipe with a mega-dose of unreal hydration.
I do not wear a lot of lip gloss or lipstick in general, mostly because my lips are always in need of lip balm to stay hydrated. I think I found in Laritzy lip gloss the perfect match for my dry lips. It is easy to apply and leaves my lips super smooth. Also, the colour I received will be perfect for everyday wear.
Nail Polish – Brune Cosmetics
Brune cosmetics is a new company based in Montreal. I received two of their 8 shades of nail polish. I tried them both and was really pleased. Even with one coat, they both look good. Also, they have not started to chip before at least 4 days and usually, there is no nail polish that survive a day on me without getting all chipped off. Another plus: the colours I received can be easily paired with any summer outfit.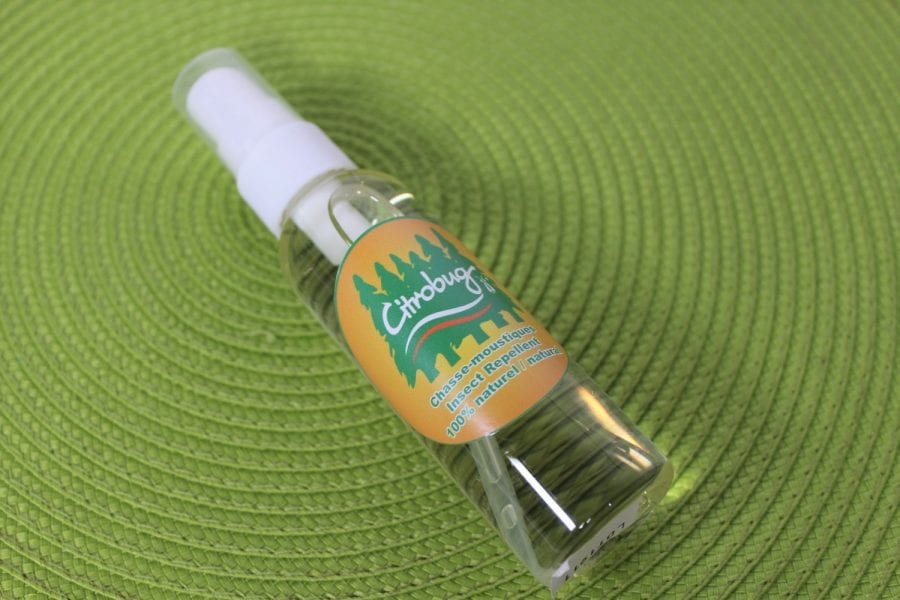 Insect Repellent – Citrobug
Citrobug makes an insect repellent safe for you and your family. No DEET is involved in this mix. There is only natural ingredients like citrus, eucalyptus, camphor and pine to repel those pesky little mosquitoes. My blood must be delicious because I am always the one chased by mosquitoes, so this will certainly be useful to me this summer. Also, it is safe to use on your kids and can be put directly on the skin.
Organic Menstrual Products – Organic Initiative
Organic Initiative is a company producing 100% pure certified organic cotton pads, panty liners and tampons. What I found in the box looks like a mini version of their starter kit sampling all the products available. I am happy to have the opportunity to try these products, and I am sure I will like them a lot, but I am a bit sad the company is so far away (New-Zealand). I will keep my eyes open to find similar products in stores nearby.
Bouclé Bath Mitt – Urban Spa
Tiny, tender bouclé nubs make this a marvel of a mitt. Add water, your favourite body wash and get ready for a gentle and exfoliating wash that leaves your skin smooth and tingling. Rinse thoroughly and hang to dry.
A good exfoliation can do wonders to your skin. I recently started to exfoliate every day (I know it sounds a bit intense, but it takes me one minute and I go gently). Paired with a good body oil or lotion, you will have satin skin in no time. At first look, I thought the bouclé bath mitt was made of a really rough material, but I was wrong. It is like little cotton curls perfect for a gentle exfoliation. This is going right into my shower.
Little Life Box Summer 2019 Review – Final Thoughts
First, I must say congratulation Little Life Box for this first AMAZING seasonal box. The summer box could not be better. You really outdid yourself. I did my math and (brace yourself) this box has a total value of over $150. I liked every product and liked the variety of items. A drink, some snacks, makeup and self care items, they covered it all and even better, all products are vegan.
I appreciated that they got out of the box and opted for a skin care product with cannabis oil. That was bold. I would not normally go out to buy this and was happy to have an opportunity to try the rejuvenating mask. There was also many snacks just how I like it. Delicious, fulfilling but healthy and most of them low in sugar. Three months seems long before I'll receive the next box, but I am sure it will be worth the wait!
Jacynthe Létourneau – https://www.instagram.com/miss_minamie/