Little Life Box Review Summer 2020
Little Life Box is a seasonal subscription box from Canada. It gives you the opportunity to sample and experience new vegan, health conscious and mostly organic products in a convenient and fun way that saves you money. You find around 8 to 12 products (mostly full size), a lot coming from Canadian companies.
Little Life Box kindly sent me their Summer box to review. I have been reviewing their box for over a year now and I never get tired. LLB keeps on surprising me with new amazing products and it is a fun way to try new snacks and other lifestyle items.
If you want to try it out, you can choose between two options: Subscribe for one season at a time at $45 per season (you can cancel anytime) or pay $160 annually ($40/season) for four boxes shipped quarterly. Shipping is free for both options! I would greatly recommend the annual option since you cannot be disappointed with Little Life Box and that makes you save $20.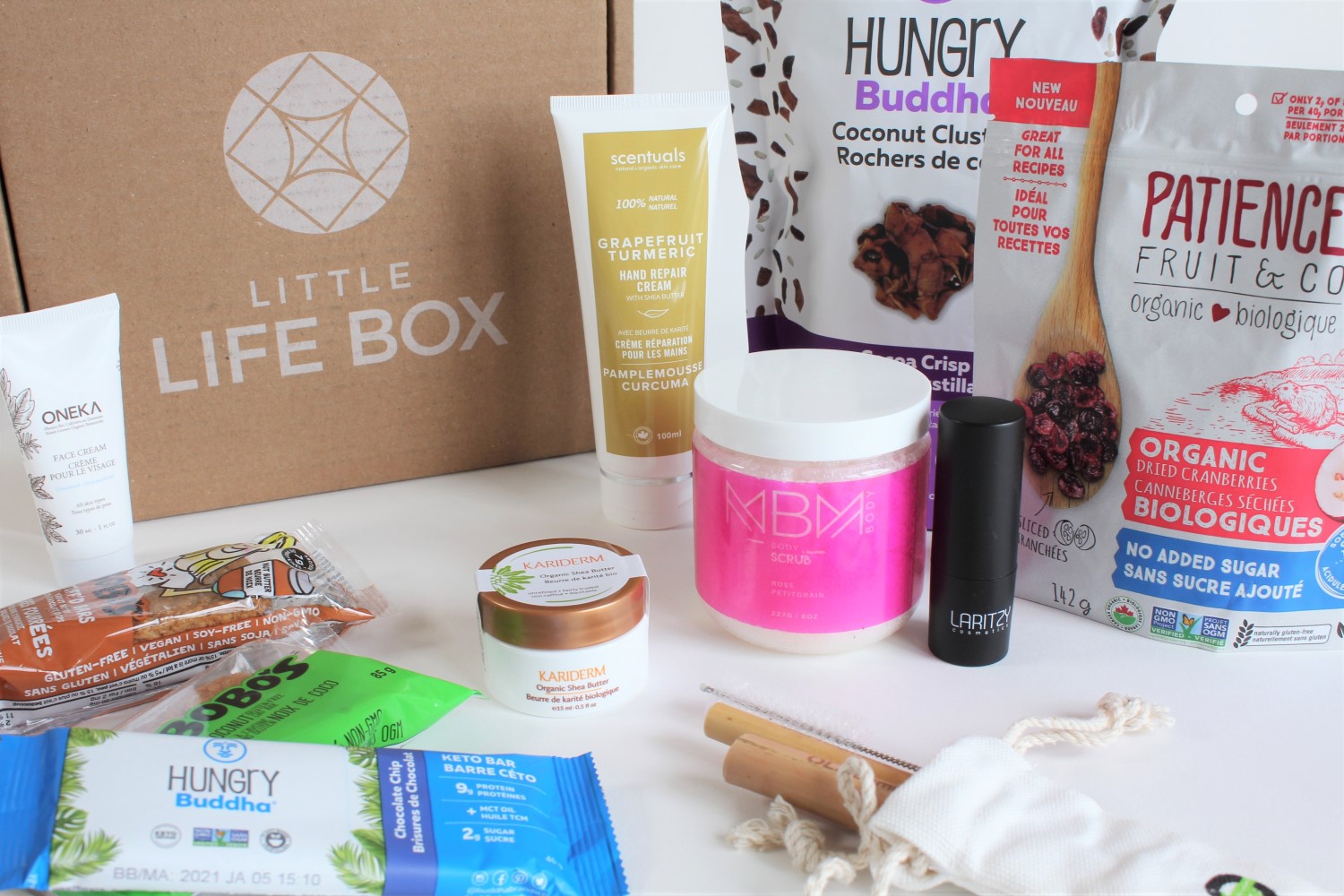 I love the simple design of the box and the cute little flower inside the top of the box. The box is big and always filled to maximum capacity. No fillers here. The items are wrapped in one large silk paper closed with a sticker made from the Little Life Box logo. Let me show you what I received.
Coconut Oat Bar from Bobo's
"Our whole grain coconut oat bar is spun with the sweet flakes of organic coconut, for a transcendent snack flowing with tropical goodness. It's hard to go wrong with a coconut oat bar when every morsel treats you to a hint of the islands, with a gluten-free, handmade wholesome twist."
I love coconut so much, that bar is a real threat! It is delicious and even better, it is gluten-free, vegan, soy-free and contains no-GMOs. It is tasty and fulfilling, but the only downside (for me) is the amount of sugar. 10 g of sugar for half a bar, it is getting closer to a desert for me. But, it is so big you also split it in two and that makes it a bit more reasonable (cannot guarantee you will be able to stop once one half is eaten).
Stuff'D Oat Bar from Bobo's
"Our Peanut Butter Chocolate Chip Stuff'D Oat Bar is a tempting tribute to what some have coined the perfect pairing: peanut butter and chocolate. There's little you can add to make this oat-rich delight taste any more amazing. But you can subtract a few things, like GMOs and gluten, as we did."
This looks as delicious as the coconut bar. One bar makes a big snack since it is made of 71 g of healthy ingredients for a total of 330 calories. The peanut butter is full of protein to keep you going (7 g) and the 6 g of fiber is good for your gut. I wish there was less sugar (16 g), but it still looks delicious.
Organic Dried Cranberries Patience Fruit & Co
I have seen many times Patience Fruit & Co in previous boxes and I am pleased to see this brand again in the Summer box. It is a company based in Quebec (Canada) and they have amazing snacks as well as delicious cranberries. I think it is the first time I see a bag of cranberries with no added sugar. I try to cook with the least sugar possible and could not find a similar product. I like cranberries just as they are, so I might eat them right from the bag and add them in healthy muffin recipes.
Coconut Clusters Hungry Buddha
"Crunchy coconut with cocoa powder, dried cranberries and puffed rice."
That mix looks so delicious. Coconut clusters are one of my favourite snacks and chocolate and cranberries goes so well together, it can only be a perfect match. All the ingredients are organic and it is a good source of iron and fiber. Cocoa is also a mood booster. I think I am going to go through this bag really quickly.
Chocolate Chip Bar from Hungry Buddha
These keto bars are the latest addition in the Hungry Buddha brand. It is low in sugar (only 2 grams) and filled with protein that comes mostly from the pea protein and the sunflower seed butter. I read the list of ingredients and found the word "sugar" (in the chocolate chips), so for someone who follows a strict keto diet, that would probably be a no, but for a low-carb diet or anybody else, it is a perfect healthy snack.
Bamboo Straws from OLA Bamboo
Eco Friendly products are quite in demand these days and one item you can easily swap in your kitchen are the plastic straws for reusable ones. I have stainless ones at home for our smoothies, but I have never tried bamboo straws before. The one in stainless can get very cold and it is, of course, very hard, so maybe not for everyone's taste. I have the feeling that the bamboo ones make an easier way to change from plastic to washable.
I like that there are two different sizes in the package. They also give the essential cleaning brush (I recommend cleaning your straw right after using it), and the cute bag to carry them safely with you if you go to the restaurant or make a picnic.
Face Cream from ONEKA
ONEKA creates amazing organic, vegan products in Quebec (Canada). I never tried the face cream before, but I did a test on my forearm and the texture was smooth and light and I quickly saw the hydrating effect. It is for all skin types and parfum free. So for those like me who have a sensible skin, it is perfect. I wonder if we can find the face cream in bulk like their shampoo and conditioner. Might be my next favourite face cream.
Hand Repairing Cream from Scentuals
Grapefruit+turmeric is such an original combination of smell and I like it. The Grapefruit is the dominant smell and I love the tropical smell it gives to my hands. When I saw "repair cream", I thought it would be a greasy type of cream, but it is super smooth and penetrates the skin quickly. There is a little shine on my hands, but it does not leave marks on my computer keyboard. Also love the ingredient list with only natural ingredients. It is mostly made of Shea butter, cocoa butter and organic Aloe. Perfect for the best hydration.
Body Scrub from MBM Body
"Made with organic + fair trade ingredients sourced from sustainable farms + small batched in Toronto, Canada."
First: I love the design of this jar! The neon pink and the font of "MBM" are cool. The smell of this scrub is powerful and invigorating. Might not be liked by everyone (you have to like rose and petit grain essential oils), but I like it. The grain of the salt is just the right size and feels nice. A must need for perfect skin this Summer.
Organic Shea Butter from KARIDERM
"KARIDERM Pure Raw Shea Butter moisturizes skin and hair durably and intensely. Given its small travel size it is ideal for your purse or bag. Its specific combination of fatty acids, sterols and vitamins A, D and E, plays a determining role in the health of skin cells, therefore placing Shea butter as a choice product to protect, nourish and regenerate the skin."
Shea butter is a versatile item, and this one is from a well-known Canadian company. They can be proud to produce personal care products with fair trade Shea butter made by a women cooperative of Shea butter producers in Burkina Faso, the Songtaaba Association. I would have liked to try a more specific product from their line, but the Organic Shea Butter is a good start to get to know the main product of the company.
Shade Stix Countour Stick – Mahalo from Laritzy
"Introducing our new cream Shade Stix that makes contouring a dream. This formula is highly pigmented, buildable, and weightless to make it easy to accomplish that perfectly blended look that will stay all day."
I never tried contouring, so at first, I thought this was way too dark for me, but it looks like the lightest color of the two options (mahalo-warm bronze or aloha-cool bronze). It has a creamy texture and blends easily. I might give a try at contouring with that product in hand.
Little Life Box Summer 2020 Review – Final Thoughts
Summer is going to be great with all these amazing products! Little Life Box always gets their hands on healthy, vegan and natural products that I like. I am now used to finding something new from Patience Fruits & Co that I love so much, and Laritzy is a makeup brand I also discovered with LLB and was happy to see again this season. This item challenges me to try something new in my makeup routine, and I like it!
The snacks look delicious and all the other self-care items smell so good and from what I have tried yet, they do wonders for my skin. Most products are from Canadian companies and I love when Canadian subscription boxes have at heart to make their subscribers discover brands from their country. I already started using the hand repair cream from Scentuals and will be happy to easily find more near me when this bottle will be done. Get quickly your Summer box! I bet they will be sold out in no time.
Jacynthe Létourneau – https://www.instagram.com/miss_minamie/