Little Passports Summer Camp in a Box Review: Day 1
Is your Summer all planned out already? In need of some help to keep your young ones busy? Little Passports might be exactly what you need. Super fun activities for kids aged around 3 to 12. They will keep on learning with hands-on projects, a magazine, trading cards, stickers and other amazing items depending on your subscription theme.
The upcoming Summer might be quite different from what we are used to. I was lucky enough to still have a place in a day camp for my boys, but I know it is not the same for everyone. Keeping our children busy all Summer long might be quite a challenge, so ready to go activities are a must.
Subscription Details
Little Passports offers many different subscriptions with different themes and age range. Here is the list:
Early explorers (ages 3-5, prices start at $19.95)
"Explore a new world theme each month, like Music, Oceans and Dinosaurs."
In your first box, you will receive a fun orange suitcase and a wall-sized world map that will be used for all your projects. You will also find in every box a luggage tag, stickers, an activity booklet, a letter and more. Perfect to get your preschooler interested.
Science Junior (age 5-8, prices start at $22.95)
"Launch a lifelong interest in science, technology, engineering and math."
Take your Little Passports backpack for an adventure and learn more about science with fun activities, adventure comics, a board game, trading cards and a backpack patch each month to keep a souvenir of all your discoveries.
World Edition (ages 6-10, prices start at $17.95)
"Discover a new country each month, with souvenirs and hands-on activities."
With the World Edition, you receive the signature blue suitcase, your passport to start traveling and a wall-sized world map to keep track of the visited destinations. There is also an exclusive collectible Country Coin and coin board, and many monthly activities with you pen pals Sam & Sofia.
USA Edition (ages 7-12, prices start at $15.95)
"Learn about two new states each month, with activity-packed State Journals."
The USA Edition is the least expensive but it will keep your kids interested as much as the other subscriptions. Your kit includes a USA field guide, a USA scratch book, a wall-sized USA map and many more activities to keep learning while having fun.
Science Expeditions (ages 9+, prices start at $22.95)
"Reveal the mysteries of the world through science experiments and activities."
If your kids are a little bit older, the Science Expeditions subscription is the one you need.
You have three subscription options for all boxes. You can subscribe monthly (can be cancelled at any time before next payment), for 6 months or a year which has the best value. Shipping is free in the US and all prices shown are in USD.
Little Passports also has boxes, kits and other products that can be bought without a subscription like Summer Camp in a Box: Word Edition ($150.65 USD) and Summer Camp in Box: Science Junior ($155.70 USD) which Little Passports kindly sent me for review. The perfect box to recreate 6 days of Summer camp filled with fun activities and learning experiences.
Since there are so many things in every box, I will review the Summer Camp in Box in 3 or 4 parts. Put on your backpack and come with me to see how amazing Little Passports Camp is!
Day 1
I found the first schedule right on top of all the boxes needed for the next few days. On one side, you get a nice introduction to the Summer Camp – Special edition at home.
At the back of the card is the first detailed schedule. There is a similar card for every day. You are sometimes invited to go on Little Passports website for "how-do's" and to find some more ideas. Are you in any obligation to follow the schedule? Of course not, but I think it adds to the fun and makes it even more like a real camp with planned activities.
Little Passports Backpack
Let's start with this cute little backpack! The color is a vibrant green and comes with its own integrated pocket. Once the bag is unfolded, it becomes a useful front pocket. Lots of space to put all the magazines, projects, cards, etc. that you will discover in the next few days.
It has two adjustable blue straps to fit all shapes, from little to taller kids. The side pockets are useful to put snacks or a bottle. Excellent if you plan to go for a walk in your neighborhood in exploration or for a picnic at the park.
Magazine
The magazine is the centerpiece of every box. You will find a lot of information on the month theme (day theme in this case), a comic with Sam & Sofia, games, instructions for your projects and more.
On day one, we are traveling to Antarctica to learn more about an animal… the Weddell seal. We follow Sam, Sofia and their friends and family in an extraordinary adventure in this cold world.
Antarctica Board Game
The first activity that got my attention is the bag with the gameboard in it. It is a game similar to "snakes and ladders" but with spaces like "Caught in a current – Head back to shore" and other spaces are giving interesting facts on Antarctica.
First, you must assemble four little seals to play. You will find the instructions for the seals and the game at the back of the board. Then, instead of a dice, they provided a cardboard disc with a rotating arrow that points to numbers from 1 to 3. The low numbers are perfect if you want to play with little ones, but it will also ensure your young ones stop on many spaces and make them read more interesting facts.
Experiment: Weddell Walker
The first experience is about kinetic energy taught with the construction of Weddell seal eating fishes. All the material to complete the project comes in a plastic bag and you can find the instructions in the magazine. It is pretty detailed with a lot of pictures to make it clear. It is an advanced project perfect for older children. I cannot wait to see this one in action!
Cards
Every box comes with a set of trading cards related to the theme. There is more information about Weddell seals on each of them. So, the cards do not get lost along your kids' journey, they can use the little green ring to secure their new collection.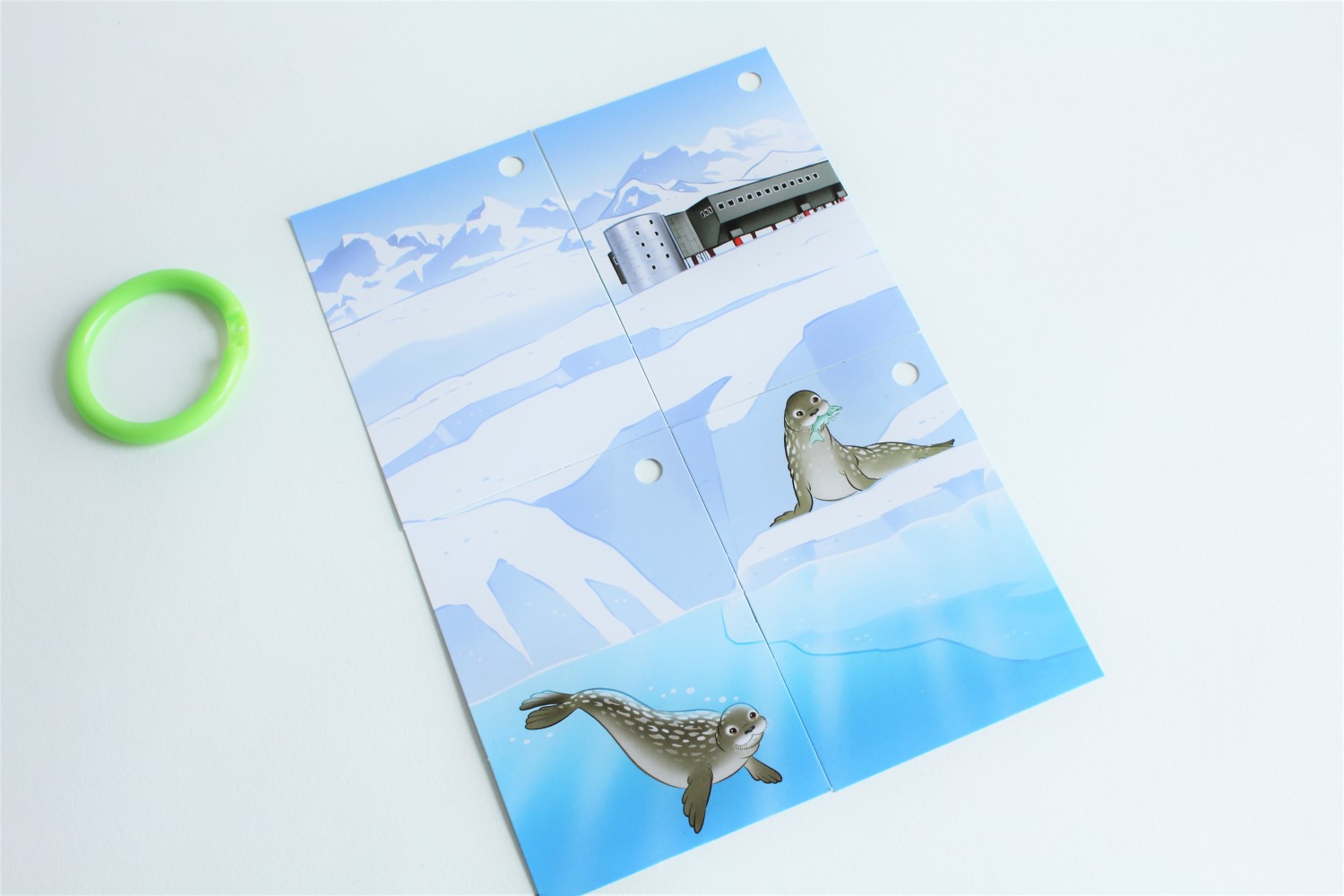 When I turned the cards, I found it was creating a puzzle! Great idea. Not a difficult one to make, but I will not tell my kids they can do it and see if they will find it on their own.
Stickers
One of the activities on the schedule is to take a picture integrating the stickers provided. I love that suggestion! It will challenge my kids to draw with a specific theme in mind.
Badge
At the end of every day/box, your kid will earn a badge. Proof that he has accomplished a new adventure. You simply remove the protective piece of paper behind it to stick the cute little Weddell seal to the bag easily.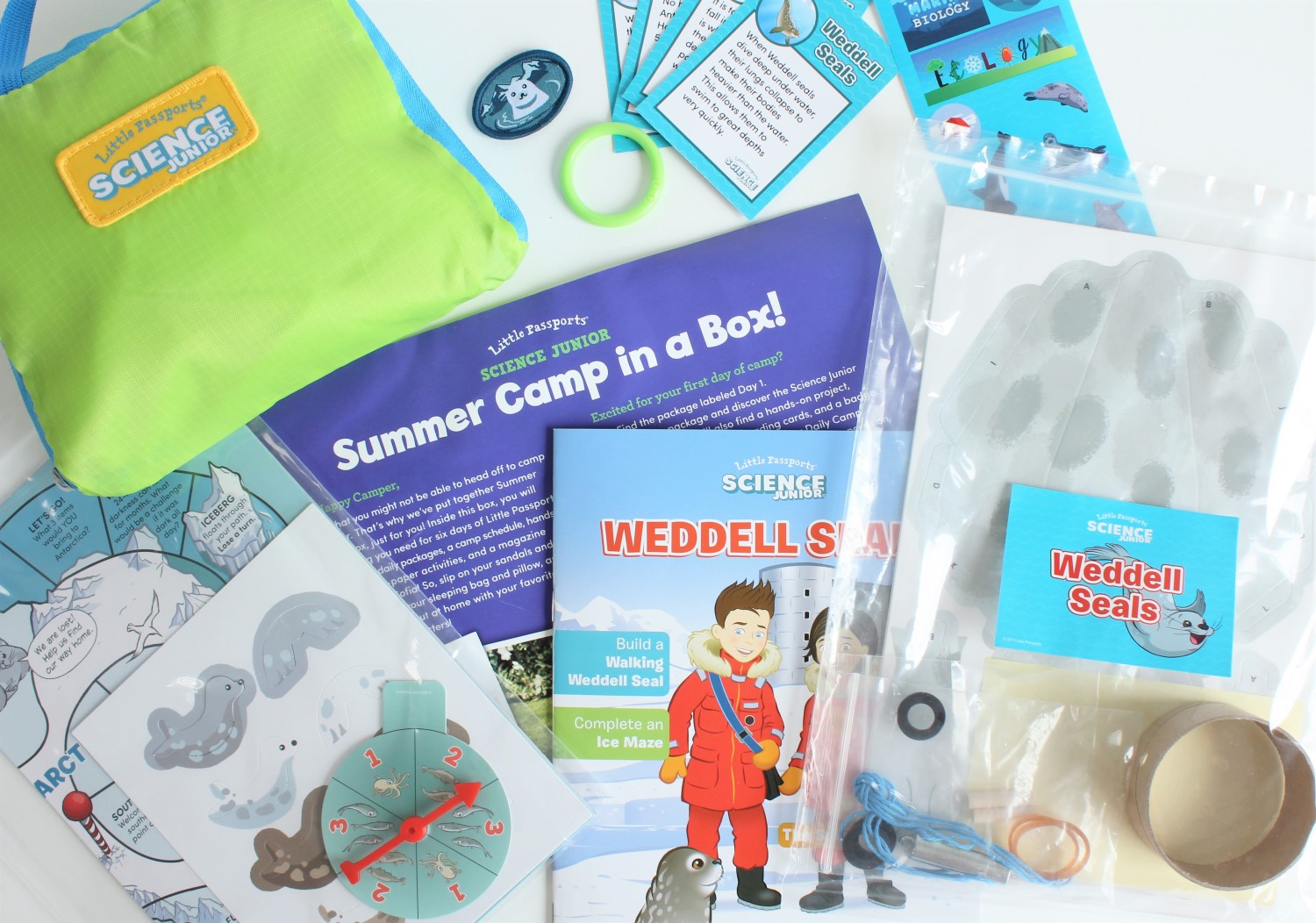 Little Passports Summer Camp in a Box – Final Thoughts
I cannot wait to show this first box to my boys! They will be so happy, and I will have as much fun as they will to play and do the activities with them. Little Passports has everything covered. In only one box, you get one subject thoroughly covered and your kids get to learn while having a lot of fun with various activities, collecting cards, playing and crafting. Since it is the science box, I was really hoping for something elaborated for the science experiment and I am not disappointed. The Weddell Walker with a built-in motor is fun and perfect for the age range. This activity alone will keep us busy for a while. My boys are going to go to a day camp this Summer, so I might open a box per week for them. I will write 2 or 3 other reviews to show you the next boxes, so stay tuned. You can also follow me on Instagram to see us in action.
Jacynthe Létourneau – https://www.instagram.com/miss_minamie/