Loti Wellness Box Review December 2020
Loti Wellness Box is a Canadian subscription box that offers practical skills and products to reduce stress and anxiety and improve your overall wellbeing. You will find in your box 5 to 8 quality wellness and lifestyle products to remind you to take the time for self-care in all different aspects of your life. Coming along, there is a workbook filled with therapeutic activities and guided materials related to the month's theme.
Depending on your preference, you can receive a box every month or bi-monthly. The cost per box is $49.95 + $5.99 for shipping for Canadian and $8.99 to the contiguous US (the prices shown are in Canadian dollars). Every box has a retail value of approximately $85 or more, so it is totally worth it. If you get hooked like I am, you should go for one of the prepaid options (3, 6 or 12-month).
This month's Loti Wellness Box theme is "Reflections". With some vacation days coming up, it is the perfect time to pause and take some time to reflect on last year, but also to treat ourselves with some self love. The 6 products and the workbook I received this month are going to be perfect for that. Loti Wellness Box kindly sent me this box for review, and I am pleased to share my thoughts on the carefully chosen items and the workbook I received.
Vitamin C Serum – Naturally Vain
"Ingredients: Sweet Almond Oil, Rosa Canina Seed Oil, Sacha Inchi Seed Oil, Sea Buckthorn Oil, Glycerin, Panthenol, Juniper Berry Oil, Geranium Oil."
The properties of this serum are appealing: antioxidant, skin brightening and anti-wrinkle. This serum is packed with natural ingredients like Sea Buckthorn oil, which is the one that gives most of the amazing properties. It is said to be a "natural source of Hyaluronic Acid (HA) which is found naturally in the body but when added to the skin it has a plumping effect to the skin, improves collagen production in the skin and brightens your skin tone". Looks like a promising serum that I am going to try.
Body Wash (Rosemary-Mint) – Scentuals
I tried two hand repair creams from Scentuals before and liked them both a lot. One had the same scent as this body wash and it happened to be my favourite. This company is Canadian and makes vegan and natural products. This body wash has essential oils that give an aromatherapy effect and it also has hydrating properties. Perfect to keep your skin well hydrated this Winter. There is only one thing I would change, and it is the French translation which could be improved.
Cacao Milk Chocolate Bar – Truffle Pig
This chocolate bar will not last long around here. If you give me the choice, I always pick dark chocolate, but I do indulge in milk chocolate sometimes, but only good ones. Truffle Pig produces direct fair trade chocolate bars and can tell you in detail where your chocolate comes from. I love it when a company shows they have at heart the happiness of their customers, but also their producers.
Good Fats Body Butter – Geti Cosmetics
A second item with skin hydration in mind, and I think it will get useful quickly. It is a body butter made with avocado butter, olive butter and essential oils. The smell is soothing and not too strong. They say a little goes a long way and from what I tried, I can only agree. I will keep this one for the especially dry areas like my elbows and legs.
Crimson Cranberry Herbal Blend – Tease Tea
"Crisp cranberry tartness mingles with a sweet apple finish, creating a stunning colored brew that is as beautiful to look at, as it is to sip. It has an organic hibiscus tea base and is not overly sweet."
This will be my second blend from Tease Tea. I tried the Self Care Elixir before (I received a bag in Loti's March box) and was hoping to see this brand again since I liked it a lot. Since the days got colder, I went back to drinking a lot of cups of tea in a day and kept buying more. This new bag looks delicious and will make a great addition to my stash of teas and herbal blend.
Energizing Under-Eye Masks – Grace & Stella
"The skin under our eyes is delicate and sensitive, highly prone to fine lines and dark circles, and our eye masks are filled with nutrient-rich minerals to revitalize and rejuvenate this area, giving you a youthful, awakened glow. We work to depuff those damn under-eye bags (and keep them in the fridge for that extra cooling effect!)"
This sure looks promising and the big box filled with 12 pairs will be more than enough to see results. My sleep could be better these days and a little help to get a fresh look is welcome. I will gladly schedule some me-time to take this "energy drink" for my eyes.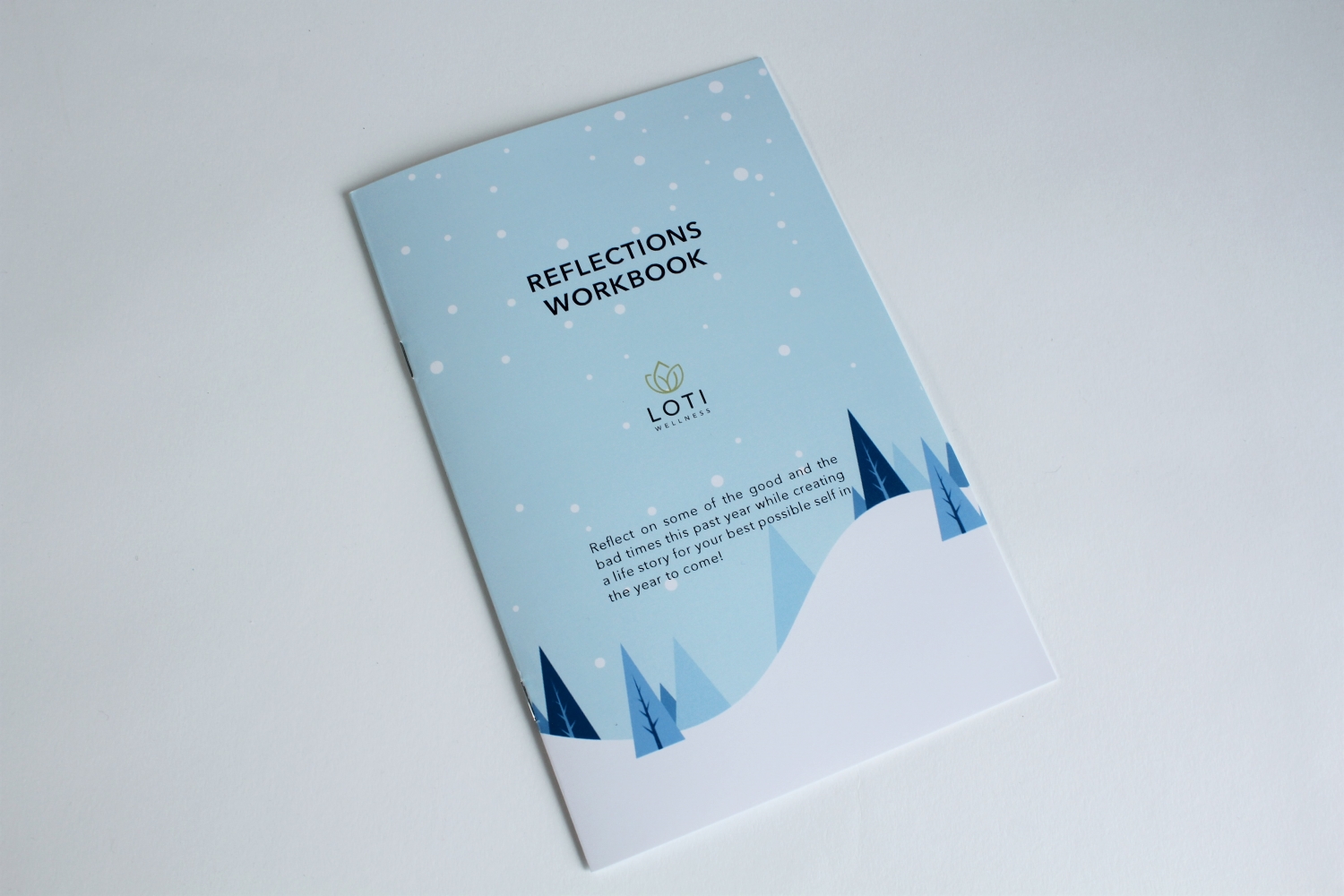 Reflection Workbook
One thing I liked in this month's Loti Wellness Box workbook is that it did not go to the easy "list your objectives for the new year", it goes a lot deeper than that. Through the pages, you get to reflect on the past, the present and the future. The exercises help you see the good things you did and what could be improved. It is important to take time to look back and appreciate what was accomplished. This time, I will keep my workbook for my Winter vacations so that I have plenty of time to reflect with a relaxed mind.
Loti Wellness Box December 2020 Review – Final Thoughts
My feeling for the December Loti Wellness Box is "coziness". Everything is like a treat. The delicious chocolate for the pleasure of the palate and the beautifully scented body wash for the pleasure of the nose for example. The herbal blend from Tease is going to be just the right infusion to relax on my couch with a movie or to warm me while I am working on this month's workbook. Lots of reflection to make as this year comes to an end. Since there will not be many parties, I will have plenty of time to do that and to take care of myself. Many new products to try this month. I will gladly indulge myself with a lot of "me-time".
Jacynthe Létourneau – https://www.instagram.com/miss_minamie/