Loti Wellness Box Review July 2022
Loti Wellness Box delivers the tools and strategies you need to cope with life's challenges by nurturing positivity and joy, and inspiring you to find more time for self-care.
In each box you will receive 5-7 premium full-sized products to remind you to take the time for self-care, wellness and mindfulness. In addition, you will receive therapeutic activities and guided materials based on the monthly theme to help you build more self-confidence and your own "me-time" routine.
There are 3 subscription options available for you to choose from: Monthly, 6-month commitment or 12-month commitment terms.
Shipping in the US and Canada is a flat-rate of $9.99 CAD for monthly subscriptions.
Flat-rate standard shipping for any one-time purchase from our Loti Shop. With any Loti Shop items, free shipping is available on all orders over CAD $100.00 (before applicable discounts).
Each Loti Wellness Box includes therapeutic activities and guided materials based on the monthly theme to help you build more self-confidence and your own "me-time" routine. This month's box is all about protecting your skin to enjoy the most of the season.
SeoulKleen Probiotics Balancing Cleanser ($32)
I absolutely love skincare and nothing truly says self-care more than taking a moment to take care of your skin. I love that this one contains lauric acid – it's an excellent product that helps reduce acne causing bacteria on your skin. Best thing about this product? You only need about a dime sized amount to completely cleans your skin! I'm going to have this bottle for ages!
Mata Natural Herbal Inhaler ($11)
When I saw this inhaler I immediately gifted it to my friend who has terrible allergies. He was telling me recently that he has to take an allergy pill nearly every day and goes through a box of facial tissues per week! I'm hoping this small container of natural herbs provides him some instant relief.
Curiosity Cards: Garden of Your Mind ($27)
I know that I get in my own way creatively and this deck of cards is supposed to assist with exploring thoughts and clear any mental obstacles that may be in the way. I really appreciate this small tool that can help me work through any struggles I may be having. Sometimes self-reflection is difficult to do and this seems that it will guide me in the right direction.
Cammellatte Camel Milk Soap ($9)
I think this soap may be the reason why this box smells SO GOOD. I honestly didn't know that you could make soap from Camel milk – but why not! I really appreciate an opportunity to try something new in a box and if it's also good for skin – then bonus!
Blush Silks Scrunchie ($8)
I have SO MUCH hair! So I often struggle with elastics either breaking in my hair or not being able to tie tight enough. But this scrunchie wraps around my hair perfectly and when I'm all done with the day's high pony, the silk scrunchie slips from my hair effortlessly. Which is exceptionally nice when I'm used to my hair knotting and tangling around cheaper bands. Also – love the colour!
Sandalwood Natural Incense & Wooden Pine Holder ($18)
Okay maybe this is also a contributor to why the Loti Wellness Box smells SO GOOD?! I've been lighting this incense while I have a bath and I should be careful because I'm so soothed and relaxed that I may fall asleep in the tub. I appreciate that they also provided a holder for the incense instead of just providing loose pieces of wood. It's the little things.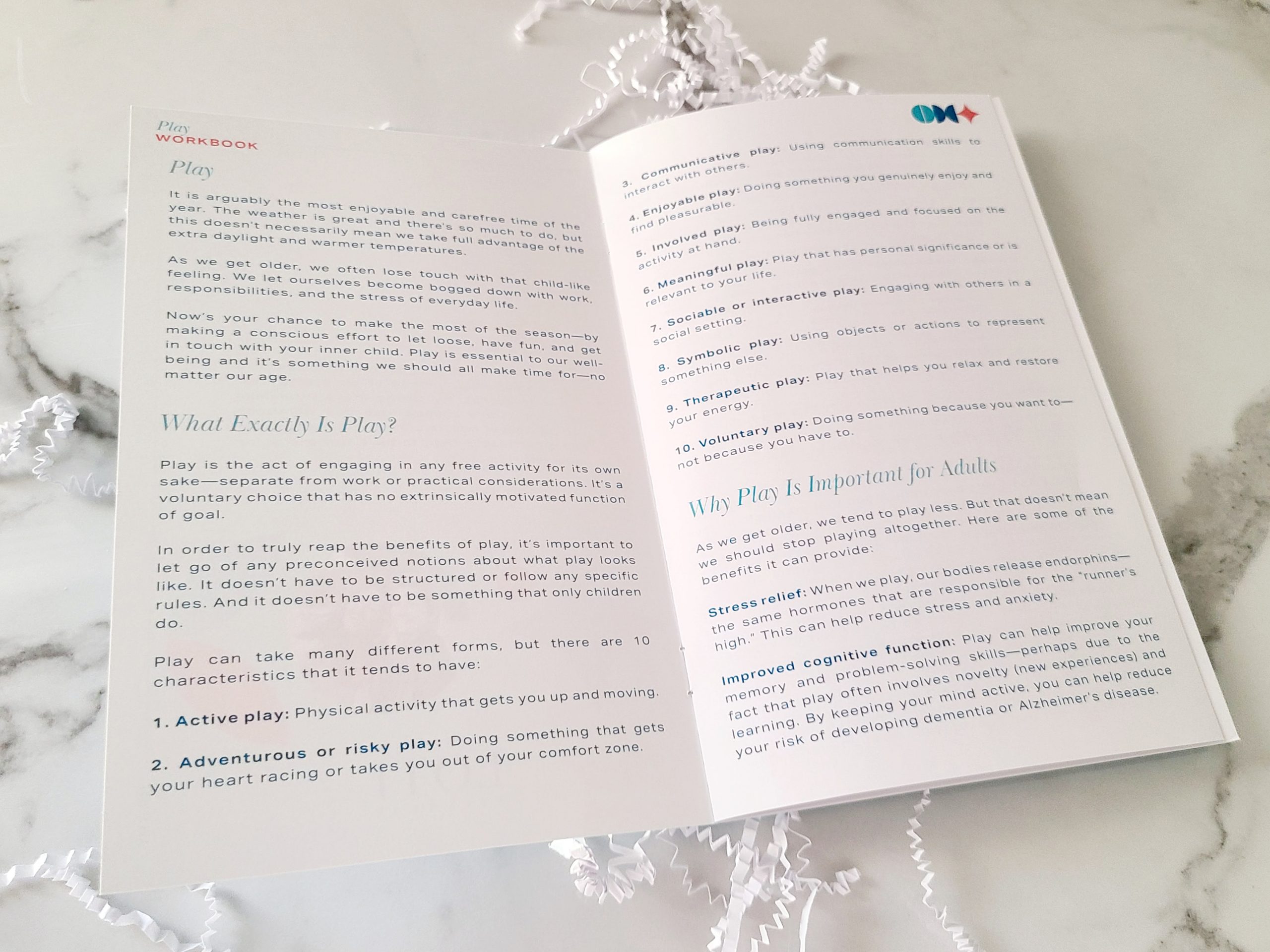 Loti Activity: Play Mini-Workbook
I am usually not one to work on myself mentally, but this workbook made it so easy and dare I say, fun? Especially because it had to do with working on my inner child and taking life less seriously. I really enjoyed learning how to enjoy myself.
Loti Wellness Box July 2022 – Final Thoughts
This is the most calming box of goodies that I've ever received. Everything in the July Loti Wellness Box is of the utmost quality and I had a lovely opportunity to try products that I may not have had an opportunity to try. It's also wonderful to receive full-sized products that have been so thoughtfully curated. I can't wait to have another chance to refocus on myself next month!
Kylie Smith – http://www.instagram.com/kyliesmithable