Loti Wellness Box Review March 2020
Loti Wellness Box is a Canadian subscription box that offers practical skills and products to reduce stress and anxiety and improve your overall wellbeing. You will find in your box 5 to 8 quality wellness and lifestyle products to remind you to take the time for self-care. Coming along, there is a workbook filled with therapeutic activities and guided materials related to the month's theme.
Depending on your preference, you can receive a box every month, bi-monthly or quarterly ($54.95 CAN + shipping).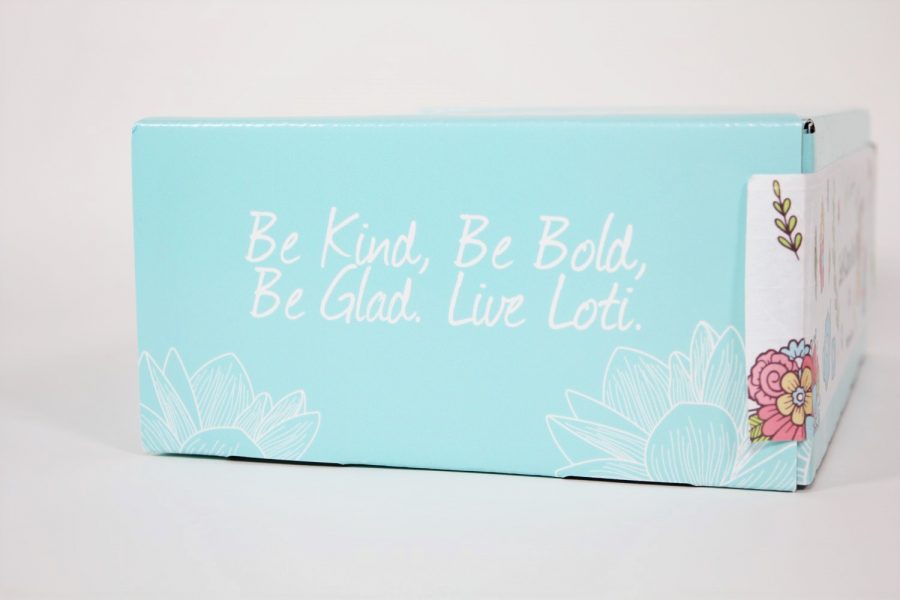 Loti Wellness Box quickly made a place in my list of favourite boxes and in my heart. It is a special box made with so much care and great intentions. They are going way beyond chocolate and cute quotes to make you feel better. It is a box curated by professionals and made with a lot of work. The box itself is beautiful. I love the design and text on the side "Be kind, be bold, be glad. Live Loti."
This month's Loti Wellness Box theme is mindfulness. Loti Wellness Box kindly sent me this box for review and I am pleased to share my thoughts on the amazing items and activities I received.
White Clay Exfoliating Mask and Scrub from Merlette
"Cleansing detoxifying clay mask and natural exfoliant in one product! Designed to cleanse, gently polish by removing dead skin cells, and restore the skin. Each time after using this mask your skin will be smooth and glowing!"
Exfoliation is part of my weekly routine and I am very careful when I choose the products I put on my skin. No worries with this product from Merlette, a company based in Vancouver, British-Colombia. It is filled with only natural ingredients. Some white Kaolin clay and jojoba beads to exfoliate, rosehip botanical extract to promote elasticity of the skin and arrowroot powder for its therapeutic and soothing properties.
It will be my first time trying an exfoliating mask that comes in a powder form but I am willing to try! You simply need to add a few drops of water to one or two teaspoons of the powder (yogurt or honey are also options) and mix well before exfoliating.
Tease Tea Self Care Elixir – Calming & Wellness Tea Bundle
"Made with Ayurvedic medicinal herbs, this blend is designed to promote restoration and relaxation while maintaining a calm focus. Ingredients: Moringa and strawberry leaves, orange pieces, cinnamon, dandelion leaves, safflower petals."
If you know me, you know I am a tea drinker (no coffee for me). I like to have variety in my tea stock so that my infusion matches my mood or taste of the moment. I have not tried many Ayurvedic infusions, but from my experience, they do wonders. This specific tea seems perfect for the late afternoon and that little tea infuser brings joy to me simply with its color and cute look.
Sage Smudge Spray with Quartz Crystals from Simple Is Essential
"Use this crystal infused smudge spray for you and your space! Release negative energy, set your intentions and invite positive energy to surround you! Smells just like smudging with sage but without the smoke!"
So happy to find another product from Simple is Essential in the Loti Wellness Box. It is the third product from this company that I have the pleasure to try and this one looks as good as the others. It is an infused smudge spray that has the quality of the sage sticks you can burn but without the smoke. I find it perfect to spray for a yoga session or simply to help bring back positive vibes in my house. Sage clears negative energy and the quartz crystals restore the positive energy, such a perfect mix! Out to negative energies, bring on the positivity!
Solid Hand & Foot Balm from Mere Botanicals
"Crafted with healing and relaxing infused oils and essential oils. The heat from your hands will melt the bar enough to release the perfect amount of natural Shea butter and natural oils to massage into skin."
We have seen Mere Botanicals in a past box and their products are amazing. I will make great use of this hand and body balm. I found on Mere Botanicals' website that they also sell the bar without the case. That is perfect for me since my bottle of cream is finished, and I was looking for an eco-friendly option! I received the lemongrass scent, but there are also three other options: lavender, summer rose and herbal mint.
Incense Holder & Incense Sticks
This incense holder is quite classic and as a nice touch it matches the incense provided. The design on it is similar to Auroshikha's logo. My holder came with no hole to put the incense, but it will be easily corrected with a little nail. The incense, rolled by hand, is premium quality and it comes straight from Sri Aurobindo Ashram, India.
The paper forming the envelope is also handmade and the cute decorating flowers have been individually placed by hand too. Between the 12 possible scents, I received sandalwood. It is so relaxing and can be used just before bed to help you slow down and go to sleep or during a yin yoga session to help you ease into a mindfulness practice.
Mindfulness Practice Workbook by Loti Wellness
This month we get more knowledge about mindfulness. You will find in the workbook what mindfulness is exactly and the benefits of it. Also, you learn how you can integrate mindfulness in your life daily. Simple activities are suggested and well described so that you can easily put the information into practice. At the end of the workbook, you can use the table provided to plan your daily practices (one or two to start).
I have learned about mindfulness in the past year and was pleased to learn more and get new ideas in the workbook. In a life where everything goes so fast, in which we are sometimes in the obligation to multitask, I find it hard to stop and just be in the present. I think that planning my mindfulness activities is going to help me stay on track and after a few days/weeks, it might come more naturally.
Pilates on Demand – 1 Free Month
Fitness is so important in a balanced life. March 1, I celebrated one year of non-stop daily exercises. I worked-out almost every day since March 2019, and I want to keep on going because it makes me feel so much better. I did many Pilates classes in the past and I love to train at home, so I was happy when I found out there would be a free month of Pilates on Demand. I subscribed to try their service and after a few training sessions, I can say it is a platform worth trying. I did the "360 Pilates Series" to have a feel of the beginner, intermediate and advance classes in just three days, and I found it helped me to choose the right level for my next videos.
The subscription steps were easy and if you want to unsubscribe after your free month, you can easily do so in your account. They offer a variety of videos for beginners to experts, with or without equipment. I especially liked the series (programmed days with specific training) and the monthly challenged groups. If you would like more information on my experience, you can message me on my Instagram.
Loti Wellness Box March 2020 Review – Final Thoughts
My month will be filled with joy and positivity and Loti Wellness Box will have contributed to that. This month's theme was well explored with the activity booklet and I can see many ways how the items accompanying it will help me in my mindfulness journey. I already started working out with Pilates on Demand and I am loving it. I find that exercise is a good way to disconnect from continuous thinking. You simply focus on the task at work, the teacher on the screen (and your burning glutes and abs ha ha).
The self-care items like the hand and foot balm and the white clay are also perfect. It forces you to take a moment for yourself, just think about you and your wellbeing. I might try a guided meditation while my mask is on and sip some of that good tea after to extend the relaxing moment.
Another thing I appreciate from Loti Wellness Box is that almost everything is Canadian made. I am very pleased to see that Loti Wellness Box works hard to put together a box filled with items from Canadian companies with good values and made with natural ingredients. It promotes wellness in your head, in your body and in your heart. This box is a must.
Jacynthe Létourneau – https://www.instagram.com/miss_minamie/