Loti Wellness Box Review March 2022
The theme Loti Wellness Box chose for this month fits the months to come. Spring will be here sooner than we think, and it is already time to start growing some seeds indoor for your garden if you are planning some gardening next Summer.
I know the theme will not be about planting seeds to grow something comestible, but I love how well it matches this period of the year. If you have not heard of Loti Wellness Box, let me tell you some details about it.
Loti Wellness Box is a Canadian subscription box that has been around for over 2 years. It offers practical skills and products to reduce stress and anxiety and improve your overall well-being, and, might I add, very welcome in these trying times.
Every box contains 5 to 7 quality wellness and lifestyle products to remind you to take time for self-care in all aspects of your life. There are even bonuses sometimes (like a free month of online Pilates classes). With the products, there is a workbook, created by Loti, filled with therapeutic activities, and information related to the theme.
Subscription Details
Here are the different options to subscribe:
Month-to-Month – pay one box at a time with no commitment: $55.95 monthly
6-Months commitment: Billed monthly at 49.95 per box
12-Months commitment: Billed monthly at 46.95 per box
To any of these options, add $8.99 for shipping for Canada and the contiguous US (the prices shown are in Canadian dollars). Most boxes are worth over $100 (this month's box has a value of $114). If you get hooked like I am, I recommend the 6 or 12-months option since you save up to 16% per box.
Every Loti Wellness Box comes with a brochure detailing the products. There is a lot of information like the websites, prices, and even promo codes for specific items. On top of the brochure, there is also the month's theme, which is "Plant Your Seeds" this month.
Since seeds take time to grow and give their fruits, I bet this month's activities will be a starter for something bigger, a preparation of sorts, but I will get more into it later. Let's see more of the products I received.
*Loti Wellness kindly sent me this box for review.
Mangala Apothecary Botanical Foot Scrub
So happy to start with this product. It comes from Mangala Apothecary, a one-woman business based in British Columbia, Canada. She creates beautiful, natural products for every member of the family. This foot scrub is made of sea salt and coconut oil with menthol crystals and essential oils (three of them are bergamot, tangerine and lime). The menthol deodorizes the feet and the bentonite clay, if you let it dry after massaging your feet, will do a gentle detox. At first, I thought that such a small bottle would not last long, but it should be enough for 15 applications. I am always happy to discover a new Canadian company and hope to see more from this one.
Invigorating + Balancing Toner from Province Apothecary
A good toner is always a staple in my skin care routine, and it happens I was looking for a new one. The Invigorating + Balancing Toner from Province Apothecary smells divine and the properties of it looks perfect for me. It will re-balance the skin's PH, smooths skin's texture and reduces the appearance of fine lines and wrinkles. I have seen only one other product from Province Apothecary in Loti's box before and loved it, and I bet this toner will be as good.
Charcoal Mask from Dr Botanicals
For the third item, you either received this product, or a mask from Skin Chemists.
This face mask looks promising. The main ingredient is charcoal powder that attracts skin impurities and acts as an exfoliant. Shea butter has been added to make sure the mask is not too drying for sensitive skin. I can't wait to try this mask and see the results.
Foot Files Set from Grace & Stella
That big grater got me a little scared at first. It looks as sharp as a kitchen tool and is made for « severely calloused feet ». Well, I am not there yet, and quite happy about it. On the other hand, the other two files will be perfect and certainly used. One is a bit curved and the other flat, so both will be complimentary for different parts of the foot. A little help to get nice looking feet is welcome and these could be used as a pre-treatment before the foot scrub. The handle of the files looks sturdy and well-built and are easy to use. Grace & Stella is a brand I like a lot and never get tired finding in my subscription box.
Mindful Mix Cards
I just love the concept of these cards, yet they are very different from the other packs of cards I received in previous boxes. There are 3 types of exercises: movement, meditation and breathing. All activities have a duration between 1 minute up to 3 minutes, but most are a minute and a half. That means you can easily pick a card anytime of the day to refocus, take a minute to center yourself with a breathing exercise or a quick meditation. The movement cards are mostly done sitting, and I like that since I know it can be a bit intimidating to stand up in an open office and start doing exercises.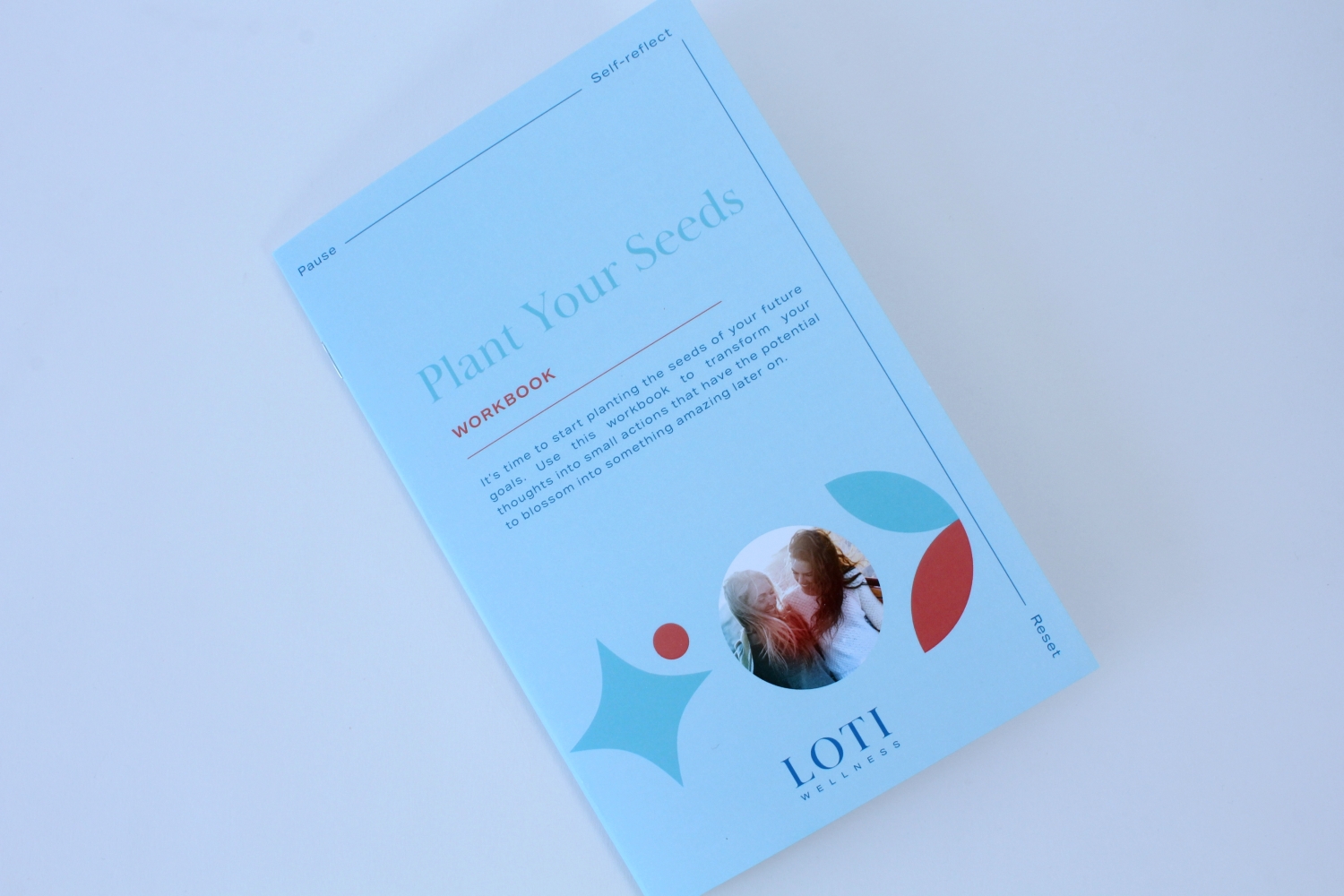 Loti Activity – Plant Your Seeds Workbook
As always, I am impressed with this month's workbook. The title of this workbook fits like a glove the month's to come and the action of planting seeds is used as an image for personal growth. Every step, from choosing the seed (the idea) you want growing to how it can materialize, are explained in detail. Loti always prepares activities regarding the theme, and that helps understand the concepts and it helps in your journey of personal growth.
Loti Wellness Box March 2022 Review – Final Thoughts
Loti Wellness Box is like a breath of fresh air, just like Spring seems to be after a long Winter. This month's items are perfect for some pampering time, like the foot scrub and foot files that pair well and will help shedding the dead skin that might have accumulated last Winter. I have already started using the toner and if all products from Province Apothecary are all that good, I want more! I liked everything, but the Mindful Mix Card might be a favourite. They are a brilliant creation, and they will follow me from my home office to my real office. Lots of love, care and thoughts have been put in this box and I cannot wait to see what other surprises and interesting themes are to come this year.
Jacynthe Létourneau – https://www.instagram.com/miss_minamie/