Loti Wellness Box Review November 2021
The time to pause and reflect on the last year is coming soon and Loti Wellness Box had an excellent idea to do so. This month's box brings more excellent products, but also the perfect theme.
I am feeling grateful to receive this monthly box. Loti Wellness Box is a Canadian subscription box that offers practical skills and products to reduce stress and anxiety and improve your overall wellbeing. Every box contains 5 to 7 quality wellness and lifestyle products to remind you to take time for self-care in all aspects of your life. With the products, there is a workbook, created by Loti, filled with therapeutic activities, and guided materials related to the month's theme.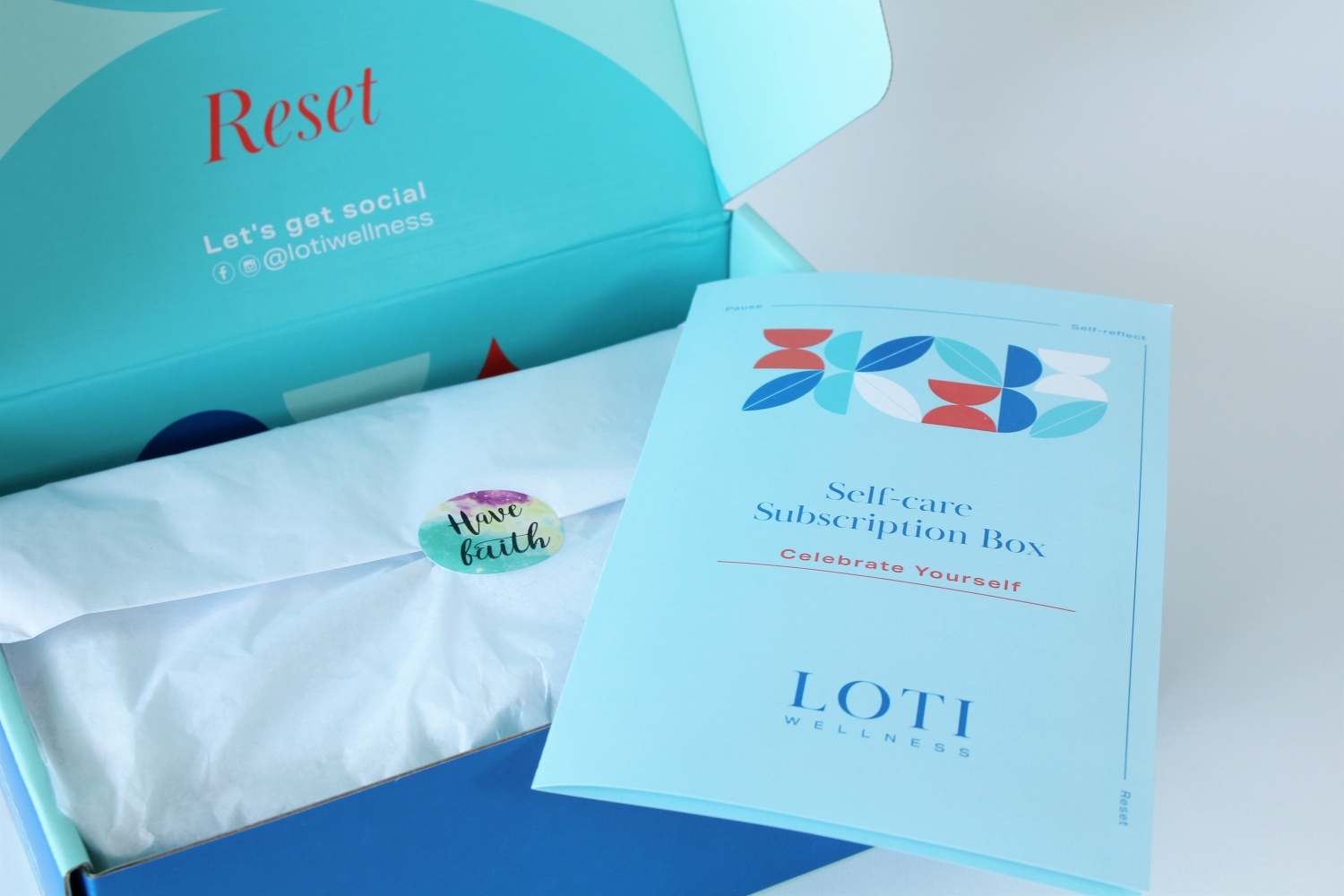 Subscription Details
Depending on your preference, you can receive a box every month or bi-monthly. The cost per box is $55.95 + $8.95 for shipping for Canadian and the contiguous US (the prices shown are in Canadian dollars). Most boxes are worth over $100. If you get hooked like I am, I recommend the prepaid options (3, 6 or 12-month).
Every Loti Wellness Box comes with a brochure detailing the products. There is a lot of information like the websites, prices, and even promo codes for specific items. On top of the brochure, there is also the month's theme, which is "Celebrate Yourself" this month. I will tell you more about that later. Now, let us have a closer look at what I received.
*Loti Wellness kindly sent me this box for review.
May You Find Joy – Intention Card Deck from May You Know Joy
I discovered May You Know Joy with the Seed of intention cards in the June box this year. This time, it is the May You Find Joy deck of cards that includes 42 cards. You pick a card at any moment you feel like it to inspire you to find joy around you. It forces a few seconds/minutes of mindfulness and might make your day a bit brighter. At this time of year, even with such merry time coming soon, it can be hard to go through those last days of arduous work before the break. These little pieces of joy might help.
Satin Scrunchie from Loti x Kawa
If you have long enough hair to put them in a ponytail, I bet you are as happy as I am when I receive a beautiful scrunchie in my boxes. I never have enough in my collection and like them all. This one was made in collaboration between Loti and Kawa (I wonder who that company is). The colors may vary from one box to another, but I got a beautiful dark navy. It looks perfect for any occasion, but I might wear it especially at work. I happen to have a dress that would match it perfectly.
Foot and Shoe Deodorant Spray from Way of Will
Believe me or not, I thought just the other day that I needed this kind of product. Loti always answers my prayers without knowing it. Mostly my kids' winter boots (but mine too eventually) will benefit from a quick spray. It is also going to be perfect for my office shoes that I wear barefoot. I wanted something that would be gentle on my feet but also efficient to control odors. I read positive reviews, so I am hopeful this will work.
Pumice Bamboo Brush from Bkind
"The pumice stone, which comes from molten volcanic rocks, reduces the accumulated dead skin on the feet. On the other side, the brush, which is the perfect mix between softness and rigidity, will clean your feet softly. It can also be used for dry brushing […]"
I have the exact same one in my shower and love it! It works great and the two in one is an excellent idea. You brush the roughest parts with the pumice stone then do a quick brush with the other side to get rid of any leftover residue. It is recommended to keep the bamboo part of the brush away from water, as much as possible, but personally, I have kept it hanging in my shower and so far, so good, it kept its integrity.
Winter Wonderland Hand & Body Lotion from Scentuals
Scentuals makes natural, organic skin care products that I absolutely love. I discovered this brand thanks to Loti Wellness. Since the first product I received (a deliciously scented hand lotion), I have tried many others and never have been disappointed. This one has a suitable name for this time of year. A subtle way to incorporate a Winter feeling in the box. The essential oil of Cedarwood, Juniper Berry, Fir Needle and Cypress gives a soothing feeling. An excellent product I will gladly use to keep my skin hydrated during the cold months.
Aurora Magical Bath Salts from Indigena
Indigena made its first appearance in last month's box with a hydrating lip balm. I have been using it for the past month and could appreciate its efficiency. This time, we welcome the Aurora Magical Bath Salts. It is enriched with red Seaweed and oceanic Clay. The beautiful reddish-pink color comes from the seaweed, but also organic beet. Bath salts are what I use the most when I bath. When they have special properties like hydrating, detoxifying, and soothing makes it even better. Also, the aroma of pink grapefruit and wild roses is especially relaxing.
Loti Activity – Celebrate Yourself Mini-Workbook
With the festivities coming up, this mini-workbook has the perfect theme. It is a good reminder to celebrate yourself and all your accomplishments of the year. Not only the big ones, but also the smaller ones like, personally, doing a makeover of my bedroom in February counts as an accomplishment to me. It might not be as great as getting a diploma, but I did it all by myself and I am proud of it. The workbook has a few activities to guide you through the process of self-reflection up to the celebration and reward part.
Bonus: Holiday Activity
The extra cards provided comes from a bigger deck of cards (24) created by Loti for the May 2020 box. I still have it and still use it, but the idea behind them is nice. The holiday activity is to "choose a mantra that suits your energy". A nice thought to accompany you during your day to add some positivity and good energy.
Loti Wellness Box November 2021 Review – Final Thoughts
I got everything to celebrate myself with lots of selfcare with what I received in the November Loti Wellness Box. Vacations are coming up and that means more family time, but also more me-time. The bath salt from Indigena looks perfect for a relaxing bath while I will be reflecting on my accomplishments of the past year. I will also treat myself with the luxurious hand and body lotion from Scentuals. I like all the companies (and their products) found in this month's box (discovered most of them in past Loti's boxes). Except for the bamboo brush, everything was new to me. This will be my last review this year and I am happy it was unboxing my favourite box. Thank you Loti Wellness Box and I wish you all happy holidays.
Jacynthe Létourneau – https://www.instagram.com/miss_minamie/