Loti Wellness Box Review September 2021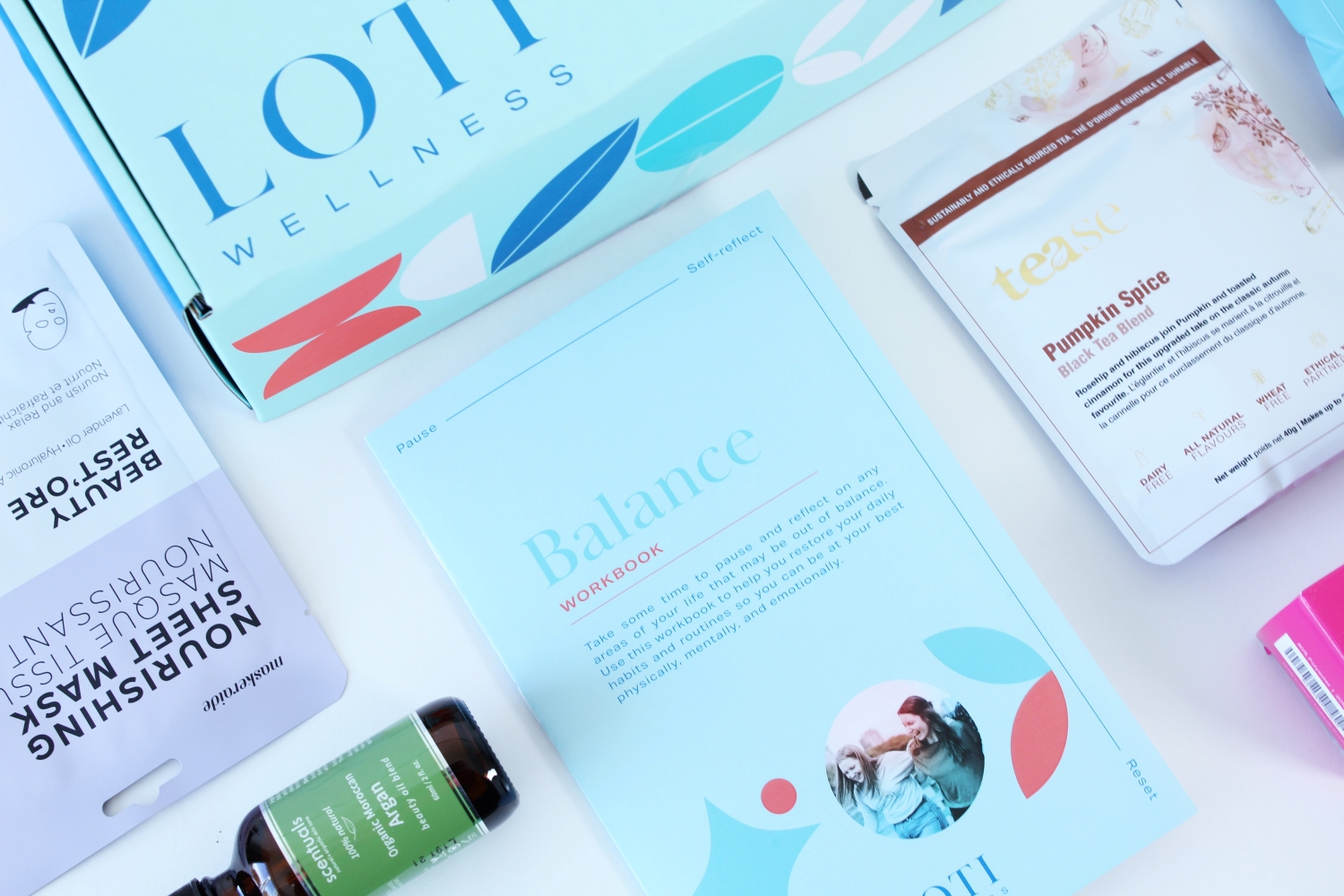 The chill of Fall is here and what better way to bring you comfort and warm your heart then a self-care subscription box? I am lucky to receive Loti Wellness Box, a Canadian subscription box that offers practical skills and products to reduce stress and anxiety and improve your overall wellbeing. Every box contains 5 to 7 quality wellness and lifestyle products to remind you to take time for self-care in all aspects of your life. With the products, there is a workbook, created by Loti, filled with therapeutic activities, and guided materials related to the month's theme.
Their product comes in this lovely box. The design changed a few months ago and even if I liked the one before, this one is even better. Inside, everything is well tucked and comfortably sits on a pillow of tiny pieces of paper.
Subscription Details
Depending on your preference, you can receive a Loti Wellness Box every month or bi-monthly. The cost per box is $49.95 + $5.99 for shipping for Canadian and $8.99 to the contiguous US (the prices shown are in Canadian dollars). Most boxes are worth over $100. If you get hooked like I am, I recommend the prepaid options (3, 6 or 12-month).
Every Loti Wellness Box comes with a brochure detailing the products. There is a lot of information like the websites, prices and even promo codes for specific items. On top of the brochure, there is also the month's theme, which is "Balance" this month; an excellent theme for September. Now, let's have a closer look at what I received.
*Loti Wellness Box kindly sent me this box for review.
Beauty Rest'ore Nourishing Sheet Mask – Maskeraide
"The benefits: Restores the skin's health naturally, deeply moisturizes skin, relaxes the skin and senses with the power of lavender oil and helps to minimize the appearance of skin imperfections."
Maskeraide is well known for their face masks and I have used them myself quite a few times. The Beauty Rest'ore looks excellent. The hyaluronic acid will help with skin imperfection, the Shea butter with hydration. Lavender oil is calming, but I did not know that it helped with skin imperfections. I have not tried this one yet, but I am sure I will like it.
Coffee Face Scrub – Ginger & Honey
Coffee lovers, this product is for you. It smells like a freshly brewed cup of Colombian coffee. Perfect to wake you up in the morning with a good scrub. Other than ground coffee, this product contains raw sugar, vanilla essential oil, glycerin, foaming bath base and jojoba oil. There is an exfoliation chart on the packaging and this scrub is close to "extreme". I believe this is not for those with sensitive skin. I would have given it a try (sensitive skin here), but I am one of the rare ones who does not like coffee, nor the smell of it. This one will make my mother very happy.
FaceOff Cloth
This cloth is made up of 80% polyester and 20% polyamide and weaved a particular way to clean your face with only warm water. There was the same one in the November box last year, so believe me when I say that it works! Last week, on a day I had heavy makeup on, I chose a liquid makeup remover. My skin did not feel 100% clean after, and I decided to do another round of cleansing with my FaceOff Cloth. The amount of makeup that was still on my face was impressive and it took it all off. It is eco-friendlier than using disposable pads and products, but if you wear makeup daily, you should get a few more of those to always have one on hand. I am happy to have a second one now.
Tea from Tease Tea
The blend of tea may vary from a box to another, but "Pumpkin Spice" looks perfect to me. It also comes from Tease tea, which is not their first time in Loti's box, but I have always seen a new blend and they never disappoint. This one is a black tea with cinnamon, apple, orange, pumpkin, rosehip, hibiscus and calendula. The perfect tea for a cold afternoon at work.
Fresca Shower Gel – Druide
"Ultra-refreshing and invigorating 2-in-1 shower gel for body and hair. Contains essences of peppermint that stimulates the body and mind. Provides cleanliness, freshness and softness to the skin and oily scalp. Ideal for body and hair. For the whole family."
Druide is a Canadian company that has been around for quite some time and they make natural products for the whole family. Their products are certified organic and vegan and never disappoint. The one I received is the shower gel Fresca with mint, eucalyptus and sage. The smell is quite refreshing and is perfect for everyone. I gave it a quick try on my hands and it does not foam a lot. It must be excellent for the body, but if you have long hair like me, this would probably not work well as a shampoo.
Organic Moroccan Argan Beauty Oil Blend – Scentuals
"Organic Moroccan Argan Beauty Oil is a blend of Safflower, Coconut, Apricot Kernel Oil and Vitamin E that results in a balanced formula for hair and skin treatment. Tocopherol from the Vitamin E Oil, Apricot Kernel Oil which helps with wrinkles and scalp problems and Coconut oil that protects skin and hair from external damage."
This oil blend seems to do it all. It can be used as a face moisturizer, for body care and even in your hair to prevent split ends and hydrate your scalp. Argan oil is, alone, an excellent oil for the skin, but Scentuals created a special blend with other ingredients to make it even more special and versatile. I will add it to my hair care routine and see if it can help with my dry scalp.
Popped Water Lily Seed – Arise N'Go
The first time I tried these was in July last year. The packaging has changed since and looks even better. The flavours are different too. The flavour I tried (sweet caramel) does not exist anymore. I received the Simply Seasoned, but there is also Chipotle BBQ and Ultimate Spice flavour. They are similar to popcorn in look but have more crunch to it, are lower in calories, have less fat and 50% more protein. Compared to a bag of popcorn (I can eat one bag all by myself), only a few popped water lily seeds are enough.
Loti Activity – Balance Mini-Workbook
Fall sets a new mood, a new pace. As we transition into a new routine, it is important to take some time to pause and to check if some areas in our life need more attention. This month's mini-workbook goes through different aspects of what is a balanced life and suggests activities to determine what you should work on and how to get closer to a more balanced life. One part I liked a lot was the "Build Better Habits". It was after the "Learn to let go" activity, which was perfect. These mini-workbooks I receive every month are very helpful. It is always quality information and the activities truly help with my personal growth.
Loti Wellness Box September 2021 Review – Final Thoughts
Like the theme this month, this was a well-balanced box. There was a nice mix of new brands and one's I am used to finding in Loti Wellness Box. The seasonal blend of tea was an excellent choice and a must for Fall. Give me a hot cup of tea and a blanket any day. Also, four of the items this month were skin care related, so that gives many options to choose from to enhance your skin care routine and make it extra special. Now, I still have a lot of activities to do in the mini workbook, but one thing is certain, Loti Wellness Box is a great help for me to keep a balanced life.
Jacynthe Létourneau – https://www.instagram.com/miss_minamie/