Louis and Léa Review August 2021
Louis and Léa is a monthly subscription box curated with care to make sure mom and baby have everything they need to feel prepared from baby bump to baby's first birthday! Inside each box, you'll find innovative and practical products to pamper mom, comfort baby, and memorialize every milestone together. From exclusive Louis and Léa products to handcrafted items made with love and care by local makers and small businesses across Canada. They kindly sent us this box for review.
So…..you might be a little confused by the title of this review as it says "August" instead of "November". Louis and Léa kindly sent me one of their previous boxes to review and even though it's not their current box, I wanted to share it with you regardless because it will give you a really good idea as to what you can expect from this cute little Mommy & Me Subscription.
Subscription Details
Here's a little more information on how a subscription from Louis and Léa works….
Choose your plan – Whether you are gifting, expecting, or already bonding with baby, choose a monthly plan starting at $32.99/month.
Receive your box of goodies – Discover products to prepare and pamper mom + baby, made with love by local Canadian artisans and shops shipped on the 10th of every month.
Let the giggles begin – Celebrate mom + baby's journey together by opening each box filled with quality items mom + baby will love. Curated by parents of five!
Here's a closer look at the August Louis and Léa box…..
Multi-Purpose Muslin Blanket
This versatile pre-washed and lightweight multi-purpose muslin blanket is a must! It can be used as a swaddle blanket, a nursing and stroller cover, a play mat blanket or even a changing table cover. It will become softer after each wash, soon becoming baby's favorite go to blankie!
I can't even tell you how much I loved having blankets like this when Steven was a baby. I loved using these for swaddling but also used as stroller covers and change table covers. These really are a must-have for new moms.
Reversible Teething Bib
This trendy and reversible bib is so handy and easy for baby to grasp the gum-friendly corner to soothe from teething pain. It has a waterproof middle layer to protect baby's clothes and a 100% cotton surface to absorb quickly excess saliva. Equipped with two snaps, it will definitely grow with baby.
I loved having bibs like this on hand, especially when Steven got his first few teeth. He liked to wear these when we went for our walks, and also when I would change him as it gave him sometime to do while laying on the change mat.
Bamboo Makeup Remover Pads
These zero waste makeup remover pads are made from natural bamboo organic cotton velour on one side and bamboo towel on the other side. The perfect combination for a gentle cleansing.
So…..I keep meaning to make the switch from regular cleansing wipes to a more environmentally friendly alternative. And, I actually just ran out of my regular wipes so it's the perfect time to test out these bamboo ones.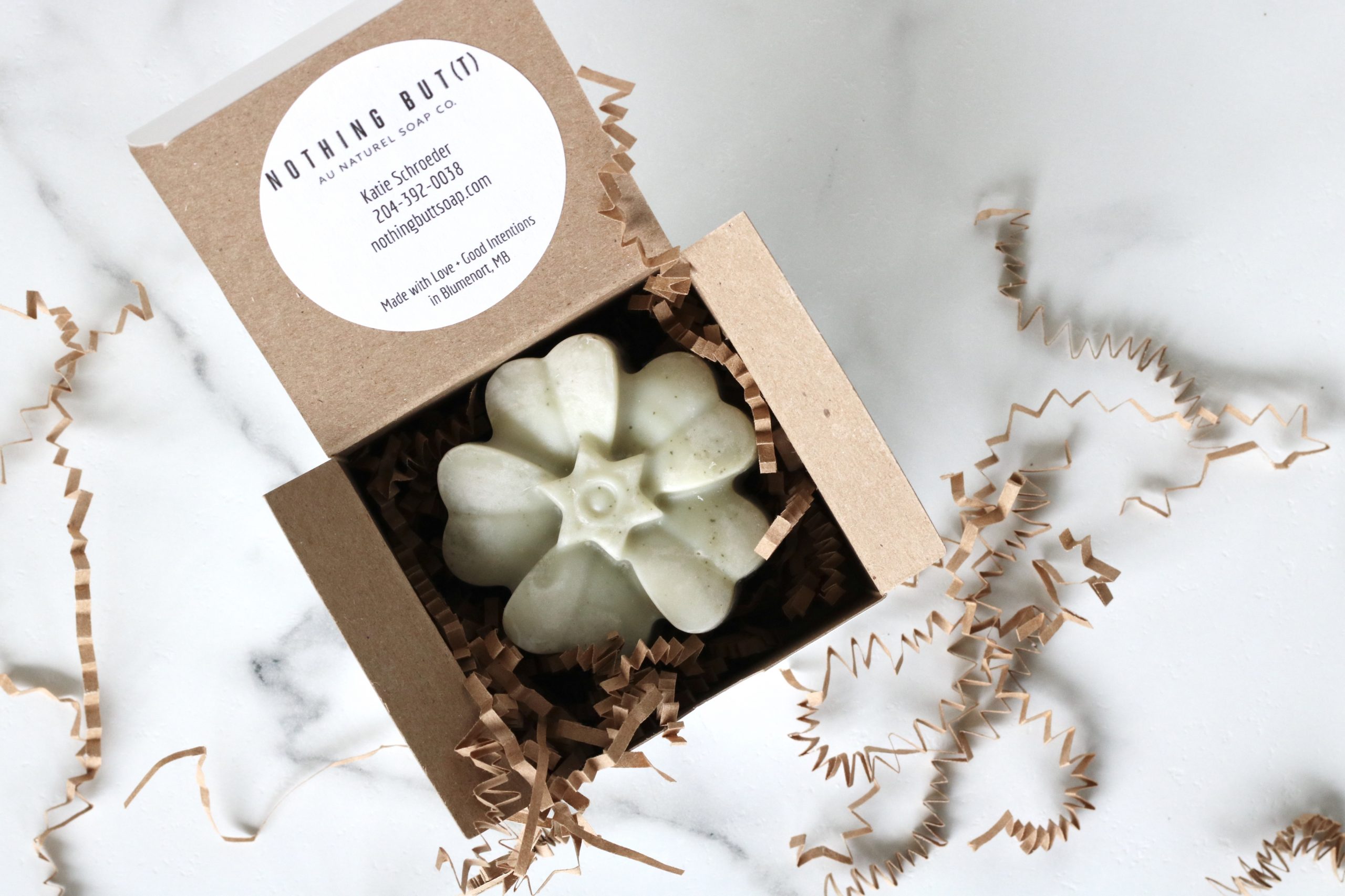 Natural Flower Soap
This beautiful little soap wasn't on the product card so I don't have specific details on it, but……can we talk about how pretty it is! I almost don't want to use it. What a lovely little gift for Mama.
We also received this tip card which talks about ways to boost babies brain development.
Louis and Léa Review August 2021 – Final Thoughts
My first experience with Louis and Léa was definitely a positive one. While I would have liked to receive their current box, this was a nice way to see what one of their previous boxes look like. I think it has a wonderful selection of must-have products for new Mamas, as well as a special little gift for Mom herself (or actually two). Mommy and Me boxes are something I really looked forward too once baby Steven arrived. Being a new Mom is hard and having a little something to look forward to in the mail each month definitely helps:)
-AYOB Sarah