Love With Food Deluxe Box Review August 2016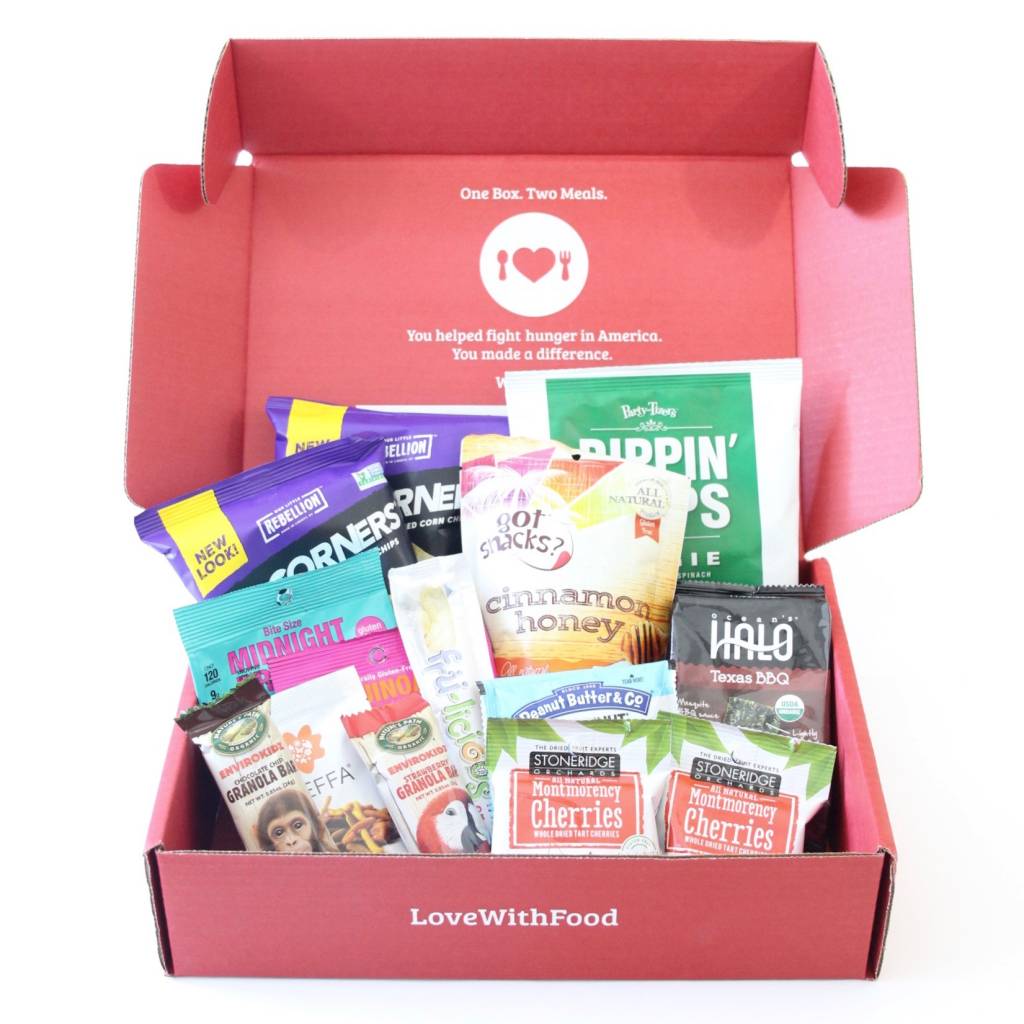 Love With Food Deluxe Box Review August 2016
Love With Food Deluxe Box Review August 2016 – Ummm……did you know that Love With Food is now shipping worldwide! I am seriously so excited about this. I got to review my very first box from them last month and absolutely loved it. I think the price point is great, and the products we receive are great, and the introductory shipping rate is pretty darn awesome. If you have been looking for a snack box you MUST check this one out.
Love With Food Details
If you aren't familiar with Love With Food it is a snack subscription box. Every month you'll receive 8+ unique gourmet food samples shipped to your door. You'll also have members-only access to purchase the full-size version of featured products at a special discount. Lucky you! You'll will also earn points for each box you receive. Use your points to redeem for full-size products and get them at deep-discounts or for FREE!
The Box: Love With Food
Cost:
Tasting Box – $9.99 per month
Deluxe Box – $19.95 per month
Gluten-Free Box – $24.99 per month
What You Get:
Tasting Box – 

8+

 new & surprise snacks each month, Snacks are either organic or all-natural, GMO-free, gluten-free or free of artificial junk.
Deluxe Box – 

16-20

 new & surprise snacks each month. Snacks are either organic or all-natural, GMO-free, gluten-free or free of artificial junk.
Gluten-Free Box – 

10-12

 surprise celiac-safe & mostly dairy-free snacks each month. Snacks will be totally gluten-free and also organic or all-natural, with no artificial junk.
Ships to: Worldwide
Shipping Cost: $3.99 per month for first 5,000 customers
Coupon Code: Get 40% off your first Deluxe Box with code "AYOBDLX40" or get 50% off your first gluten-free box with code "AYOBGF50" – CLICK HERE
Love With Food August Theme
The theme for this month's Deluxe Box is "Love is Family". I didn't receive a product card like I did last month, but more of an information card. It tells us a little bit about the theme and that we can find product info on their website. Let's have a closer look:
Veggie Dippin' Chips
If you don't think a chip made out of kale, carrot and spinach could be the perfect party accessory, you're in for a big surprise.
Eeek!! I have been obsessed with veggie chips the last few months. I can't get enough of them. It's becoming a problem. These have 140 calories per serving, I can read the entire ingredient list, and they look really good.
Carnival Kettle Popcorners
These light, crunchy bites will transport you to a perfect day at the fair.
Popcorn is another addiction, and another problem. I could eat it everyday. These popcorn chips are dairy free, vegan, and preservative free. They are Carnival Kettle flavour so I am assuming they will be slightly sweet. A good after dinner snack.
Roasted Coconut Chips – Cinnamon Honey
Getting a little exotic flavor anytime is no problem with these non-GMO, crunchy bites of heaven.
OMG! I think I just peed my pants a little. I LOVE coconut chips, and the fact that these ones are flavoured with cinnamon and honey makes them that much better. I eat coconut chips in the afternoon when I need a little pick-me-up.
Seaweed Snacks – Texas BBQ
Salty, perfectly crispy and unlike anything else. This will be the new favorite snack you never saw coming.
I love seaweed snacks but I never buy them, I have no clue why. They are full of B-12, which is a vitamin I am always lacking in my diet, so I really should eat them more often.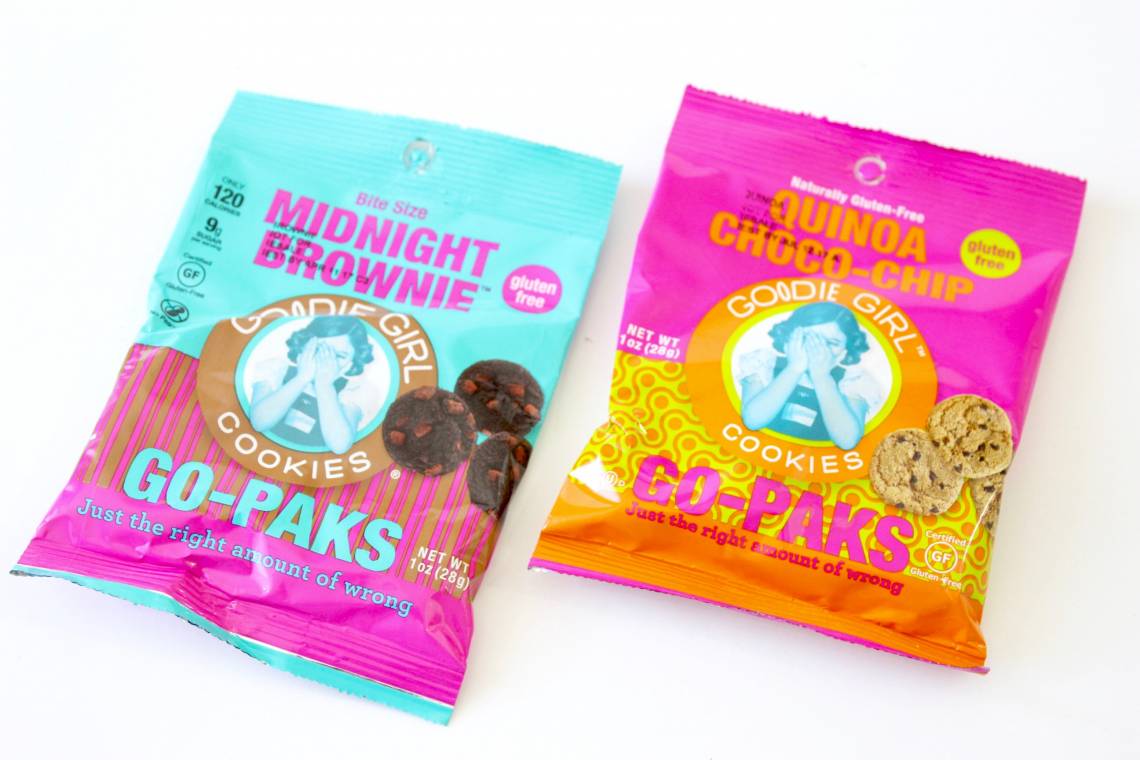 Quinoa Chocolate Chip Cookies
The comforting taste and crunch of the cookie you love, without a single smidge of gluten.
I've had Goodie Girl products before and have always really liked them. I love that these cookies are made with quinoa, and that they are gluten-free. I'm doing no sugar for 30 days so I will save these for a later date, or give them to the BF.
Midnight Brownie Cookies
These little bites of chocolate heaven are so deadly, once you start you won't be able to stop.
Two Goodie Girl snacks, well isn't this fun. These ones are also gluten-free, and they only have 9 grams of sugar, which is awesome. I like any snack that has less that 10 grams of sugar.
Envirokids Granola Bars
Looking for the perfect peanut-free pick-me-up snack? Done.
These are good snacks for lunch boxes, seeing as they are peanut free. But I don't have children yet so I will put them I the BF's lunchbox. He will love them.
Vanilla Powdered Peanut Butter
A little salty, a little sweet and all addictive – try it in your morning smoothie!
I LOVE powdered peanut butter. I just discovered it a few months ago and don't know how I lived without it. I put it in my smoothies and my morning oatmeal.
Fruit & Cream Smoothie Pops
The irresistible smoothie taste you crave on those hot summer days is now available in your own freezer. Just pop this shelf-stable smoothie in your freezer and let the magic happen.
This is the only item in the box that I don't like. The second and third ingredients are sugar, and anything that comes in a plastic tube-like container kind of freaks me out.
Toasted Coconut Toffee
The creamy, caramel taste of toffee with a hint of fresh coconut milk. Drooling yet?
Seriously, how good do these sound! I love anything with coconut milk.
Montmorency Cherries
What's more classically summer than the taste of cherries? Cherries you can take with you anywhere.
I like to have dried fruit on hand, so I'm happy to see these in the box. It's a good alternative to candy or sweet snacks, and I like to use them in my homemade granola bars.
Sheffa Zesty Snack Mix
The perfect party snack – poppable, addictive, and energy-packed.
One of the snacks in this mix is crispy chickpea noodles. I've never heard of these before, but I know I am going to love them.
Love With Food Deluxe Box Review August 2016 – Final Thoughts
Love With Food is officially my favourite snack subscription box…..hands down. I am in love with this box! How can you not love it! Receiving this in the mail every 30 days is the perfect way to keep your snack bin stocked. Yes, I have a snack bin, and I seriously think it is a must-have for every pantry. There's only one snack in this month's box that I don't like. But I am pretty high-maintenance when it comes to my snacks, so that is to be expected. I HIGHLY recommend this subscription!
XOXO