Love With Food Deluxe Box Review October 2016
Love With Food Deluxe Box Review October 2016
Love With Food continues to be my favourite snack box. You can't beat the price, and we receive a ton of snacks in each box. We get sweet snacks, salty snacks, beverage snacks, condiments and more. I love going though this box, and I love snacks. Give me all the snacks….
Love With Food Details
If you aren't familiar with Love With Food it is a snack subscription box. Every month you'll receive 8+ unique gourmet food samples shipped to your door. You'll also have members-only access to purchase the full-size version of featured products at a special discount. Lucky you! You'll will also earn points for each box you receive. Use your points to redeem for full-size products and get them at deep-discounts or for FREE!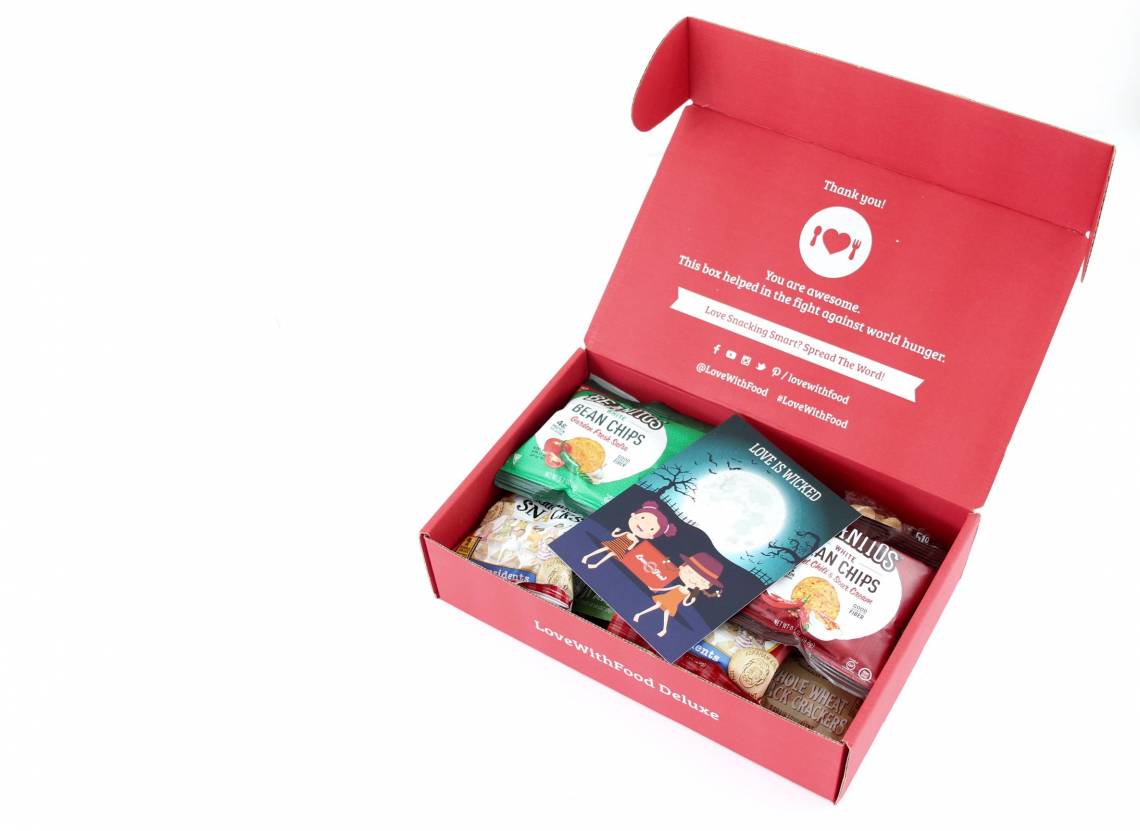 The Box: Love With Food
Cost:
Tasting Box – $9.99 per month
Deluxe Box – $19.95 per month
Gluten-Free Box – $24.99 per month
What You Get:
Tasting Box – 

8+

 new & surprise snacks each month, Snacks are either organic or all-natural, GMO-free, gluten-free or free of artificial junk.
Deluxe Box – 

16-20

 new & surprise snacks each month. Snacks are either organic or all-natural, GMO-free, gluten-free or free of artificial junk.
Gluten-Free Box – 

10-12

 surprise celiac-safe & mostly dairy-free snacks each month. Snacks will be totally gluten-free and also organic or all-natural, with no artificial junk.
Ships to: Worldwide
Shipping Cost: $5.99 per month – introductory offer
Coupon Code: Get 40% off your first Deluxe Box with code "AYOBDLX40" or get 50% off your first gluten-free box with code "AYOBGF50" – CLICK HERE
October Theme
This month's Love With Food box is titled "Love is Wicked". The product card says "We show love for the important people in our lives in a lot of different ways, and sometimes it might come off just a little bit…..wicked. Maybe you love to tempt your friends and family with irresistible indulgences like cookies or candy? Well, we think that's the best type of wicked. So go ahead, be a little extra wicked this month with your Love With Food box……if you dare!"
Plain Jaynes Sweet Potato Chips
Sometimes it's the simple things in life that are the most delicious. These crunchy, salty-sweet snacks are proof.
Everly Hydration – Strawberry Lemonade
Everly ® helps you drink more water by making water taste better without any bad ingredients, so you can stay hydrated and enjoy what you drink. Our healthy drink mixes are all natural, sugar free, zero calorie, and enhanced with vitamins and fruit extracts.
Lundberg Rice Chips, Sea Salt
Original taste of sea salt with the delicious crunch of brown rice. Made with whole grains. Gluten free. A vegan and kosher product
Divina Natural Fig Spread
Crafted from Aegean figs, Divina Fig Spread is deeply fruity and complex with notes of caramel and honey. A standout on any menu, we love it on pizza, spread on sandwiches, whisked into a vinaigrette or baked into pastries, cakes and pies.
Annie B's Caramels, ButterRum & Apple
Super buttery, the warm golden color of aged dark rum in our will make your mouth water. Each bite has a sweet molasses and sugarcane flavor with a hint of oak. No after dinner drink or fancy dessert needed. You get the best of both wrapped up in our all natural butter rum caramel.
An all American favorite is now bite size. The sweet and snappy flavor of a tart apple is wrapped up in our buttery caramel. No fuss . . no mess, just unwrap and enjoy the most delicious caramel apple caramel that you have ever had.
Almond Roca
They start with a buttercrunch center made with real vanilla and butter created especially for Brown & Haley. Since they don't add salt or water to their buttercrunch, the texture is crunchy, but with a soft bite. Next, the center is coated with the rich flavor of chocolate made with cocoa beans from around the world, then topped with fresh almonds – not roasted – for a softer, more delicate flavor.
Westminster Bakers Whole Wheat snack Crackers
Our Whole Wheat Snack Crackers are flaky and delicious. The Whole Wheat Snack Cracker is made with simple, wholesome ingredients including soft winter wheat, baked slow for a thicker and crunchier cracker. Our Whole Wheat Snack Crackers are Kosher, have no preservatives and are just plain old good.
Dick & Jane Educational Crackers – Presidents
Dick & Jane Baking Company pays tribute to all of the American Presidents. Hail to the Chief. From George Washington to Barack Obama, these individuals have held the highest office in the land and have helped shape our great nation.
Awake Energy Granola Bars Cinnamon Bun
These unbelievably delicious bars pack as much caffeine as a ½ cup of coffee and whack of B vitamins to help fuel your body.
Walkers Shortbread
Classic pure butter shortbread in the traditional "fingers" shape. Packed two in each pack for easy traveling, snacking, sharing. Fingers offer a perfect, crumbly melt in your moth texture and a full butter flavor. Just the right amount of sweetness. A perfect accompaniment to tea or cofffe and ideal with ice cream.
Brothers All Natural Mickey Mouse Clubhouse Variety Fruit Crisps
Fresh fruit is not always available for you and your family to eat. Whether people are at work, in the car, or traveling, they need to find a new alternative to get their daily fruits. Brothers-all-natural fruit crisps are the 100% freeze-dried fruit snack you want to be eating to achieve that goal. We start with the most luscious fruits from the greatest growing regions in the world and bring them to our state-of-the-art freeze drying facility.
Beanitos White Bean Chips – Sweet Chili & Sour Cream – Garden Fresh Salsa
Beanitos are an honestly delicious snack made from super nutritious beans that have fiber and protein grown right in them. They're real food, full of crunchy flavor, free of preservatives and made with only natural non-GMO ingredients.
Love With Food Deluxe Box Review October 2016 – Final Thoughts
Here's what I love about this month's Love With Food Box, it is PACKED with salty snacks. We got rice chips, sweet potato chips, and white bean chips. I am super happy right now. I like to see a good amount of salty snacks in my snack boxes, especially salty snacks that I already love. Lundberg Rice Chips and Beanitos happen to be my favourite chips. I could eat them all day everyday. This month's Love With Food Deluxe Box is a win with me.
XOXO